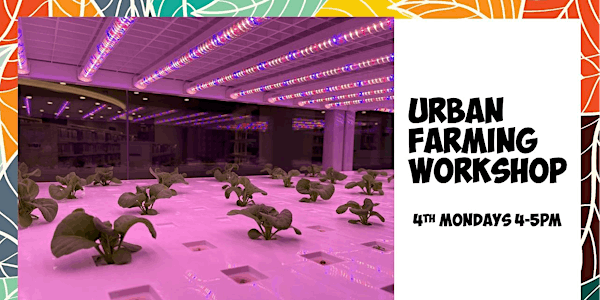 CCKPL: Tweenkerama - Urban Farming Workshop | Sustainability
Learn all about urban farming at this hour-long workshop!
By GoLibrary | National Library Board, Singapore
Date and time
Mon, 24 Jan 2022 16:00 - 17:00 +08
Location
Choa Chu Kang Public Library – Programme Room 1 & 2 (Level 4) 21 Choa Chu Kang Avenue 4 Lot One Shoppers' Mall, #04-01/02 and #05-06 Singapore, 689812 Singapore
About this event
About the Programme/Event
Join Mark, an urban farmer from VertiVegies as he takes you on a journey into the dynamic world of modern agriculture.
This programme is recommended for children aged 10-13.
This programme will be conducted in a workshop style and will cover the following topics:
You will trace the journey of the food on your plate and learn where it comes from, the challenges that we face as a nation with respect to food security. You will also be introduced to our "30 by 30" mission and the Singapore Green Plan initiative. Alongside, you will also gain insight on the "3 food basket" approach adopted by Singapore Food Agency (SFA). 
Introduction to Urban Farming
The focus today is on Urban Agriculture. Join us in understanding the principles of Urban Agriculture as we introduce you to the different types of urban farms you can find in Singapore and how they play a crucial role in combating climate change, reducing food waste and contributing to our food resilience, as a nation.
This topic will take you through the various stages of the plant life cycle and how a plant growing outdoors differs from a plant grown in an Controlled Environment. Participants will also understand the basic science behind controlled environmental agriculture and how it affects a plant's photosynthetic ability.
Please note the following:
All participants are required to register for a ticket. Each ticket admits 1 person only.
Arrive 10 mins before the session commences. Seats of late attendees may be given to registrants on the waitlist.
Please keep your mask on at all times and maintain a safe distance from others.
NLB reserves the right to deny entry to participants who do not abide by the ground rules.
About the organiser
The National Library Board (NLB) manages a network of 28 libraries, the National Library and the National Archives of Singapore. NLB promotes reading, learning and information literacy by providing a trusted, accessible and globally-connected library and information service through the National Library and a comprehensive network of libraries.