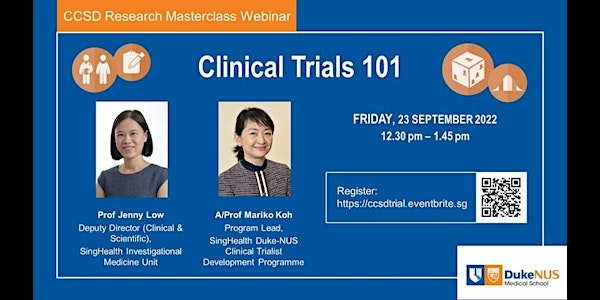 CCSD Research Masterclass Webinar: Clinical Trials 101
CCSD Research Masterclass Webinar: Clinical Trials 101 by Prof Jenny Low & A/Prof Mariko Koh
By Centre for Clinician-Scientist Development
Date and time
Thu, 22 Sep 2022 21:30 - 22:45 PDT
About this event
You are invited to the next CCSD Research Masterclass Webinar for clinician-researchers, Clinical Trials 101 by Prof Jenny Low & A/Prof Mariko Koh. Aspiring and junior clinician-researchers are especially encouraged to attend.
Prof Jenny Low is a Senior Consultant with the Department of Infectious Diseases at SGH. She is also Deputy Director (Clinical & Scientific) of SingHealth Investigational Medicine Unit, as well as a Lead Mentor for clinician-scientists with CCSD. Prof Low's research includes drug trials for dengue fever and early phase clinical trials of viral therapeutics and vaccine development. She was awarded NMRC Clinician Scientist Award in 2016 & 2019.
A/Prof Mariko Koh is a Senior Consultant in the Department of Respiratory and Critical Care Medicine at SGH. She is also the program lead for the SingHealth Duke-NUS Clinical Trialist Development Programme, and was formerly Director of the SGH Clinical Trials and Research Centre. As a clinician-investigator, her research interests include difficult-to-treat asthma, and identification and treatment of phenotypes in severe asthma.
All in SingHealth/Duke-NUS are welcome. The webinar will be held via Zoom. The Zoom link will be emailed to all registered attendees one day before the event. For enquiries, please email angietan@duke-nus.edu.sg.
About the organiser
The Centre for Clinician-Scientist Development supports the research pillar of academic medicine in the SingHealth Duke-NUS Academic Medical Centre by nurturing passionate and talented clinician-researchers. The Centre provides career advisory and structured training through different programmes tailored for the various stages of clinician-researchers' careers, spanning from graduating Duke-NUS students to mid-career clinician-researchers. 
Visit our website to find out more about our programmes: https://www.duke-nus.edu.sg/ccsd
Join our mailing list to receive our announcements: email angietan@duke-nus.edu.sg