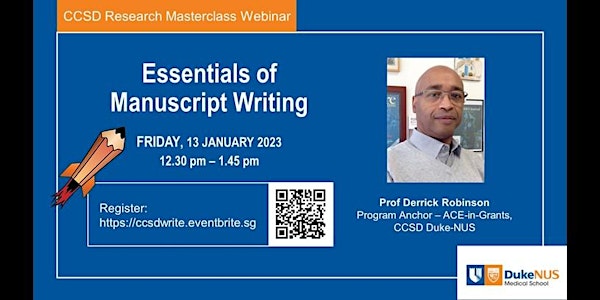 CCSD Research Masterclass Webinar: Essentials of Manuscript Writing
CCSD Research Masterclass Webinar: Essentials of Manuscript Writing by Prof Derrick Robinson
By Centre for Clinician-Scientist Development
Date and time
Thu, 12 Jan 2023 20:30 - 21:45 PST
About this event
You are invited to the next CCSD Research Masterclass Webinar for clinician-researchers, Essentials of Manuscript Writing by Prof Derrick Robinson. Aspiring and junior clinician-researchers are especially encouraged to attend.
Prof Robinson is the Program Anchor of the Accuracy, Clarity and Eloquence in Grants (ACE-in-Grants) program of the Duke-NUS Centre for Clinician-Scientist Development, which provides guidance for clinician-researchers from SingHealth working towards NMRC research career grants submission. Prior to joining Duke-NUS, he was Director of Research at the French National Centre for Scientific Research in the University of Bordeaux, France. Prof Robinson's research interests are in microbiology and parasitology. He has published extensively on trypanosomes and pathogen biology on a cellular and molecular level, including peer-reviewed scientific articles in J. Cell Biol., PLOS Biol., PLOS Pathog., Microbiol. Spectr., and Nature.
All in SingHealth/Duke-NUS are welcome. The webinar will be held via Zoom. The Zoom link will be emailed to all registered attendees one day before the event. For enquiries, please email angietan@duke-nus.edu.sg.
About the organiser
The Centre for Clinician-Scientist Development supports the research pillar of academic medicine in the SingHealth Duke-NUS Academic Medical Centre by nurturing passionate and talented clinician-researchers. The Centre provides career advisory and structured training through different programmes tailored for the various stages of clinician-researchers' careers, spanning from graduating Duke-NUS students to mid-career clinician-researchers. 
Visit our website to find out more about our programmes: https://www.duke-nus.edu.sg/ccsd
Join our mailing list to receive our announcements: drop an email to angietan@duke-nus.edu.sg