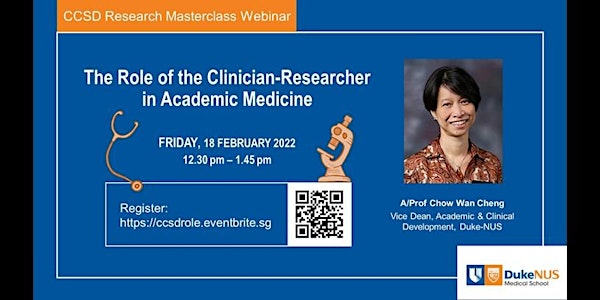 CCSD RMW: The Role of the Clinician-Researcher in Academic Medicine
CCSD Research Masterclass Webinar: The Role of the Clinician-Researcher in Academic Medicine by A/Prof Chow Wan Cheng
About this event
You are invited to the next CCSD Research Masterclass Webinar for clinician-researchers, The Role of the Clinician-Researcher in Academic Medicine by A/Prof Chow Wan Cheng. Aspiring and junior clinician-researchers are especially encouraged to attend.
A/Prof Chow is the Vice Dean of the Office of Academic and Clinical Development of Duke-NUS Medical School. The Office of Academic and Clinical Development leads, catalyses and coordinates Duke-NUS' role in the SingHealth Duke-NUS Academic Medical Centre by enabling and implementing Academic Medicine strategies. It also develops capabilities and supports academic recognition, appointment and development of faculty. A/Prof Chow is also Senior Consultant in Gastroenterology & Hepatology at the Singapore General Hospital.
All in SingHealth/Duke-NUS are welcome. The webinar will be held via Zoom. The Zoom link will be emailed to all registered attendees one day before the event. For enquiries, please email angietan@duke-nus.edu.sg.