Certificate in Contract Development, Negotiation & Management
Description
Certificate in Contract Development, Negotiation & Management (CCDNMTM) by John Atkinson 25-29 March 2018 | Dubai, UAE



Overview

Increasingly organisations globally are looking to their contracting function to effectively underpin the operational benefits obtained through both tendering and or negotiation. In addition to effectively contractualising these benefits, contract teams are also expected to be able to balance liabilities, protect against the impacts of termination and ensure that the resulting contract is legally compliant and effective both locally, regionally and internationally.

This interactive five day accredited course leads delegates through the full end of the contracting process, from establishing the specific contract objectives and prioritization of these objectives, through to effective contract negotiation and drafting. The course covers both the technical/legal aspects of contract construction and also expands to incorporate cross cultural contract considerations within both UNCITRAL and International Law and crucially the art of cross cultural negotiation from both a Western, Middle East and PanAsean perspective.
Enabling delegates to complete the course fully equipped with an understanding of the key legal principles that underpin contracts globally and how these principles may be utilized within effective contract clause construction in order that they are able to provide the optimum contract format that both protects against risks whilst providing capture of operational benefits.


Learning objectives

• Limit your organization's exposure through effective contract structuring, negotiation & drafting
• Cultivate a better understanding and appreciation of contracting strategies
• Gain knowledge of complex agreements and the terms and conditions that most often cause contention • Build flexibility into your contracts by reviewing the applicability of provisions
• Incorporate the latest international legislative and legal issues into your contract risk management process, including UNCITRAL Framework
• Discover current best practice and techniques for defining and managing contract risk, setting & managing performance criteria
• Examine and evaluate the methodology and benefits behind standard contracts
• Review key contractual differences between products, services and solutions
• Explore distribution, sub-contracting, and other third-party relationships.
• Appreciate the key principles behind contractual damage clauses and apply these principles for optimum outcomes for your organization.
Who should attend?
• Contract Management Professionals
• Contract Managers and Administrators
• Contract Negotiators • Contract Lawyers and Attorneys
• Sales Contracting Professionals, including key account managers
• Purchasing, Sourcing and Supply Management Professionals
• Procurement Managers
• Finance Professionals involved in contracting
• Operational Managers • Commercial Relationship Managers
• Risk & Compliance Managers
• Plus! End-users who impact, or are impacted by, the contracting process

Training Methodology
The course is based on a balanced combination of classroom teaching and syndicate exercises supported by case studies and exercises within the industrial environment. This course is designed in with leading industry knowledge and practical case studies discussion and analysis to provide an interactive learning environment.
About the Trainer
John Atkinson International Consultant/Distinguished Trainer
John's corporate experience spans some 30 years including Head of Group & Global Procurement for Focus Wickes plc. where he was responsible for the full creation and implementation of global sourcing initiatives, supplier/vendor management and commercial contract negotiation. John has also held senior roles within Barclays Bank corporate and led a wide and diverse range of teams, both locally and globally.

John is also a certified instructor in delivering emotional intelligence training and has wide international experience, including: Kuwait, Iraq, Qatar, KDR, China, Germany, France, Sweden, Malaysia & West Africa. Organisations that John has worked with include: KNPC, Petronas, Shell, Total, Lafarge, Nigeria LNG, The United Nations, Zain Corporation, Maybank & Sinopec.

As a consultant and trainer for the last 8 years John is passionate about delivery, and utilises his career expertise to ensure that clients receive leading edge training results, enabling delegates to understand not only the subject matter, but also the application and usage to add value both to their role and within the wider organisational environment.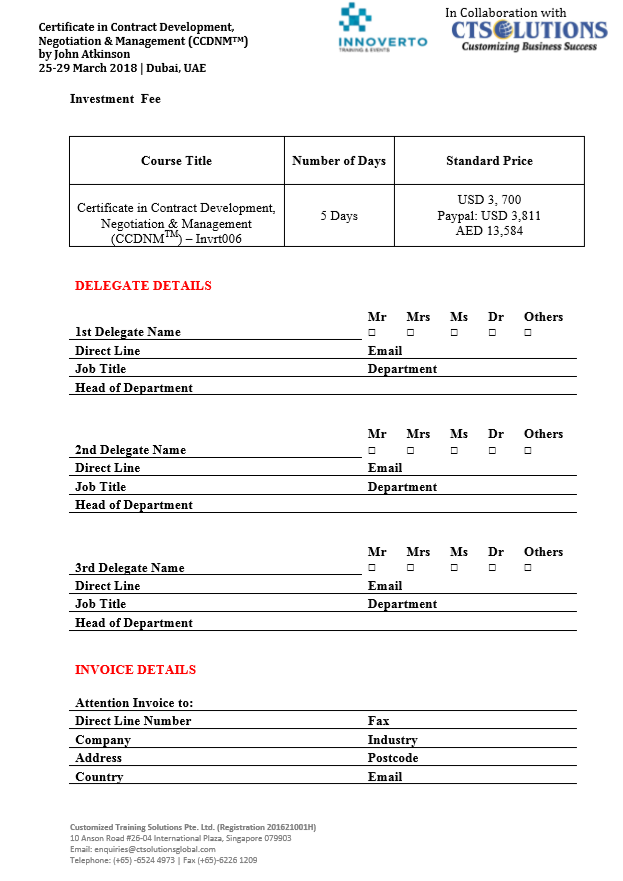 Disclaimer, Terms & Conditions:
• Location is subject to change
• Minimum number of participants has to be reached prior to confirmation of event
• Please note that trainers and topics were confirmed at time of publishing, however, CTS may necessitate substitution, alterations or cancellations. CTS reserves the right to change or cancel any part of its published programmed due to unforeseen circumstances.
• Registrations should be made 4-8 weeks prior to training date
• Full payment for the course should be made 3-4 weeks prior to training date • Cancellation 3 weeks prior to event date or no shows are liable to pay the full course with no refund, however you may substitute delegates at any time with notice
• Participants are required to attend at least 80% of the course program prior receipt of Certificate • Rates are exclusive of taxes unless otherwise indicated in the invoice
• Receipt of this email to participate and/or register in any of the learning activities organized by CTS should not in any way be taken as a promise for employment or contract of employment of any kind.
• Force Majeure: Should for any reason outside the control of CTS, the trainer changes his dates or event cancels due to the act of terrorism, extreme weather conditions, industrial action or epidemic, CTS shall reserve the rights to replace the trainer or reschedule the event but the client hereby indemnifies and holds CTS harmless from and against any and all costs, damages and expenses, which are incurred by the client.
For Payments:
Singapore Dollar Account Details
Beneficiary Name: Customized Training Solutions Pte. Ltd Beneficiary
Bank Account No: 003-940925-7
Bank Name: DBS
Bank Address: DBS Bank Ltd.
12 Marina Boulevard, DBS Asia Central
Marina Bay Financial Centre Tower 3, Singapore 018982
Bank Code: 7171 Branch Code: 003 Swift Address: DBSSSGSG
For more information, registration or any inquiries, kindly contact us at:
Customized Training Solutions Pte. Ltd. Registration No. 201621001H
Email: enquiries@ctsolutionsglobal.com/marylen@ctsolutionsglobal.com
Tel. #: +65- 6524 4973 Fax #: +65- 6226-1209