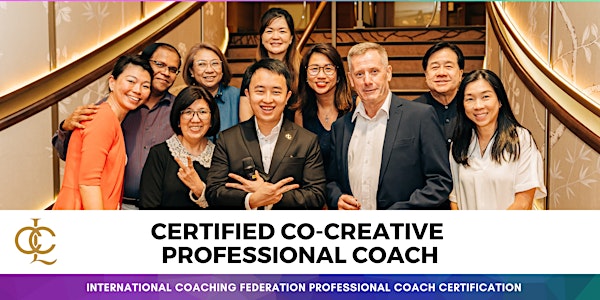 Certified Co-Creative Professional Coach (CCPC) (ICF Coach Training)
Coach Education of Choice
Refund Policy
Contact the organizer to request a refund.
About this event
Certified Co-Creative Professional Coach (CCPC) Certification 2022
Virtual Training Run 1 (Jan to March 2022)
Coaching Masterclasses - 4 Sessions
Timing: 8 pm - 10.30 pm (GMT +8)
Dates: 13 Jan, 10 Feb, 24 Feb, 17 March
Days: Thursdays
Coaching Practicums - 5 Sessions
Timing: 8 pm - 10 pm (GMT +8)
Dates: 20 Jan, 17 Feb, 3 Mar, 10 Mar, 24 Mar
Days: Thursday
Virtual Training Run 2 (May to July 2022)
Coaching Masterclasses - 4 Sessions
Timing: 8 pm - 10.30 pm (GMT +8)
Dates: 18 May, 1 June, 15 June, 6 Jul
Days: Wednesdays
Coaching Practicums - 5 Sessions
Timing: 8 pm - 10 pm (GMT +8)
Dates: 25 May, 8 June, 22 June, 29 June, 13 July
Days: Wednesdays
Virtual Training Run 3 (Aug to Nov 2022)
Coaching Masterclasses - 4 Sessions
Timing: 8 pm - 10.30 pm (GMT +8)
Dates: 31 Aug,14 Sept, 28 Sept, 26 Oct
Days: Wednesdays
Coaching Practicums - 5 Sessions
Timing: 8 pm - 10 pm (GMT +8)
Dates: 7 Sept, 21 Sept, 12 Oct, 19 Oct, 2 Nov
Days: Wednesdays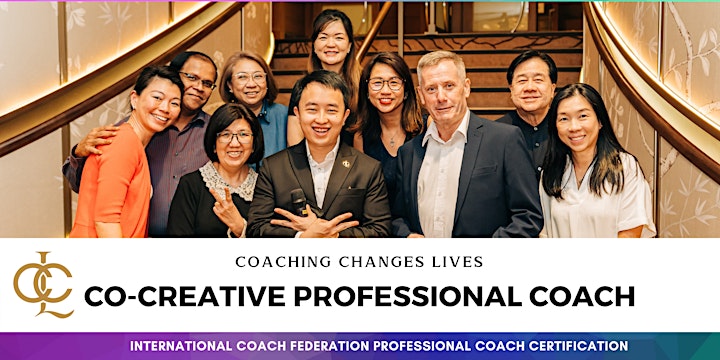 Coaching is Conversational Mastery.
Coaching is a co-creative experience, partnering with the client in a creative and thought-provoking process to inspire change and maximize potential. Through a conversational process, we empower our clients/colleagues and teams to gain clarity, overcome obstacles, and build sustained habits in their lives.
Every intervention begins with a conversation. Whether in Career, Business or Relationships, there are moments where we may feel stuck, perplexed or we can't seem to push through to the next level of performance. This is where coaches plays a pivotal role in driving a client's transformation.
What is Co-Creative Coaching?
Co-creation is a conversation process where collaborative communication and mutual trust co-exists. In doing so, we create a human-centric experience to evoke awareness and expand one's internal self-realization. In doing so, we empower clients actualise their strengths, and passions in different areas of their lives.
Why are Coaches Important?
Coaches are skilled professionals who can facilitate an individual's self-awareness and support him/her in building meaningful growth in their mindset, character, and personhood.
In organizations, coaches engage with internal employees for individual and mental wellbeing, career development, and upskill professional aptitudes.
Great coaches understand that coaching begins with a mindset for continuous self-reflection, a passion to inspire, and a heart for the people.
Benefits of Coaching
Personal
• Gain clarity and precision in your goals and dreams
• Build mental resilience through times of change and uncertainty
• Build sustainable and strong relationships with loved ones
• Become a persuasive and inspiring communicator
• Overcome limiting beliefs and create empowering beliefs
Corporate (Leadership and Teams)
• Lead with confidence and grow your leadership
• Increase team engagement and performance
• Build employee aptitude competence and confidence
• Develop organizational values and culture
• Improve staff engagement and reduce turnover
• Nurture leaders and grow talents
Why Certified Co-Creative Professional Coach (CCPC) Certification?
The Certified Co-Creative Professional Coach (CCPC) is an immersive and Coach Training and Certification Program, designed for maximum engagement.
Our curriculum is aligned to the guidelines and strict professional standards of the International Coaching Federation (ICF).
Through blended learning and practical exercises, the program offers highly practical and applicable coaching and communication skills.
We bring together a diverse and experienced group of professionals,hr leaders, managers, coaches or consultants, creating an inclusive and condusive enviroment for maximum learning.
Whether you are working towards the ACC Credential or to be equipped with coaching and communications skills in the workplace, we support your learning and growth.
Course Structure (60 Training Hours)
1. Core Coaching Master Classes (10 Hours, 4 sessions)
Coaching Masterclasses ​focuses on the core learning outcomes, practical insights, coaching techniques and tools to enable learners to develop their coaching competencies. 
2. Coaching Practicums (10 Hours, 5 sessions)
Coaching practicum extracts the key principles from the coaching Masterclass and provides a space of learners to practice, observe and receive feedback of their coaching.
3. Mentor Coaching (10 Hours, 4 group sessions, 2 individual sessions)
Mentor Coaching consists of coaching and feedback in a collaborative, appreciative and dialogued process based on an observed or recorded coaching session to increase the coach's capability in coaching, in alignment with the ICF Core Competencies.​
4. Level 1 Assessment ​(6 Hours)
Performance Evaluation of a Coaching Recording and Transcript at ACC Level ​
- (30 to 60 minutes length)
5. Homework and Reflection ​ (6 hours)
Weekly assignments provided designed for self-paced, reflection, review and improvement.
6. E Learning Content ​ (18 Hours)
Online Learning Materials, Videos that supplement the learning experience.
Mode of Delivery:
The language of delivery (coaching, training and mentoring) will be in English.
Pr-requisites and Requirements for the program:
1) No prior coaching experience required.
2) Learners must have professional understanding and have working command of the English language as the course will be delivered fully in English
3) The program will utilize Zoom (Participants will be required to register for a free Zoom account for our Online Sessions)
Course Content
Core 1: Good to Great Coaching - Journey towards Mastery ​
In Core 1, we begin the exploration of what makes a great coaching conversation. In the journey of going from good to great, we explore how does a coach transform to create a space of client-led clarity and awareness building. Greatness lies in the state of being.
As we deepen our exploration of professional coaching, we will discuss the ethical and professional standards of a coach and how coaches can build an ongoing reflective learning practice.
Core 2: Co-Creative Coaching Conversations  ​
In Core 2, we explore the principle of Co-Creation that underpins every coaching conversation. Coaching isn't bounded by a framework or models, as they create more imposition and presupposition of the client's world.
We will uncover how to approach coaching from a place of principles and values in partnering the client through their frame of the world and helping them evoke awareness to create lasting change.
Core 3: The Deep Dive - Evoking Awareness ​
In Core 3, we unravel the deep dive process of evoking awareness to help clients gain clarity about the underlying challenges they face.
Building upon their underlying beliefs and subconscious mental processes, we support the client to address the root of the problems and challenges. Enabling a deeper alignment of self drives sustained behavioral outcomes.
.
Core 4: Transforming  Insights to Actioning  ​
In Core 4, we go deeper beyond setting goals and explore the process of sustainable application of the appropriate behaviors to create lasting change for our clients.
In doing so, actions have to come from a place of realization, insights, and learnings.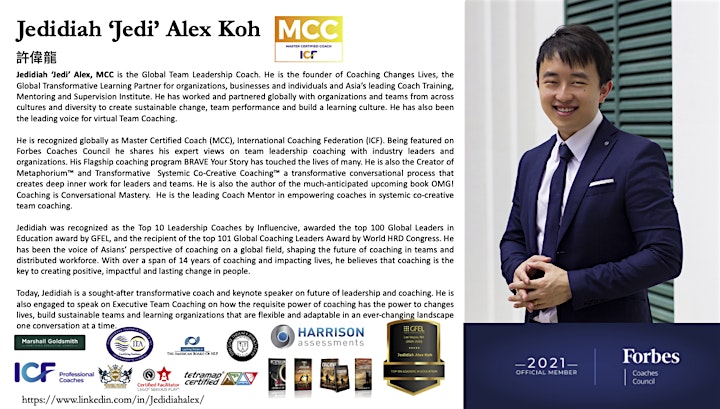 Contact
For course enrolment, get in touch with our team at:
Whatsapp: +65 96179861
Email: coach@coachingchangeslives.com