Certified Co-Creative Professional Coach (CCPC) (ICF Coach Training)
We prepare professional leaders and L&D experts to master coaching fundamentals and equip them to get their ICF ACC Credentials.
Refund Policy
Contact the organizer to request a refund.
About this event
27 days 21 hours

Mobile eTicket
Certified Co-Creative Professional Coach (CCPC) Certification 2023
Live In Person Training Run 1 (February to March 2023)
Days: Saturdays
Timing:
Dates: 11 Feb, 18 Feb, 4 Mar
Live In Person Training Run 2 (May to June 2023)
Days: Saturdays
Timing:
Dates: 13 May, 20 May, 27 May
Live In Person Training Run 3 (August to Sept 2023)
Days: Saturdays
Timing:
Dates: 12 Aug, 19 Aug, 26 Aug
Virtual Training Run 1 (April to June 2023)
Coaching Masterclasses - 4 Sessions
Days: Wednesdays
Timing: 8 pm - 10.00 pm (GMT +8)
Dates: 12 Apr, 26 Apr, 10 May, 31 May
Coaching Practicums - 5 Sessions
Days: Wednesdays
Timing: 8 pm - 10 .30pm (GMT +8)
Dates: 19 Apr, 3 May, 17 May, 24 May, 7 Jun
Virtual Training Run 2 (July to September 2023)
Coaching Masterclasses - 4 Sessions
Days: Fridays
Timing: 8 pm - 10.00 pm (GMT +8)
Dates: 7 Jul, 21 Jul, 4 Aug, 25 Aug
Coaching Practicums - 5 Sessions
Days: Fridays
Timing: 8 pm - 10.30 pm (GMT +8)
Dates: 14 Jul, 28 Jul, 11 Aug, 18 Aug, 1 Sep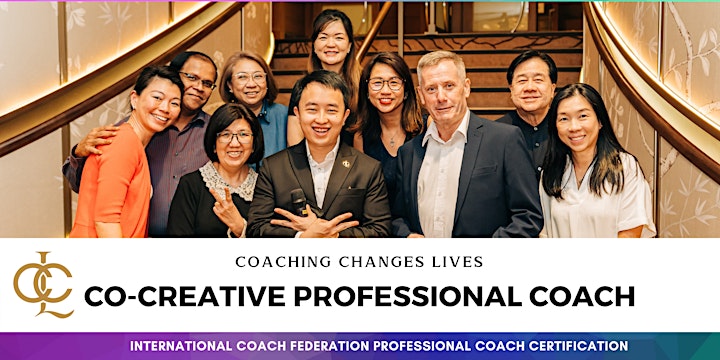 Why Coaching ?
Inspire change
Maximize potential
Gain clarity
Whether in Career, Business or Relationships, there are moments where we may feel stuck, perplexed or we can't seem to push through to the next level of performance. This is where coaches plays a pivotal role in driving a client's transformation.
Suitable for :
CEOs, Senior Executives, Business Owners, HRD/HRM, Managers
Through establishing Coaching Culture within the organization,corporate and business leaders exponentially increase their team's productivity . Whether you are top executive, middle management or management trainee, equipping yourself with coaching skills enhances your leadership skills.
Coaches, Practitioners who want to be certified Professionally
Whether you envision to be an executive coach or a life coach or specializing a niche, our coaching program will enhance and empower your Coaching practice.
Young Leaders, Future Leadership Talent, Youths
Our future generation of leaders must be equipped with coaching tools and competencies to help lead the next generation forward.
Co-Creative Professional Coaching Program
The immersive coaching training program will provide learners with an experiential learning environment, bridging theory into practice and sharpening conversational skills.Upon the completion of the training program, learners will embark on their preparation of their final performance evaluation, gaining real-world practice and cross-cultural learning. 
Competencies.Co-Creative Professional Coach (CCPC) certification program lays the foundation of coaching competencies and professional coaching process.
Skills.Through blended learning and practical exercises, the program offers highly practical and applicable coaching and communication skills.
Aligned to ICF. Our curriculum is aligned to the guidelines and strict professional standards of the International Coaching Federation (ICF).
Diverse group.We bring together a diverse and experienced group of professionals, hr leaders, managers, coaches or consultants, creating an inclusive and condusive enviroment for maximum learning.
Course Structure (60 Training Hours)
1. Core Coaching Master Classes (10 Hours)
---- Knowledge & Toolkit & Mindset ----
Coaching Masterclasses ​focuses on the core learnings, techniques and tools to enable learners to enhance their coaching competencies. 
2. Coaching Practicums (10 Hours)
---- Practice & Observe & Reflect ----
Coaching practicum takes the learnings from the coaching Masterclass and provides a space of learners to practice and get observation feedback and of their coaching sessions. ​
3. Mentor Coaching (10 Hours)
---- Reflect & Feedback ----
Mentor Coaching for ICF consists of coaching and feedback in a collaborative, appreciative and dialogued process based on an observed coaching session to increase the coach's capability in coaching, in alignment with the ICF Core Competencies.​
4. Level 1 Assessment ​(5 Hours)
Performance Evaluation of 2 Coaching Recording at ACC and PCC Level ​ - (30 to 60 minutes length)
Coaching Recording Transcript and Reflection sheet
5. Homework and Reflection ​(10 Hours)
6. E Learning Content ​ (15 Hours)
Online Learning Videos and Materials
Pre-requisites and Requirements for the program:
1) No prior coaching experience required.
2) Learners must have professional understanding and have working command of the English language as the course will be delivered fully in English
For Face to Face Programs
1) Participants are highly encouraged to bring the tablet or laptop to our live training venue.
For Virtual Training Programs
1) The program will utilize Zoom (Participants will be required to register for a free Zoom account for our Online Sessions)
Course Content
Core 1: Good to Great Coaching
Module 1 explores the ingredients of a great coaching conversation.
In the journey of going from good to great, what happens in the coaching process and how does the coach transform to create a space of client-led clarity and awareness building.
As we deepen our exploration of professional coaching, coaches will discuss the ethical and professional standards of a coach and how coaches can build an on-going reflective learning practice.
Core 2: Co-Creative Coaching Conversations  ​
Module 2 explores the principle of Co-Creation in building relationships and professional dialogue.
Coaching is not necessarily bounded by a framework or models, even though these models serve as a convenient tool.
While approaching coaching from a place of principles and values, coaches will explore the approach of partnership and co-creation in establishing safety, trust and rapport.
Core 3: The Deep Dive - Evoking Awareness ​
Module 3 focuses on the process of supporting self-expression through listening , conversational dialogue and evoking of awareness.
Coaches will learn to identify underlying beliefs and subconscious mental processes in individuals.
Through the practices, coaches will practice the process of surfacing underlying challenges and moving our clients towards a deeper alignement of self and behavioral outcomes.
.
Core 4: Transforming  Insights to Actioning  ​
Module 4 focuses on the process of adult learning, and how it is driven from a place of self-reflection, insights and ongoing feedback in the coaching process.
Coaches will learn help clients to move forward with their intentions, transforming written goals into progress and tangible outcomes.
Learning to set progressive measures that works in tandem with the client's ability and growth potential.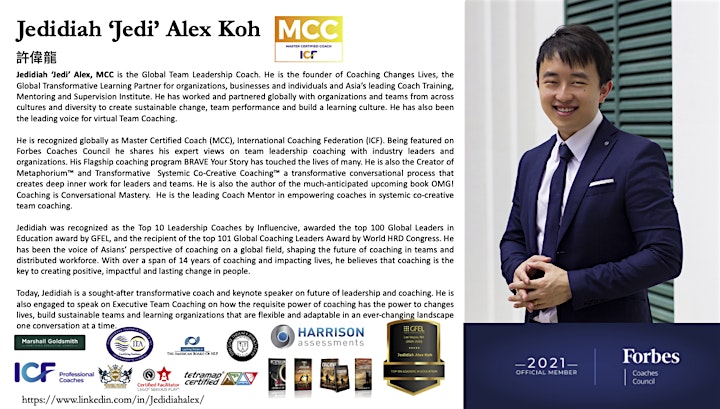 Contact
For course enrolment, get in touch with our team at:
Whatsapp: +65 96179861
Email: coach@coachingchangeslives.com