Description

** Please do not make payment until you have registered your slot with Theanthropy. Payment is strictly reserved for confirmed participants issued with payment invoice **
Please email your interest to register to training@theanthropy.com
Course Details
Course Name: Certified Scrum Master
Duration: 2 Days
Course fees : $101.65 to $2,033 .00 (including GST + Certification Fees)
Government subsidies: Yes -> IBF
Due to Covid 19 situation in Singapore, all our classes will be delivered in live remote virtual mode (via zoom).
15th to 16th Aug 2020 – (Weekend Class by Stuart) - Full

19th to 20th Aug 2020 – (Weekday Class by Sam) - Full

24th to 25th Aug 2020 – (Weekday Class by Sam)

29th to 30th Aug 2020 – (Weekend Class by Sam) - Full

31st Aug to 1st Sep 2020 - (Weekday Class by Stuart)

5th to 6th Sep 2020 - (Weekend Class by Stuart)

12th to 13th Sep 2020 – (Weekend Class by Sam)

21st to 22nd Sep 2020 – (Weekday Class by Stuart)

26th to 27th Sep 2020 – (Weekend Class by Stuart)

28th to 29th Sep 2020 – (Weekday Class by Sam)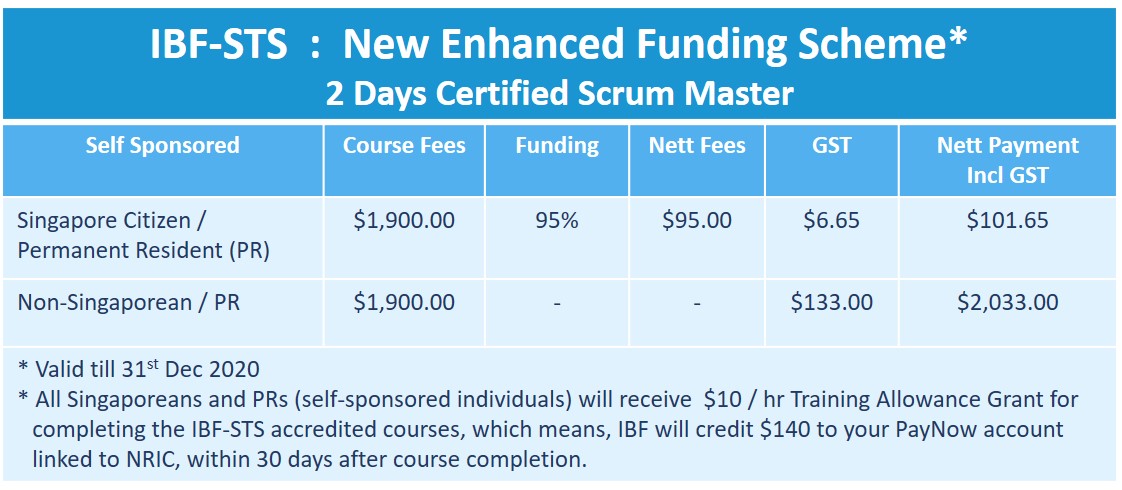 Certified Scrum Master Course Overview
Starting with the Certified ScrumMaster® (CSM®) certification from Scrum Alliance® is a great starting point that allows you to pursue the guided journey through Advanced and Professional level credentials and on to guide level status as a coach and/or educator.
This course will illustrate how Scrum and agile product management practices are applied by Scrum teams to validate ideas, evolving requirements, and deliver potentially shippable products infrequent, time-boxed iterations.
The variety of approaches that will be used in this course will include:
1. Facilitated interactive scenarios and case study discussions by top Agilists who have transformed a number of organisations
2. Experiential learning through mini-project simulations, role plays, quizzes and games, where the concepts of user stories, agile estimation, and release planning are practiced
3. Hands-on exercises, students can use the created solutions at their workplace
Certified Scrum Master Course Outcomes
On completion of the course, the students would be able to:
Expand career opportunities across all industry sectors adopting Agile practices

Understand Appreciate why and how Agile fits perfectly into Volatile, Uncertain, Complex and Ambiguous(VUCA) environment

Understand the principles underlying agile methodologies and how to apply them in a team context

Discover how documentation, governance, and reporting differ between a traditional and agile way of working

Understand and Appreciate the ScrumMaster role as Facilitator, Change Agent, and a Transformation catalyst

Practice Scrum Master services offered to Product Owner, Development Team and to Organisation, understand the challenges and best practices along the way

Practice Application Of Scrum Theory And Practice via A Goal Orientated Simulated Project
Benefits of a Scrum Master Certification
Expand your career opportunities across all industry sectors adopting Agile practices
Demonstrate your attainment of core Scrum knowledge
Learn the foundation of Scrum ad the scope of the role
Engage with Scrum practitioners committed to continuous improvement
In addition to fulfilling the role of ScrumMaster, your CSM certification gives you a two-year membership with Scrum Alliance®. Join local user groups and online social networks, gain access to deep discounts on Gatherings, and more.
The demand for CSM professionals continues to increase and Fortune 500 companies are continually hiring CSM professionals.
Key Takeaways of Certified Scrum Master Course
Focus on implementation – The CSM® program is designed to build on your foundational knowledge with enhanced skills for the implementation of Scrum and Agile techniques within your company and teams.
Stand out in your industry – As a member of the Scrum Alliance globally recognized community, you show your employer (or potential employer) your potential as a highly valued professional.


Course Trainers for Certified Scrum Master Course
Stuart Mitchell

SCRUM ALLIANCE Certified Scrum Master
Former Global Head of Agile at HSBC Bank
He is passionate about the understanding of Agile Corporate Governance, the application of Agile frameworks in non-software environments and the education of Agile to the next generation. He has written papers, lectured at World leading Universities and when not helping Agile teams reach their goals he is working with local charities and social enterprise businesses on applying Agile to have a direct benefit in the community (currently OzHarvest).
Stuart Turner

Certified Enterprise Scrum Trainer and Certified Enterprise Scrum Coach
Adjunct lecturer at the National University of Singapore (Business Agility and Scaling Agile)
Stuart is a Certified Professional Co-Active Coach ® (CPCC) with CTI and an ACC with the International Coaching Federation (ICF), the most recognized professional coaching standard globally. He is a Certified Enterprise Scrum Trainer and Certified Enterprise Scrum Coach for Enterprise Scrum Inc. and an OpenSpace Agility Trainer and contributor to the OpenSpace Agility framework.
Who Should Attend
Product owners

Product managers

Business analysts (BAs)

Business stakeholders

Representatives looking to apply the Agile/Scrum principles and practices
Certification
Upon successful completion of this course, you will receive a Certificate of Completion from Theanthropy and CSM certificate from Scrum Alliance.
Post Course Advisory Service
At the end of the course, you can request a free advisory service on either career or organisation improvements. The duration of the advisory service will be conducted by Theanthropy and will be capped at 1 hour for an individual and 3 hours for an organisation, with a validity period 3 months from the course completion date.
Course Subsidies
This course has been accredited under the IBF Standards and is eligible for funding under the IBF Standards Training Scheme (IBF-STS), subject to all eligibility criteria being met.
Please contact training@theanthropy.com if you are not sure of your subsidy amount.
Organiser of Certified Scrum Master Course