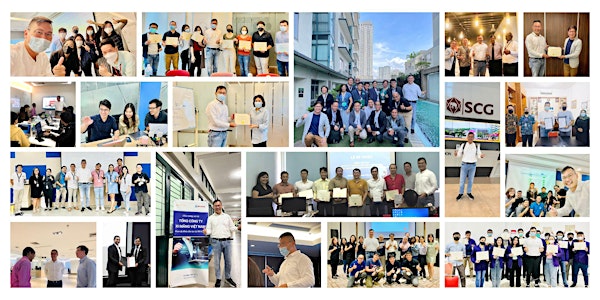 Certified Strategic Digital Transformation Leader - Onsite @ Singapore
Learn the art of leading strategic digital transformation by applying the proven CASUGOL Method™ to ensure its sustainability
Date and time
October 11 · 9:30am - October 13 · 5:30pm +08
Location
CASUGOL 1 Fullerton Road #02-01 Singapore, 049213 Singapore
Refund Policy
Contact the organizer to request a refund.
About this event
2 days 8 hours

Mobile eTicket
For more information: www.casugol.com/sdtl
International Acclaimed Certification. 5-Star Reviews
Suitable for everyone. Learn in an Interactive, Supportive, and Encouraging Environment.
Duration: 3-Day (Onsite) / 18 Hours (Online via Zoom)
Certification: Participants will receive a Certificate of Competency upon successfully completing the course and passing the examination
Who Should Attend: Business Leaders, CXOs, CEOs, CTOs, Business Unit Leaders, Project Managers, Senior Management, Senior Executives, Consultants, Aspiring consultants, and Anyone interested in acquiring knowledge and skills to become Strategic Digital Transformation Leader.
Course Objective
Acquire first-hand knowledge on know-how to use different digital strategies to develop digital transformation frameworks for businesses in all industry verticals.
Learn the art of leading strategic digital transformation by applying the proven CASUGOL Method™ to ensure the sustainability of any digital transformation initiatives.
Pre-Requisite
It is recommended that learners successfully completed Certified Digital Transformation Professional.
Certified Strategic Digital Transformation Leader (SDTL) is suitable for anyone with no prior technological experience
Examination
Participants are required to attempt an examination upon completion of course. This exam tests a candidate's knowledge and skills related to Digital Transformation based on the syllabus covered
Participants are expected to score a minimum of 70% to pass the examination
Module 1 Designing a Digital Transformation Journey
Topics Covered
What is Digital Transformation?
Introduction to Digital Transformation Journey
What is Your Digital Strategy?
Advantages and Challenges of Incumbent Businesses
Digital Thinking and Digital Mindset
Discovery-Driven Digital Strategic Planning
Progressive Transformation and Improvement
Returns of Investment (ROI) of Digital Transformation
Module 2 Stepping Into Digital Transformation Consulting
Topics Covered
What is Digital Transformation Consulting?
Specializations in Digital Transformation Consulting
Key steps to a Successful Consulting Project
Conducting a Need Analysis to Determine Project Specifics
Information Gathering
Identification of Potential Solutions
Presentation to Clients
Performing a Post-Project Review
Module 3 Art and Science of Disrupting Business Model
Topics Covered
Definition of Business Models
Key Components to Highly Successful Business Models
Developing a Tech-Layer by Connecting Technology to Market Needs
Innovate, Transform, and Disrupt
Transformation without Disruption
Enhancing Customer Experience
Progressive Bridging of the Incumbent Processes / Systems
Design Thinking for Digital Transformation
Module 4 Core Technological Pillars to Digital Transformation
Topics Covered
Understanding Industry 4.0?
Impact of Industry 4.0 on Businesses
Understanding the Core Technology Pillars of Digital Transformation
Deep Dive into Artificial Intelligence
Understanding Data Analytics / Big Data
Cyber Security Overview
Cloud Computing Essentials
Digital Marketing Trends / social media for Businesses
UI / UX Design and the Principles of Designing
Blockchain and its Impact
Geospatial Analytics and Data
Module 5 Data Strategies for Sustainable Digital Transformation
Topics Covered
Importance of Data and its Strategies
Information, Data, Information Architecture, and Data Architecture
Single Source of Truth (SSOT) vs. Multiple Versions of the Truth (MVOTs)
Defensive vs. Offensive Utilization of Data
Data Governance for High-Quality Data
Data Warehouse
ETL vs. ELT
Introduction to the Data-Strategy Spectrum
Organizational Data Management
Module 6 Artificial Intelligence for Competitive Advantage
Topics Covered
Artificial Intelligence for Key Decision Making
Scaling, Scoping, and Learning
Advantages of AI-Driven Companies
Artificial Intelligence (AI) Framework for Rebuilding an Incumbent Business
Artificial Intelligence Driven Transformation (Strategy, Architecture, Technical Capabilities, Agility, Governance)
Leadership Challenge to Advancing in Artificial Intelligence (AI)
Experienced-Based Decision Making to Data-Driven Decision Making
Organizing Artificial Intelligence (AI) for Scaling
Use Metrics and Data to Track AI Progress
Module 7 Change Management, Agile, Lean Start-Up, and Design Thinking
Topics Covered
Organizational Culture for Digital Transformation
Agile Development and Lean Start-up Methodologies for Digital Transformation
Disruptive Innovation and Design Thinking for Digital Transformation
The Rise of the Digital Executive and Digital Leader
Sustainable Digital Transformation Principles
Leadership Principles for Digital Transformation
Developing a Digital-Twin
Module 8 Developing a Digital Transformation Framework
Topics Covered
What is a Digital Transformation Framework?
Key Components of a Digital Transformation Framework
Identify Your Customers and Their Pain Points
Design Your Digital Transformation Journey
Understand the Design Thinking Approach to Digital Transformation
Choosing the Right Framework for Businesses
Module 9 Managing Digital Transformation
Topics Covered
Redefine the Purpose of the Organization
Understanding the Objective of Digital Transformation
Building a Digital Transformation Strategy
Disrupt Your Business Model
Identify and Digitally Transform Your Business Core
Data Governance and Cyber Security Policies
Module 10 Cost-Benefit Analysis for Digital Transformation
Topics Covered
What is Cost-Benefit Analysis?
Key Steps in Cost-Benefit Analysis
Preparation of a Cost-Benefit Analysis
Structuring of Cost-Benefit Analysis
Methodologies for Conducting Cost-Benefit Analysis
Unit Values and Data Collection
Assumptions, Forecasts, and Projections for Cost-Benefit Analysis
Module 11 Developing an Eco-system Strategy
Topics Covered
What is a Digital Transformation Eco-System?
Key Components of an Eco-System
Achieving Successes Being Part of an Eco-System
Partnership for Transformation Success
Private-Public Partnership
Partnership and Alliance in Digital Transformation
Transactional vs. Solution Based Eco-System
Certified Strategic Digital Transformation Leader (SDTL) involves rigorous usage of real-time case studies, hands-on exercises and group discussion
About the organizer
"The duty of helping one's self in the highest sense involves helping of one's neighbours" – Samuel Smiles
CASUGOL is an international certification body offering a wide-range of professional training and certification programs designed for all industries and verticals.
Participants attending our programs will develop the skills and knowledge in their chosen area of professional, personal or academic interest. Programs are constantly reviewed by educators who are industry experts in their chosen field to ensure that they remain current, relevant and consistently high quality.
CASUGOL strives to be a contemporary international neighbourhood where individuals gather to learn, be inspired, share ideas, knowledge, and resources to acquire all that necessary to pursue and advance in a career of their passion. Training and certification programs are also being offered in 25 Countries including Singapore, Canada, France, Thailand, Vietnam and Malaysia through our global Certified Training Partner (CTP) network.
Empowering people to be their best by making education, knowledge, and resources accessible has always been our commitment. With programs that cover a diverse range of interests, participants can certainly learn update their knowledge, gain new skills, or unleash their creativity.