How to manage and cope with academic expectations vs emotions vs physical changes?
About this event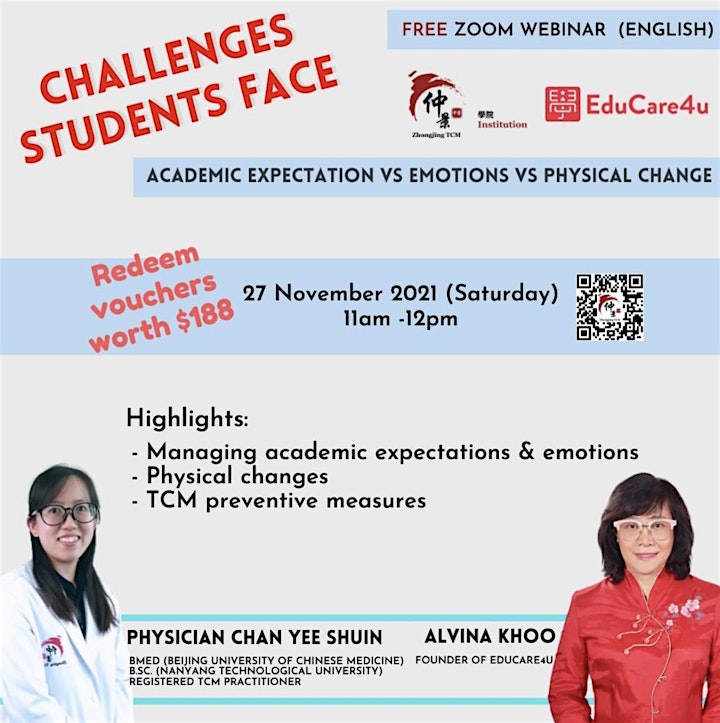 Change is the constant in the education world, especially in Singapore as we strive to equip the younger generation with the best they need to face an ever-changing work field in future.
How can we help them to cope with all these?
Organiser of Challenges Students Face
Brown Bag Sessions (BB sessions)
AKA BB sessions, Brown bag sessions are in-person wellness sharing sessions held at our Lavender centre.
The idea is that any individual seeking to live a more healthy lifestyle can come to learn more about their own bodies in a vibrant, warm and cozy environment.
- Herbal teas are served "On the house" and you are welcomed to bring in your food to facilitate this.
Being a live session also makes it easier for our physicians to demonstrate and correct accompanying exercises/products usage tied to each individual topic.
Zoom Wellness Sharing Sessions (ZWS)
Our zoom wellness sharing sessions are online sessions catering to anyone at anywhere seeking to live a more healthy lifestyle.
Each session ends off with a Q&A segment in which you can clear your doubts on the topic.
These sessions are also followed up with emailed infographics that can help you remember and follow up on the things that you have learned - exercises, tips & tricks.
Lastly, they are often accompanied with perks such as discounts for a full body constitution analysis etc.
Online or offline, we hope to see you soon!
#Wellnesswithzhongjing #healingwithzhongjing #Alwaystogether