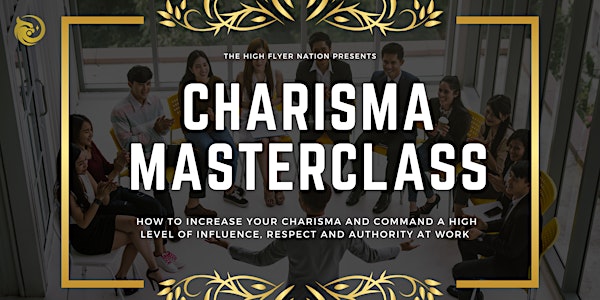 Charisma Masterclass
A 1.5 hour masterclass on how to increase your charisma and command a high level of influence, respect and authority at work.
About this event
Charisma Masterclass
Charisma Masterclass: How to Increase Your Charisma and Command a High Level of Influence, Respect and Authority at Work
Synopsis
* Do you struggle to articulate and convey your thoughts clearly and concisely?
* Do you get confused or frustrated looks when you try to explain or convince others of your ideas?
* Do you find yourself stuttering or using the wrong choice of words when being thrown questions?
* Do your teammates always have to step in when you fail to be concise in articulating your thoughts?
* Do you feel nervous, anxious and self-conscious when you have to give presentations in front of the big bosses?
* Do you feel like you keep getting unnoticed and passed over by your colleagues who are more charming, extroverted or socially-savvy... even though you may be equally or more competent than them?
* Do you feel stuck or stagnant in your career because you lack the confidence or assertiveness to be seen as leadership material?
If you can relate to any of the above, then this masterclass is designed for you.
No matter which industry you work for, your ability to influence is the most critical skills for career success. In any organization, the ones who rise to the top are those who have CHARISMA.
Most people believe that charisma is a quality that belongs to a few lucky individuals who are just naturally gifted. But the truth is, the aura of charisma can be created using specific, practical strategies that can be learned by anyone who knows them. With the right knowledge, you too can learn to develop charisma in yourself and use it to achieve your goals and desires.
In this 1.5 hour masterclass, internationally acclaimed charisma coach and TEDx trainer Hyder Taufik will be sharing with you the mindset and strategies you need to enhance your professional charisma and command a high level of influence, respect and authority at your workplace.
Benefits
By increasing your charisma, you will be able to:
* Get that dream job, role or promotion you truly deserve
* Speak up and articulate clearly and confidently at meetings
* Influence your colleagues, clients and bosses to get what you want
* Create amazing first impressions and be extremely likeable to people you meet
* Be more engaging in conversations and build instant rapport
* Be recognized as a leader and command the respect and attention
* Maximize impact and "WOW" your audience for every presentation
* Inspire, align and motivate your team to drive for results and achieve high performance
Who Should Attend
Executives who want to command a high level of influence, respect and authority at work
Managers and Leaders who want to inspire their team to higher levels of performance
Speakers and Trainers who want to be exude stage presence, confidence and authority from the stage
Who is the Trainer
Hyder Taufik is a peak performance & charisma coach with his organization The High Flyer Nation. As a peak performance specialist, he coaches high performing leaders, speakers and entrepreneurs to achieve a high level of charisma and be effortlessly consistent at what they do. Hyder also mentors professional coaches to get paid coaching clients and create a consistent income from 1-to-1 coaching.