Charity Yoga Class for October (Adults)
About this event
Let's show what it means to support the community at such challenging times.
We are offering charity adult and kids yoga in October
PAY AS YOU WISH
PayNow UEN 201906545M001
Ref: Charity
Let's continue to role model what values we want to teach the future generation!
100% proceeds donated to charities of our choice:
1. Sundac (Mental Disabilities)
2. Friend of the Disabled (Physical Disabilities)
3. Kampung Senang (Sustainability)
ADULT YOGA CLASS (ONLINE)
Tue 9:30 - 10:15pm Goodnight Sleep Stretch (Yvonne) - Oct 5, 12 ,19
Wed 9:00 - 10:00pm Yin Yoga (Wennye) - Oct 6, 13, 20
Thu 1:00 - 2:10pm Hatha (Hwee) - Oct 7, 14, 21
Sun 9:00 - 10:00am Hatha (Clara) - Oct 3, 10, 17
KIDS YOGA CLASS (ONLINE)
Wed 4:30 - 5:30pm (Oct 6, 13, 20)
Age 5 and above
KIDS AERIAL YOGA (ONLINE)
Fri 5:00 - 5:45pm (Oct 8, 15, 22)
Age 7 and above
For safety purposes, kids aerial requires the following
adult's supervision
hammock & yoga mat at home
two screens to log in zoom
the first device set 2 - 3m distance from the hammock so the teacher can see your whole body
the second device (preferably a large screen, eg: TV) set 1 - 2m from you so you can see the teacher's movement and instructions
*It is the parent/guardian's responsibility to assess or supervise that younger children practice safely
Limited Liability Waiver:
By attending the online yoga class, you understand that some aerial or yoga poses involve movement with long stretches, and some postures might be challenging. You / your child will stay mindful of your body and come out of the poses immediately should pain or extreme discomfort arise. You are aware that certain yoga poses are not recommended or safe for some health conditions (eg: pregnant). You will inform the instructor beforehand if you / your child have an old injury/recent injury/recent operation, treatment/therapy or any health condition. If you are doubtful, seek clearance from your doctor before participating. On your own behalf, or as a parent and/or guardian on behalf of the minor child, you release, discharge and hold harmless Mindful Space, its associates, its educators, directors, employees and partners (hereafter the 'Released Parties') from any and all liability for injury to your child or/and yourself arising out of or in connection with, or caused in any manner by your participation or your child's participation in the activities.
Mindful Space
97837313
https://www.mindfulspace.com.sg/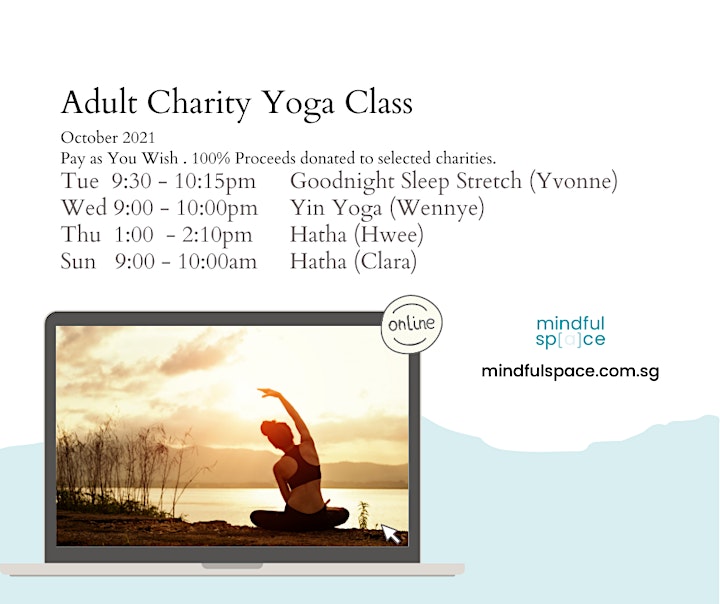 Organiser of Charity Yoga Class for October (Adults)
Holistic and inclusive space to empower parent & child with life skills - develop & balance the mind (IQ), body (PQ), emotions and behaviour(EQ).
We believe in order to support the child, we must first support the parent.
1. Parent's Well Being
2. Parenting Knowledge & Skills
3. Parent's bonding & learning with their child
OUR SERVICES:
Parent & Child Classes
Kids Enrichment
Yoga & Fitness
Life Coach
Business Coach
Family Consultation 
Parenting Workshops 
Teacher Trainings
Corporate Events
Holiday Programmes