Chartered Engineer (Singapore) - What is it all about?
Description
Topic:
Chartered Engineer (Singapore) - What is it all about?
Invited Speaker: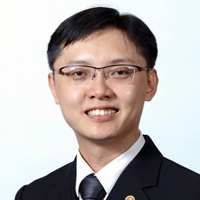 Dr. Victor Sim - Council Member, Institution of Engineers Singapore
Profile:
Dr Victor Sim is the Principal Engineer of Sustainable Urban Solutions at Surbana Jurong. A trained sustainability reporting specialist in both GRI Standards and Strategic Community Investment, Dr Sim is also a registered Chartered Engineer (Singapore) in the domain of Environmental and Water Engineering. He is elected as a Council Member representing the Young Engineers Division in the Institution of Engineers, Singapore for the 2018-2020 Term.
Prior to this, he was CH2M Singapore's lead process engineer for design considerations and process options for drinking water works (Choa Chu Kang Waterworks – 1st global competitively tendered ceramic membrane installation and Woodleigh Waterworks) with a total project cost >$200mil and had supported the construction of Singapore's 3rd seawater desalination plant and Kranji NEWater Factory Expansion. He specialized in process option trades-off with disinfection criteria and by-products formation, equipment life cycle analysis and chemical system designs.
Dr Sim graduated from Nanyang Technological University (NTU) in 2014 with a PhD on the support of the National Research Foundation Environment and Water Technology (NRF-EWT) scholarship by the Singapore government. His doctoral dissertation on fouling of desalination systems under the supervision of renowned membrane expert, Prof. Dr. Anthony Gordon Fane (Tony Fane) was awarded with two separate PhD awards in 2015, World Future Foundation PhD Prize and American Water Works Association (AWWA) Academic Achievement Award. The AWWA award is the inaugural award to a dissertation outside of North America since 1966. He also graduated with first class honours in Applied Chemistry from National University of Singapore (NUS) in 2008.
His contributions to the field of water and environmental sustainability have been recognized with the Singapore-Netherlands Sustainability Award, Green Talent (top 25 global young scientist in sustainable development), The Patron Prize, and the International Desalination Association Young Leader Award. Recently, he is presented with the Nanyang Outstanding Young Alumni Award 2017.
This event is supported by the School of Engineering and Technology's partner institutions: