Description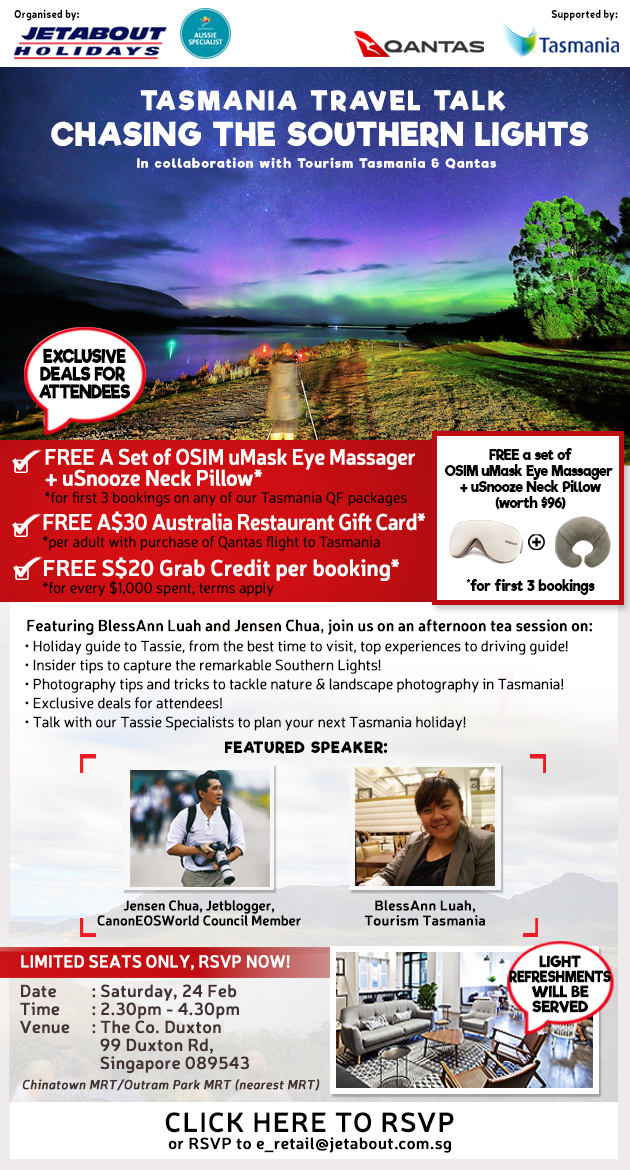 EXCLUSIVE INSIDER DEALS for attendees:
- FREE A Set of OSIM uMask Eye Massager + OSIM uSnooze Neck Pillow (worth $96) for the first 3 bookings on any of our Tasmania QF Package*
- Receive S$20 Grab Credit for every SGD1,000 spent*
- Receive A$30 Australia Restaurant Gift Card per adult for any purchase of Qantas flight to Tasmania *
- Don't forget there's GOODIE BAGS too!
Featuring BlessAnn Luah from Tourism Tasmania and Jensen Chua, Jetbloogger, CanonEOSWorld Council Member join us for a cosy Saturday afternoon tea session and discover:
• Holiday guide to Tassie, from the best time to visit, top experiences to driving tips!
• Insider tips to capture the remarkable Southern Lights!
• Photography tips and tricks to tackle nature & landscape photography in Tasmania!
• Meet our Tassie Specialists to plan your Tasmania holiday!
RSVP NOW, Limited Seats Only!