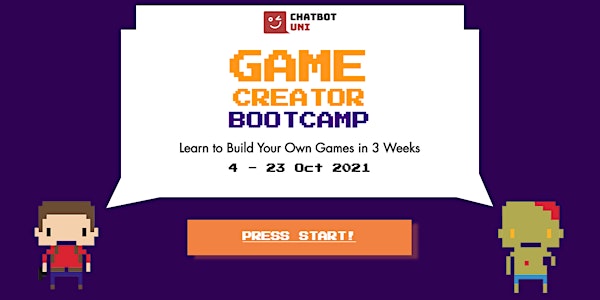 CHATBOT UNI Game Creator Bootcamp 2021
A Fun Bootcamp and Competition to Develop Simple-but-Powerful Games to Help Humanity (https://www.ai4impact.org/game-creator-2021)
Refund Policy
Contact the organiser to request a refund.
Eventbrite's fee is nonrefundable.
About this event
UNLOCK THE POWER OF GAMES FOR GOOD
Games are powerful platforms + algorithms that unite millions of people and motivate them to accomplish something together.
In this bootcamp, you will learn how to develop simple but powerful games to make this world a better place.
No prior programming experience required to participate.
WHAT WILL YOU LEARN?
ALGORITHM: Smart algorithm to develop simple but powerful game engines
DESIGN: Design thinking for building games that people love to use
APP DEVELOPMENT: End-to-end app development process from idea to production
WHAT IS YOUR LEARNING JOURNEY?
LEARN (4 - 10 October): Learn game concepts through self-pace videos and virtual mentorships from AI Expert.
BUILD (11 - 17 October): You will work as a team to build games based on any topics you like. Each team has to submit a game bot along with a 1-minute fun pitch video (Tiktok / Youtube).
CONTEST (18 - 22 October): Your games will be shared in the public domain. The top X teams with the highest user engagements will be selected for the Finale session.
FINALE (23 October): The top X teams will present their solutions to a panel of expert judges who will evaluate their work. This will be done live using zoom.
WHAT WILL I ACHIEVE IN THE END?
Championship Certificate: for the top 3 winners
Certificate of Excellence: for the finalists who showcase great results, based on expert judges' discretions
Certificate of Completion: for all teams who submitted a chatbot during Contest
Frequently Asked Question (FAQs)
​Q: I have zero knowledge about programming. Can I still participate? Yes! This bootcamp is accessible to non-programmers. No prior programming experience is needed.
Q: Do I have to set up / install anything for the Bootcamp? Everything will be accessible through your internet browser (Firefox or Chrome).
Q: Where is this Bootcamp held? On the Internet :)
Q: What is the objective of this Bootcamp? We want you to learn basic AI concepts and apply them to develop games that create happiness and positive outcomes to people. We hope your games can help as many people as possible during this pandemic.
Q: How large can my team be? You need to register in a team of 3 - 5 members. This Datathon is an intense program with lots to learn. You are strongly encouraged to sign up as a group.
Q: Do I need to be at a university to join? This competition is open to anyone. Register to learn and compete.
About ai4impact
ai4impact's mission is to help everyone, regardless of age or background, learn AI and build applications. Since its launch in 2019, we have successfully helped 6000+ non-programmers develop useful AI solutions.
We believe AI can help change our lives for the better, and everyone -- yes, that includes you, dear reader! -- should be able to utilize this amazing technology for social good.
If you have any questions, contact us at ai4impact@gmail.com