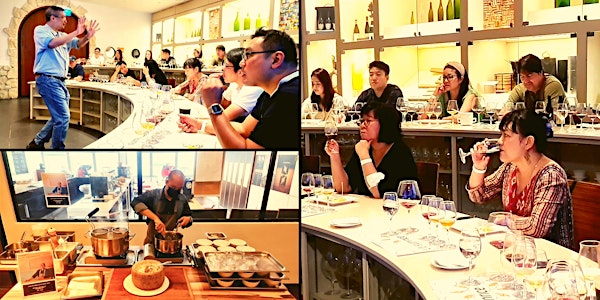 Cheese Pairing with Craft Beers & Wines (SOLD OUT)
A BIG THANK YOU FOR BEING PART OF THIS LEARNING AND TASTING EXPERIENCE!
When and where
Location
At-Sunrice GlobalChef Academy 28 Tai Seng Street Singapore, 534106 Singapore
Refund Policy
Contact the organiser to request a refund.
Eventbrite's fee is nonrefundable.
About this event
SEE YOU SOON AT OUR NEXT CRAFTY FUN DAY! HERE'S HOW YOU CAN GET THE DEETS FIRST!
🍻🍻🍻🍻🍻🍻🍻🍻🍻🍻🍻🍻🍻🍻🍻🍻🍻🍻🍻🍻🍻
About the Cheese, Beer & Wine Pairing
🍺 Discover the secrets to cheese pairing with craft beers and wines
🍺 Workshop led by F&B consultant, Daniel Chia
🍺 Hands-on tasting and pairing session (taste it to believe it!)
🧀 A "Cheese Wheel Special" prepared by Chef Jasper, using our aged Pecorino cheese wheel with truffles.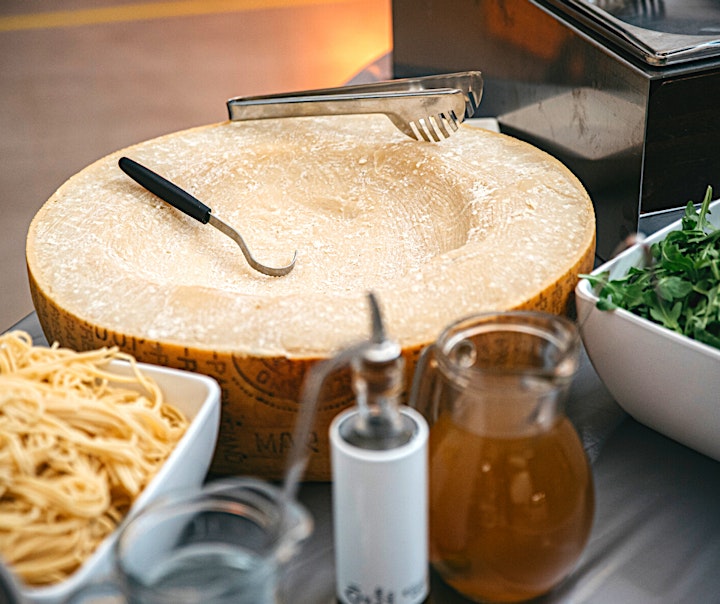 The pairings include:
🧀 Hard/Grating Cheese: Mature Chester Cheddar with 2016 Barolo "Villa Loren" - (5Somewhere)
🧀 Semi-Hard Cheese: Comte with 1925 Lychee Pale Lager - (1925)
🧀 Blue Cheese: Bleu d'Auvergne with Birra Flea Bianca Lancia - (Birra Flea)
🧀 Rind-Ripened Cheese: Brillat-Savarin with Brekeriet Stvns - (Wet Goods)
🧀 Wash-Rind Cheese: Pont L'Eveque AOP with North Coast Brewing Co. Old No.38 Stout - (TSA)

TERMS & CONDITIONS
1. only FULLY vaccinated patrons will be admitted to the premise.
2. Attendees MUST be 18 years old to drink.
3. SMM is observed. All seating - 5 persons maximum to a table.
4. Each set of Tribe reservation with drinks is for 2-hours.
SAFETY MEASURES
In view of the rising COVID-19 cases and latest measures by the local government, At-Sunrice GlobalChef Academy has put in place a set of safety measures and advice to keep our students, instructors, staff and visitors healthy and safe as well as to better mitigate risks and minimise disruption. We remain decidedly vigilant and ensure strict adherence to government advisories.
The following are the key safe management measures:
Students, instructors, staff and visitors are to only use the TraceTogether app or token for SafeEntry check-ins when entering the academy. Upon entry, you are required to wash your hands with soap and water in the washrooms.
Please note that At-Sunrice GlobalChef Academy will only admit fully vaccinated patrons to all activities & events.
It is mandatory for all students, instructors, staff and visitors to wear face masks at all times in the academy except when you are eating or drinking.
For workshops in the academy:
o Everyone must practise the one metre apart safe distancing with their respective groupings.
o Each room will have a limited capacity according to the size of the room.
All sessions will operate in distinct shifts to ensure no inter-mixing between shifts.
o Please strictly adhere to your ticket timings.
o There are clear space and movement markings to always ensure safe distancing. Staff and students are to comply with the space and movement markings.
Cleaning and disinfection of premises with high human contact are conducted daily.
Guidelines for food and hygiene safety are implemented Our Safe Management Officers (SMO) will continue to carry out daily inspections to ensure safety compliance.
o There will be photography and filming during the event. If you prefer to not appear in the footages and photos, please inform our staff and leave your details when you arrive at the event.
This also includes free entry to the Beer Marketplace (worth $25). Also comes with free goodie bag worth over $50!
🍺 FREE bottle or can of craft beer to take home for fully ticketed patrons
🍺Goodie pack worth over $20 with DAO collectible beer glass, GinMayo (sauces made out of gin) and more
🍺Access to a wide range of craft beers at special prices
🍺10% off Curious Creatures (www.curiouscreatures.cc) artisanal jewelry voucher
🍺$20 At-Sunrice Gourmet2Go vouchers
About the Speaker:
Daniel Chia has been involved in the Food & Beverage world since 1987, and now works to provide solutions to F&B businesses in Singapore.
Daniel has a wealth of experience in the wines & spirits world, with many years of industry experience, covering stints in sales and marketing within the wines and spirits trade, as well as at 5-star hotels, including the Grand Hyatt Singapore, Raffles Hotel and The Regent Singapore, where he managed restaurants, bars and the hotels' Wine & Beverage programmes, and has managed the opening of two independent restaurants, one in Singapore, and the other in Shanghai, China.
Since 2001, Daniel has been (and still continues) contributing to the local wine scene's understanding of wine communication. As a panelist in local magazines, he was one of the pioneers to use local flavour descriptors to describe the sensory qualities of wine. He also co-developed the 'Asian Wine Lexicon' to help new wine consumers in Asia describe wines in their own context.
Daniel was a full-time Lecturer, then later, Senior Lecturer at Temasek Polytechnic from 2005 to 2019, and supported the Hospitality & Tourism Management and the Culinary & Catering Management teams, teaching various subjects covering the areas of F&B Management, Wine & Beverage, F&B Service, Culinary Science, Product Knowledge, Food Hygiene and Gastronomy.
In 2011, 2015, 2016 and 2020, he was also Adjunct Professor – Wine Studies, for the the Bachelor of Professional Studies in Culinary Arts Management program and the Bachelor of Business Administration in Food Business Management, at the Culinary Institute of America (CIA) in Singapore.
Daniel was the Founding President of Slow Food (Singapore), a volunteer-run, non-profit, non-governmental organisation working on food issues in Singapore, with an emphasis on preserving and promoting Singapore' food cultural heritage, from 2013 to 2018, and held the honorary position of Founding President after completing his 5 year term.
During his term, Daniel proposed and launched Slow Food (Singapore)'s Heritage Hero Awards program in 2014, recognising Heritage Bakeries & Confectioneries. Two years later, in 2016, a category for Heritage Restaurants was also launched. He also created Kueh Appreciation Day, the most important event on Slow Food (Singapore)'s calendar, which has been a key Partner Event at Singapore Tourism Board's Singapore Food Festival, in 2015, 2016, 2017 and 2019.
Daniel is an alumnus of SHATEC, and has a Bachelor of Applied Science in Hospitality Studies from RMIT University, Melbourne, Australia, and a Master's Degree in Food Culture and Communications with a specialization in Human Ecology and Sustainability from the Università degli Studi di Scienze Gastronomiche, Pollenzo, Italy.
He is also one of only seven specialised Food Area Tourist Guides, licensed by the Singapore Tourism Board.