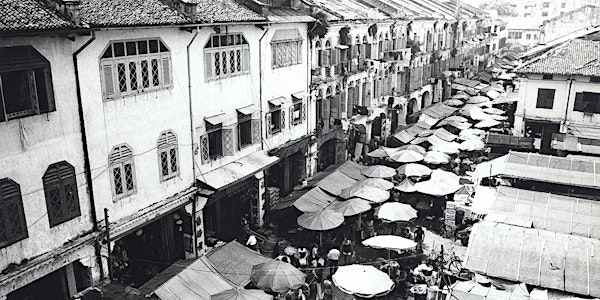 Chinatown Heritage Walks - Kreta Ayer
Find out about Kreta Ayer, the predominantly Cantonese section of Chinatown on this specially guided walking tour.
When and where
Location
Urban Redevelopment Authority (URA) 45 Maxwell Road The URA Centre Singapore, 069118 Singapore
About this event
About the Chinatown Heritage Walks
Thank you for your interest in joining the Chinatown Heritage Walks! This is a series of weekly walks to the four districts within the Chinatown Conservation area.
A collaboration between the URA and the Friends of the Museums URA volunteers, these two hour walks are led by an FOM docent. Besides sharing on the history of Chinatown, you will also gain an appreciation of our Conservation efforts, which is part of the integrated planning process to shape a city that is distinctive, liveable and sustainable. You will also gain a better appreciation of the challenges in balancing different needs for land and the innovative solutions that we have adopted to overcome them.
Come experience Kreta Ayer, the predominantly Cantonese area of Chinatown in the 19th century. It was known for round-the-clock entertainment with a concentration of teahouse, opera theatres and brothels.
Tour Information
Guided tours are offered from 9:30am - 11:30am on Fridays, except on a public holiday.
Each outdoor tour is approximately two-hours long.
Tours are conducted in English and recommended for participants aged 16 and above.
PRE-REGISTRATION is required; no walk-ins will be permitted.
Things to Bring
Earphones with a standard 3.5mm jack for use with our audio guide device;
An umbrella or poncho; and
A water bottle.
Things to Note
By registering for the tour, you are agreeing to the following terms and conditions:
Your personal data may be used and/or disclosed for purposes of data analysis and identity verification and such other related purposes;
Photos and videos may be taken by the organisers during the tour and used for publicity purposes;
Unauthorised recording in any form, including video and audio, is not allowed during the tour;
Participants shall be responsible for any injury, loss or damage due to carelessness or other actions on his/her part;
The tour is a 'rain-or-shine' event; the organiser reserves the right to determine any cancellation based on ground conditions.
How to Book
1. Click on "Select A Date".
2. Pick your preferred tour date and time and click on "Tickets".
3. Click on "Register" and complete the registration form.
4. Each registration is valid for one individual. If you are visiting in a group, separate registrations are needed for each individual. Availability is on a first come, first served basis.
Enquiries
For enquiries, please email us at URA_Outreach@ura.gov.sg and we will get back to you within 3 working days.