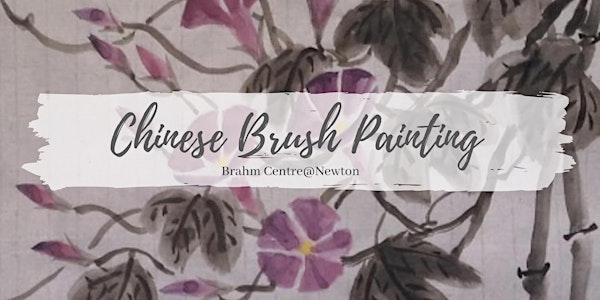 Chinese Brush Painting by Paul Lee - NT20230202CBP
Appreciate Chinese culture and art through Chinese Brush Painting with Singapore-born artist Paul Lee.
When and where
Location
Brahm Centre @ Newton 47 Scotts Road #04-02A Singapore, 228233 Singapore
About this event
In this Chinese Brush Painting course, participants will develop an appreciation of Chinese culture and art, and get to experience this traditional and unique expression of creativity through the various techniques of applying Chinese ink and colours on rice paper.
WHAT?
In this Chinese painting class, you can learn the unique perspective and art form of Chinese culture. The course covers free style techniques of Chinese painting.
You will learn various traditional and modern subjects such as flowers, birds, marine, plants, scenery, mountain, rocks, still life subjects, etc.
Materials provided: 
1. Chinese Brushes x 2
2. Chinese Ink
3. Chinese Rice papers
4. Chinese Paint Set 12 Colours
5. Colour Palette
WHEN?
Thursday, 2 February - 10am-12noon
Thursday, 9 February - 10am-12noon
Thursday, 16 February - 10am-12noon
Thursday, 23 February - 10am-12noon
Thursday, 2 March - 10am-12noon
Thursday, 9 March - 10am-12noon
Thursday, 16 March - 10am-12noon
Thursday, 23 March - 10am-12noon
No of Sessions: 8
WHERE?
Brahm Centre @ Newton
Course Fee:
$280 |$56 for seniors eligible for National Silver Academy (NSA) subsidy*
*NSA subsidy is for Singaporeans and Permanent Residents aged 50 and above.
In addition to NSA subsidy, course fee may be offset by SkillsFuture Credit (SFC).
Payment Procedure:
1) Upon registration, course participants are to make payment for the course through Brahm Centre's Eventbrite page.
2) Participants have to claim with SFC before the course start date through the SkillsFuture portal, https://www.myskillsfuture.gov.sg/content/portal/en/index.html
3) Brahm Centre will reimburse the amount that is successfully claimed upon receipt of the funds from SFC. This procedure can take up to 12 weeks from the course start date.
4) Participants must achieve a minimum of 75% attendance, to be eligible for their SkillsFuture Credit reimbursement.
Notes:
Please note that payments for courses are non-refundable.
There are no make-up lessons if you miss any session.
If you miss the first session, you are allowed to proceed with the course. However, the trainer is not obligated to do a recap during the second session.
Brahm Centre reserves the right to replace a trainer, should the trainer be unable to conduct the class due to unforeseen circumstances.
Trainer's Profile:
Mr Lee Thiam Seng (Paul) is a Singapore-born artist, art therapist, and consultant. He is the founder of UniqArts and Technologies. Mr Lee holds a Master in Arts-Art Therapy with LASALLE College of the Arts, and a Bachelor of Management Degree with Royal Melbourne Institute of Technologies. He is also trained in fine arts at the Nanyang Academy of Fine Arts (NAFA). Mr Lee is the creator of the virtual art classroom www.onlineartclass.com and author of the children's book - Drawing is Easy. Mr Lee has facilitated many creative art projects for therapeutic and developmental purposes, both for children and adults. He has experience running individual and group art therapy treatment for children and adults in schools and hospitals.