Description
中国书法 (初级) CHINESE CALLIGRAPHY – BEGINNER
课程目标 Programme Outline
书法被认为是东亚的重要艺术和最优雅的写字形式。导师将介绍介绍有关汉字书写艺术、发展史、基本书写常识 (执笔与运笔方法、基本笔画、书写汉字规律)。学员将学习基本的技法。欣赏与练习书法字的简单结构。理论与实践,练习配合。
Calligraphy, the art of writing Chinese characters, is an highly regarded visual art form of Chinese culture. During the calligraphy workshop, you will be introduced to the Chinese calligraphy and its history. Participants will also learn the correct postures and skills of handling brush, the basic brush strokes and its fundamental rules, character structure/planning and more. At the end of the session, you will be able to appreciate the art of Chinese calligraphy and create your own meaningful artworks.
导师周和顺 Chew Ho Son
前南洋理工大学财务处处长。(1981-2009年任职于南洋理工大学) 。获北京清华大学书法艺术高级研究课程证书 。2010年开始为南洋理工大学孔子学院中华文化怡养研修课程及国际学生交流课程书法兼职导师;人民协会合格书法导师 (PA Trainer) 。曾参加新加坡及中国、韩国、法国等区域及国际书法比赛。作品曾在各地展出或被收藏。
Mr Chew Ho Son graduated from the Nanyang University. He worked at Nanyang Technological University (NTU) from 1981 - 2009 and was the former Director of Finance at NTU. Mr Chew received his professional calligraphy training at Tsing Hua University in Beijing. He has been sharing his passion for the Chinese culture and calligraphy through teaching at various communities.
Dates : 19, 26 Dec 2017, 2, 9, 16, 23 Jan 2018 (Tuesday) 6 sessions
Time : 1.30pm to 4pm
Venue : 10 Square @ Orchard Central Level 10
Fee payable : $30.00 per participant (includes a set of materials)
Additional items to bring :
please bring a bag to bring home material set
Class will start with minimum 8 participants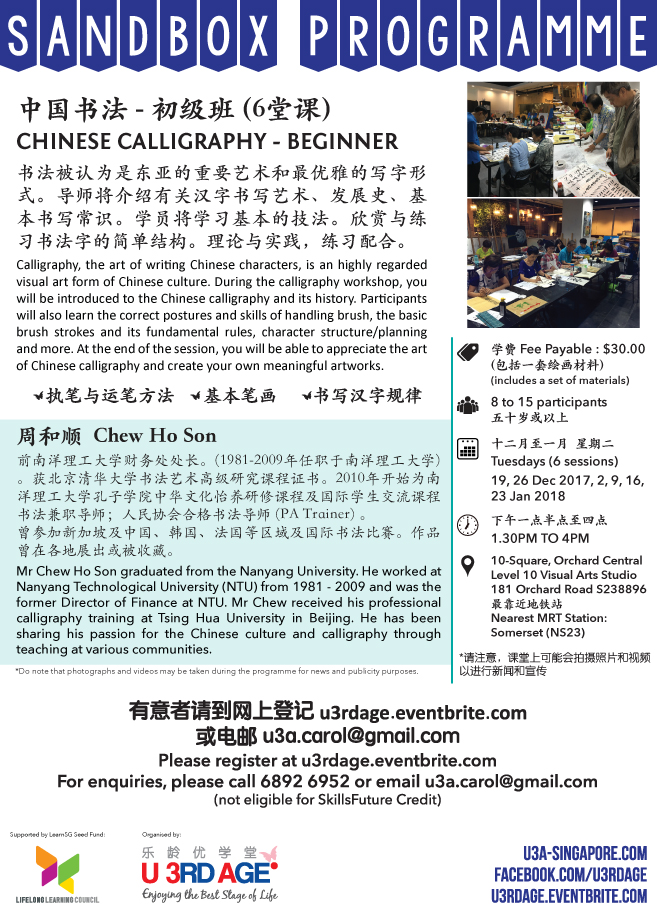 FAQs
Are there ID requirements or an age limit to enter the event?
Seniors age 50 and above
What are my transport/parking options getting to the event?
Directions to Orchard Central
Bus Stop 1 (Alight at Midpoint Orchard)
Bus No. 7, 14, 14E, 16, 65, 106, 111, 123, 175, 502, 502A, 1N, 2N, 3N, 4N, 5N, 6N, NR6, NR7 Bus Stop 2 (Alight at Orchard Plaza)
Bus No. 123, 143, 587, 590, 598, NR6, NR7 Nearest MRT
Orchard Central is directly accessible from Somerset MRT Station. Nearest Taxi Stand
Located at entrance, along Killiney Road
Where can I contact the organiser with any questions?
Please email u3a.carol@gmail.com