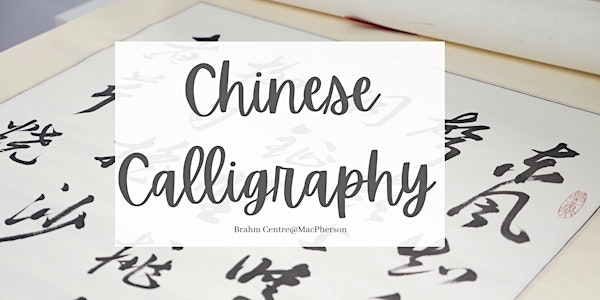 Chinese Calligraphy Course by Louis Tan - MP20230204CC
Immerse yourself in the art of Calligraphy (书法) with Louis Tan, a 30-year teacher and practitioner.
When and where
Location
Brahm Centre @ MacPherson 55 Pipit Road #01-01 Singapore, 370055 Singapore
About this event
WHAT?
Chinese Calligraphy is an ancient art form, widely considered as the most respected of the fine arts in Chinese culture. Experience energy in motion as you put brush and ink on paper, and learn how brushstrokes can be charged with dynamic life and infused with rhythm.
Join this Chinese Calligraphy course to exercise your creativity, and cultivate patience, concentration, and dexterity at the same time.
Course Outline:
Session 1:Discovery the four treasures of Chinese Calligraphy-Chinese Brush, ink, rice paper and Inkstone.
Session 2:Discovery the evolution of Chinese words. Learn the basic strokes. Practice the "Yong" Character"-永字八法写法
Session 3:Learn Chinese Character structures and construction
Session 4:Learn "One and two Words" presentation, and practice.
Session 5:Learn "4 Words" presentation, and practice.
Session 6: Advance discovery of strokes and practice
Session 7:Investigate other styles of presentation
Session 8:Discover different "standing style" writing by calligraphers
Materials provided: 
Brush, Ink, Paper, Sauce, and Cloth
WHEN?
Saturday, 4 February - 1pm-3pm
Saturday, 11 February - 1pm-3pm
Saturday, 18 February - 1pm-3pm
Saturday, 25 February - 1pm-3pm
Saturday, 4 March - 1pm-3pm
Saturday, 11 March - 1pm-3pm
Saturday, 18 March - 1pm-3pm
Saturday, 25 March - 1pm-3pm
Total of 8 sessions.
WHERE?
Brahm Centre @ MacPherson
**Minimum 12 students to start class
$280 |$56 for seniors eligible for National Silver Academy (NSA) subsidy*
*NSA subsidy is for Singaporeans and Permanent Residents aged 50 and above.
In addition to NSA subsidy, course fee may be offset by SkillsFuture Credit (SFC).
Payment Procedure:
1) Upon registration, course participants are to make payment for the course through Brahm Centre's Eventbrite page.
2) Participants have to claim with SFC before the course start date through the SkillsFuture portal, https://www.myskillsfuture.gov.sg/content/portal/en/index.html
3) Brahm Centre will reimburse the amount that is successfully claimed upon receipt of the funds from SFC. This procedure can take up to 8 weeks from the course start date.
Notes:
· Please note that payments for courses are non-refundable.
· There are no make-up lessons if you miss any session.
· If you miss the first session, you are allowed to proceed with the course. However, the trainer is not obligated to do a recap during the second session.
Trainer Profile:
Louis Tan is an avid Chinese calligraphy practitioner for 30 years. He is currently Tuan Mong Chinese Calligraphy Society – Asst. Secretary(副总务). He picked up this art from his mother and learnt Chinese calligraphy officially when he was in Tuan Mong High School. He went on to attend Dr. Kho Seow Hua's "Running Script Style" class in the NUS Department of Extramural Studies, and continues his practice up till today. Louis has also participated in various Chinese Calligraphy competitions and was recently awarded the Dr Tan Tsze Chor Art Award by the Singapore Art Society for his outstanding art.  In 2020- he received a Gold award, by The 24rd World Calligraphy Itinerant Grand Exhibition