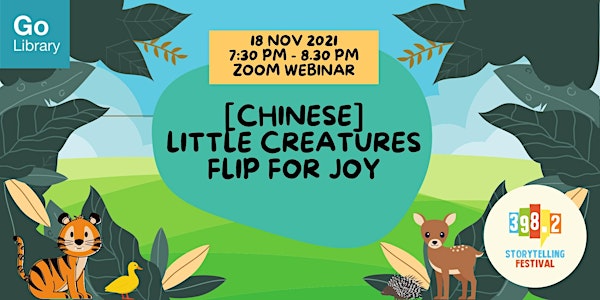 [Chinese] Little Creatures Flip for Joy [398.2 Storytelling Festival 2021]
398.2 Storytelling Festival 2021 is back with exciting new sessions! Be enchanted by these fascinating fairy tales and folktales.
About this event
About the Programme/Event
398.2 Storytelling Festival 2021 is back with exciting, new sessions! Be enchanted by the fascinating stories as our talented storytellers whisk you and your family away on extraordinary adventures. Let the world of fairy tales and folktales mesmerize and enthral you!  
This festival is brought to you by Storytelling Association (Singapore) and Public Libraries Singapore.
This programme is suitable for children aged 4 to 9 years old.
 Please note that this session is conducted in Mandarin and English.
Theme: Animals United (Stories in Mandarin and English)
This programme, conducted in Mandarin and English, brings to us a fun Teochew rhyme about teamwork and its importance. Watch as some underdogs team up to outwit the bad guy! When Mousedeer and Porcupine join quills with skills, not even Tiger can defeat them!
About the Storytellers
Wong Swee Yean
Swee Yean is a storyteller who tells stories for all ages--(ranging from 3 to 93!) . She was formerly a school teacher and loves to take people on a journey of imagination to see the mind's eye and travel to new places.
Gao Meng
Gao Meng is a Chinese teacher and storyteller with many years of experience in storytelling and children's drama performances. She is committed to bringing children into the magical world of stories.
Earn Meng Chan
Earn Meng grew up in a kampong flying kites, plucking guava, and getting caned. The best thing that happened in school was meeting his wife. Now, he attempts to recollect and make sense of those precious moments of life.
Online Programme/Event Administration Information
This programme is conducted entirely online. You may access Zoom via the app or using a web browser.
Please ensure that you enter a valid email address as you will receive an email with the link to the online programme/event near the day of the programme/event.
The link of the programme should not be shared with others.
Do ensure that you have a strong internet connection. Using your mobile data is not recommended.
The National Library Board, Singapore (NLB) reserves the right in its absolute discretion to disqualify or refuse admission to any registrant without any reason and notice.