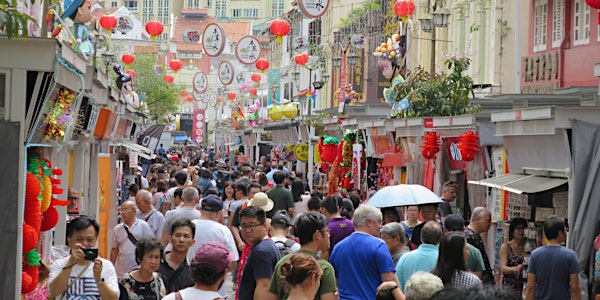 Chinese New Year Walking Tour
Did you know that Chinese New Year is an actual fifteen day affair with customs and rites for each day. Join Uncle Chris to learn more!
When and where
Location
Chinatown MRT Station (DT19) 91 Upper Cross Street Singapore, 058362 Singapore
About this event
Chinese New Year (CNY) is just around the corner. It is a good time to join in the revelry. It is also a good time to learn why our forefathers and mothers do what they did whenever CNY came around. It is no secret that Culture Practices are fast fading. Clans and societies, huay kuans, associations and clubs are doing all that they can to preserve our culture and heritage. But, have we?
Most people all over the world also know that we, Asians are a superstitious lot. So, why are memberships at these places fading? Having said that, it is good to know that some practices are still being kept and done over the decades. Today, we'll go through some or if possible, all of them. We'll explore the meaning of all the fruits, rites, and foods kept and eaten during CNY.
We'll also discuss why we still buy and use all these red packets and for some, it is mandatory to bank in money at the bank on some auspicious days. If you are a foreigner, you should really come on this tour. This is a family morning tour. Bring your children, especially the youth – so that they know why we old folks do what we do. This is a colorful, happy morning walking tour!
Meet me at Chinatown MRT, 9am on the 14th January 2023. Bring your MRT card, because we'll be taking the train from Chinatown to Albert Street (Bugis MRT).
Note:
We do the world wide practice of tipping at the end of the tour.
We also reserve the right to accept or reject habitual late cancellations and No Shows.
Do not sign up for this tour if you are not sure of your schedule. Please understand this method of booking platform can only perform its best with your full sincerity and graciousness. Sign up only when you are sure of your schedule.