About this Event
Hosting a Christmas dinner can be tiring & time consuming, especially preparing the food!
Only for $168++ (each set), you can make your Christmas a memorable event without making a mess of your kitchen. Our Christmas Food Tradition is carefully prepare & cooked individually by our Executive Chef Corwin Leong & his team. All our food traditions set comes with a pack of Herb Potatoes, Ratatouille & Home Baked Fruit Cake.
Need a good bottle of wine to goes with your Christmas food? Read on to find out which wine goes with which Christmas food tradition.
You can start ordering your Christmas food tradition today by calling our outlet at 6226 0287 or click the Ticket button
To find out more on how to make your First Pre-Order, scroll at the bottom.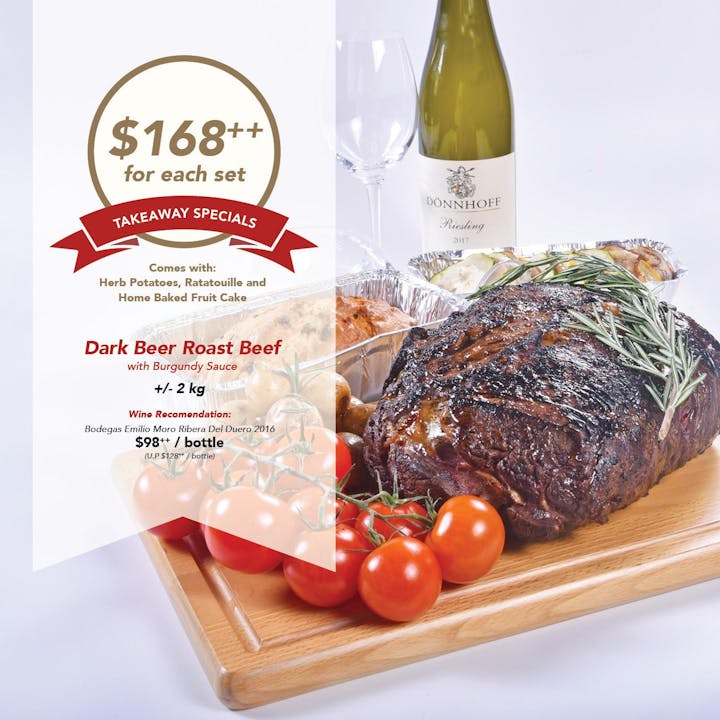 Dark Beer Roast Beef With Burgundy Sauce
The Ultimate Christmas Meal
Our Executive Chef Corwin's Special Recipe!
Your Christmas dinner will never be complete without serving the Dark Beer Roast Beef with Burgundy Sauce. This 2kg (approximately) juicy roasted beef is specially roasted with Burgundy sauce to bring out the best beef flavor. This Christmas meal is suitable for 4 – 6 pax.
It is best served with the Bodegas Emilion Moro Ribera Del Buero 2016 wine bottle, which is only for $98++ per bottle (UP $128++). Perfect for any beef lover!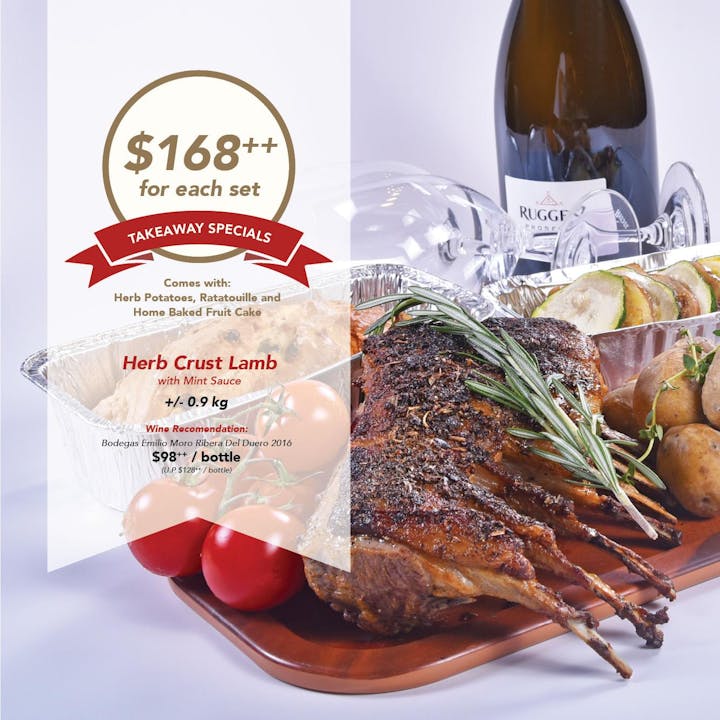 Herb Crust Lamb With Mint Sauce
Let's go Classic!
Roasted Herb Crust Lamb with Mint Sauce is perfect for all occasions, that will not go wrong. This perfectly cooked Herb Crust Lamb is not only tender but also mouth-watering.
Each of the lamb chops are juicy, rich in herbs flavour & tender! You can served easily on a carving board or a platter, best for 3 – 4 pax.
For those who love wines, best to pair this Christmas meal with Bodegas Emilio Moro Ribera Del Duero 2016 wine bottle for only $98++ (UP$128++).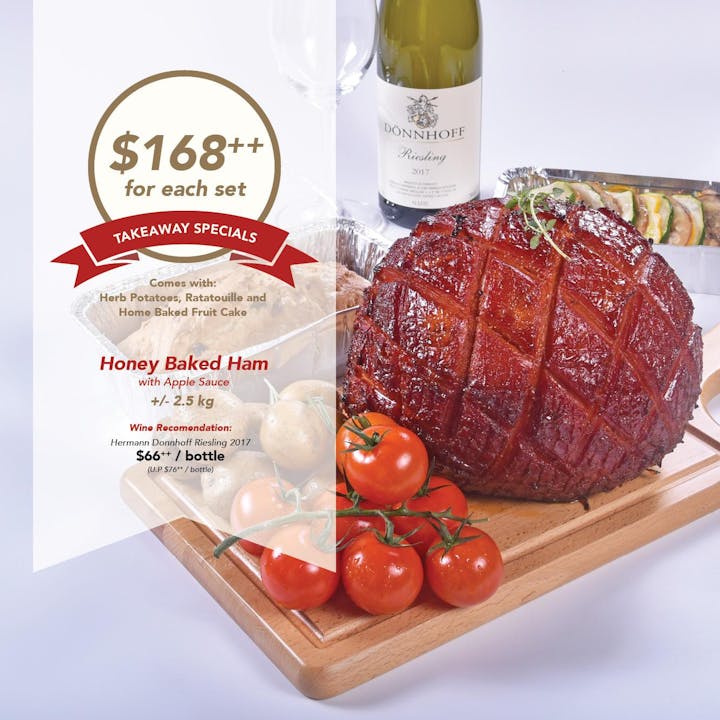 Honey Baked Ham With Apple Sauce
SAVE THE BEST FOR LAST!
If you have little ones attending your Christmas dinner, this Honey Baked Ham with Apple Sauce is the perfect meal!
Traditionally, the baked ham is a time-honored tradition in America during Christmas or Easter & it is served as a complement. Today, the honey ham is one of the must have Christmas dish!
Our baked ham is glazed with honey & served with apple sauce to bring out the savory ham juiciness & taste. This 2.5kg (approximately) dish is a perfect serving up to 10 pax.
Best served with Hermann Donnhoff Riesling 2017 wine bottle, which is only at $66++ (UP $76++)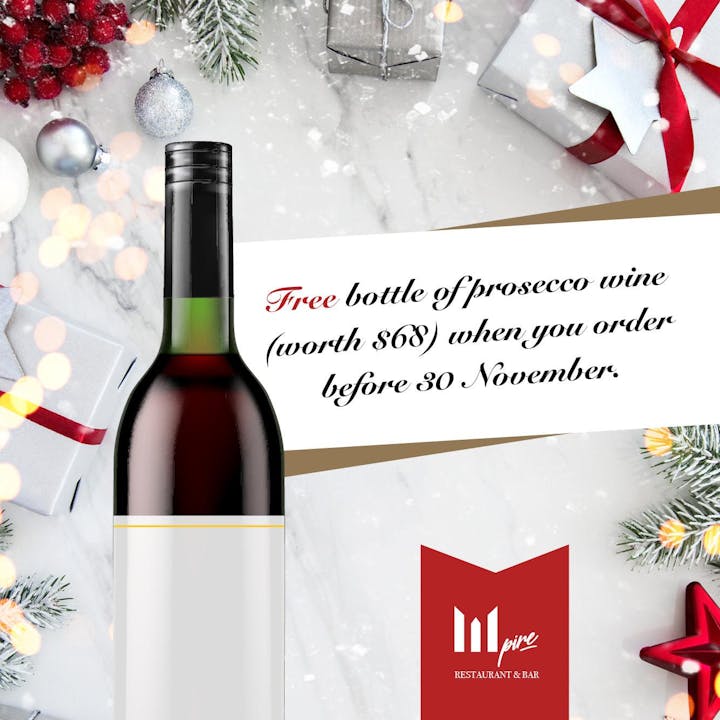 Free A Bottle Of Prosecco Wine
Pre-order before 30th Nov 2019 & you will get a Free bottle of Prosecco wine worth $68!
Call our outlet at 6226 0287 to make your order or click the Ticket button now.
My First Christmas Food Traditions Pre-Order
To start gearing up for your first Christmas Food Traditions pre-order, we required at least a minimum of 30% deposit. Once you have made your order, our Mpire team will contact you on your preferred pick up collection date. The balance can be made over our cashier counter during the collection date. Please do present to us your deposit receipt upon collection.
Below here are our General Terms & Conditions
1) At least 5 working days required for pre-order
2) A minimum of 30% deposit is required before bookings is made (non-refundable)
3) Last day of pre-order: 19th Dec 2019, 10pm
4) Last day of collection: 23rd Dec 2019, 6pm
5) The promotion is for Self-Collection only
6) Kindly bring your deposit receipt for collection. The full balance payment is required during the collection date. There will be GST & Service Charges during the final payment
7) In the event of "No Show", the management will not be replacing the unclaimed order, as all orders are being made according to the customer's agreed collection date
8) The Free bottle of Prosecco wine will be given during the collection date
9) This promotion is not to be used in conjunction with any credit card / privilege card promotions, reservation platform promotions, other App discount vouchers
10) Taste Mpire Management reserve the right to change the T&C without prior notice