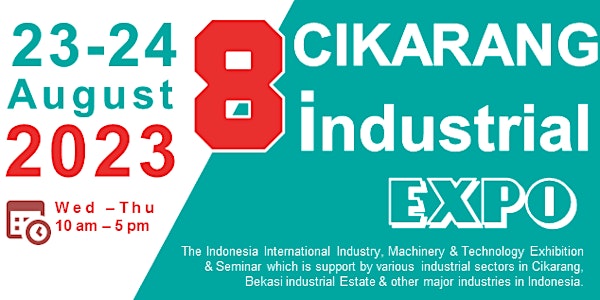 CIKARANG INDUSTRIAL EXPO (CIE 2023)
The Indonesia International Industry, Machinery & Technology Exhibition & Seminar
Date and time
August 23 · 10am - August 24 · 5pm WIB
Location
Bekasi Junction No. 141 Jalan Insinyur Haji Juanda Kec. Bekasi Tim., Jawa Barat 17111 Indonesia
About this event
1 day 7 hours

Mobile eTicket
The 8th Cikarang Industrial Expo (CIE 2023) in conjunction with Indonesia Smart Industrial Expo (ISIEX 2023) is an event that will provide engineers and business owners with the opportunity to deepen their understanding of current industrial technologies. At this exclusive exhibition, participants can attend technical workshops and seminars to equip themselves with the latest knowledge about automation, robotics, industrial digitalization, and Industry 4.0 engineering. By attending this event, engineers and business owners in the area will be able to stay on top of technological advances in their respective industries. The Smart Industrial Exhibition has been designed for both professionals already familiar with these technologies as well as those who are new to them. It promises to be a valuable experience for all attendees; experts can hone their skills while newcomers can gain an understanding of how they fit into industrial settings.
Fair Description:
An event with Workshops, Seminars, Technological Displays, Business Matching, Business Networking. Showcasing the latest in Manufacturing Equipment, Material Supplies & Service, Industrial Automation & Robotics, Logistics, Mechanical Engineering & Electrical, Laboratory Testing & Environmental, Machine Tools & Measuring, Water & Waste Management, Construction, Energy & Power, Safety & Security, etc.
Admission:
Free Admission to trade buyers and professional visitors only.
Persons under 18 will not be admitted.
You may present your business card at the registration counter or fill in a registration form to receive your admission badge.
Show Profile:
•Asset Management & Enterprise Integration •Automation Software Solutions •Calibration & Testing Services •Robotics •Control and Automation Systems•DCS (Distributed Control Systems) •Digital Factory Solutions •Electric Motors, Drives & Controls •Electrical Components •Electronic Components & Optoelectronics for Automation •Embedded Systems •Energy Efficiency Technology •Factory Equipment & Maintenance Accessories •Fieldbus Systems •Industrial Communication & Networking •Industrial Green Technology •Industrial Identification, Systems Tracking & Tracing •Industrial PCs and Touchscreen Systems •Instrumentation & Process Controls (Analytical/Flow/ Level/ Pressure/ Temperature) •Laser Technology •Measuring & Control Equipment •Microtechnology with Smart Systems •Mobile Automation •Plant Maintenance & Optimization •PLC (Programmable Controller) •Power Plant Technology •Power Supply & Energy Management •Process Automation •Process Safety •Pumps & Valves •Renewable Energy Solution •Safety & Security •Sensors & Actuators •System Integration & Automation Services •Vision Systems •Wireless Automation and a lot more.
For further information, please visit www.tpmi-group.com/smart-industrial-expo
Open to Public
Meet professionals who will help you seeking for the most relevant and innovative solutions regarding the smart industrial sector.
ONLINE REGISTRATION:
Register now for the Seminar:
click EVENTS SCHEDULE
to become a Visitor, you can click the Register button (FREE ADMISSION)
For Brochures & Booth Prices, please click To Exhibit or chat us.
BOOK YOUR SPACE NOW!
Please contact us for Participant, Partner, Sponsorship & Speaker Enquiries.
So Call Now!! and let us help you to choose a strategic location for your booth (first come, first serve) - 70% sold! So, don't think twice, grab your best location now.
We await your participation in the Cikarang Industrial Expo (CIE 2023).
About the organizer
PT. Tiga Pilar Manajemen Indonesia (TPMI GROUP) consistently innovate and grow to improve services in the conducting various business, specialized trade exhibitions for the Indonesian market since 2006. The company has frequently held exhibitions in Indonesia leading local industrial estates. TPMI GROUP is dealing with consulting services in Indonesia which has carried out lots of researches for industrial sectors in Indonesia. With our motto "Your Reliable Partner for Exhibition", we readily assist you to improve your companies working performance.
TPMI GROUP has grown considerably and now organizes over 10 trade exhibitions in the Industrial & Manufacturing, Smart Digital Technology, Smart City, Property & Building Material, Fire & Safety, Clean Technology, Mining, Palm Oil, Oil & Natural Gas Expo, etc.