CLIA ESSENTIALS™ - MASTERCLASSES - 'Building Team Agility for Peak Performance'

Monday, 19 December 2016 from 09:00 to 17:00 (Singapore Standard Time Singapore Time)
Event Details
Introduction & Purpose:
The demands on teams, to be able to be more effective and responsive in this fluid business environment where increased speed, magnitude and volume of uncertainties, complexities and 'turbulence' is the norm has mean that organisations need to be able to build agile teams.
Agile teams are increasingly becoming the 'secret ingredient' to organizational success as these teams develop the capability to collaborate and collectively problem solve, adapt to changes as they happen and innovate through idea diversity, alignment and continuous improvement.
This MASTERCLASS is for organizations that want their teams to pursue ambitious objectives with enduring collective commitment as well as create the conditions for teams to respond to internal/external changes with the appropriate capabilities.
Business Impact and Learning Goals:
In this highly interactive, experiential and discussion based workshop participants will be able to:
Create the agile conditions for teams to Peak out

Collectively, sense and respond more effectively to the external environment

Experience and practice Peak Performance competencies through ups and downs of team challenges

Understand the agility principles of Working Together as teammates, colleagues or co-workers, boss-subordinates

Experiencing key agility factors for proper team relationships, while being appreciattive of the pitfalls and dysfunctions of an effective team process
The Experience:
In this 2- day public workshop, participants can expect to go on a journey of learning to excel in today's complex, rapidly changing environment. Staff will: 
become more goal focussed - they will prioritise better,

will achive a higher level of personal and team performancestartegies to implement improvement and 

will feel more in control of their role 
Unique Features:
The programme is delivered to enhance the human experience, enhance decision-making and activate behavior change through 2 unique engagement and learning methodologies:
Our multi sensory and highly kinesthetic PLUGGINS™click here to learn more:

Our exclusive and breakthrough Action Learning methodology called ZIPoPo™ that allows for workplace contextualization and simulation and instant workplace application for maximum transfer of learning
Who should attend?
For anyone who works in a team. It is especially suitable for those who work regularly with more than one team, and for project team members who regularly move from team to team.
Core Focus
Module 1- UNDERSTANDING NEW CHALLENGES in a CHANGING WORLD
Knowledge vs using it - Learning to learn 

Position & dependancies vs Connectedness and Interdependencies

Pressure, stress, performance management- 

Module 2- COMPETENCIES FOR SELF - ACTUALISATION
Comfort zone, Success and Failures: Comfortable with the uncomfortable

My world, my rules, my values
Module 3- WORKING TOGETHER (1)
Challenges and realities

Me myself I vs US and WE 

'Points for an effective team process' 

Teams & Teamwork

Work of leaders / Situational Leadership 

Eight Points of Team Leaders / Eight Points of Team Members 

'Group work and "Match UP"

Five dysfunction of a team

Behavioral traps which prevent effective teamwork
ACTIVITIES
Peak Performence Activities
Module 4- WORKING TOGETHER (2)
Competencies for agility in our teams

Team Agility in Action for adaptability and performence 

Agility culture to facilitate peer to peer learning 

Agility culture to facilitiate organisational learning 

STRATEGIES FOR MOTIVATION AND WELCOMING CHANGE IN OUR JOBS 

Marshaling everyone to deliver the change which will re-invent the ways things are done
Deliverers: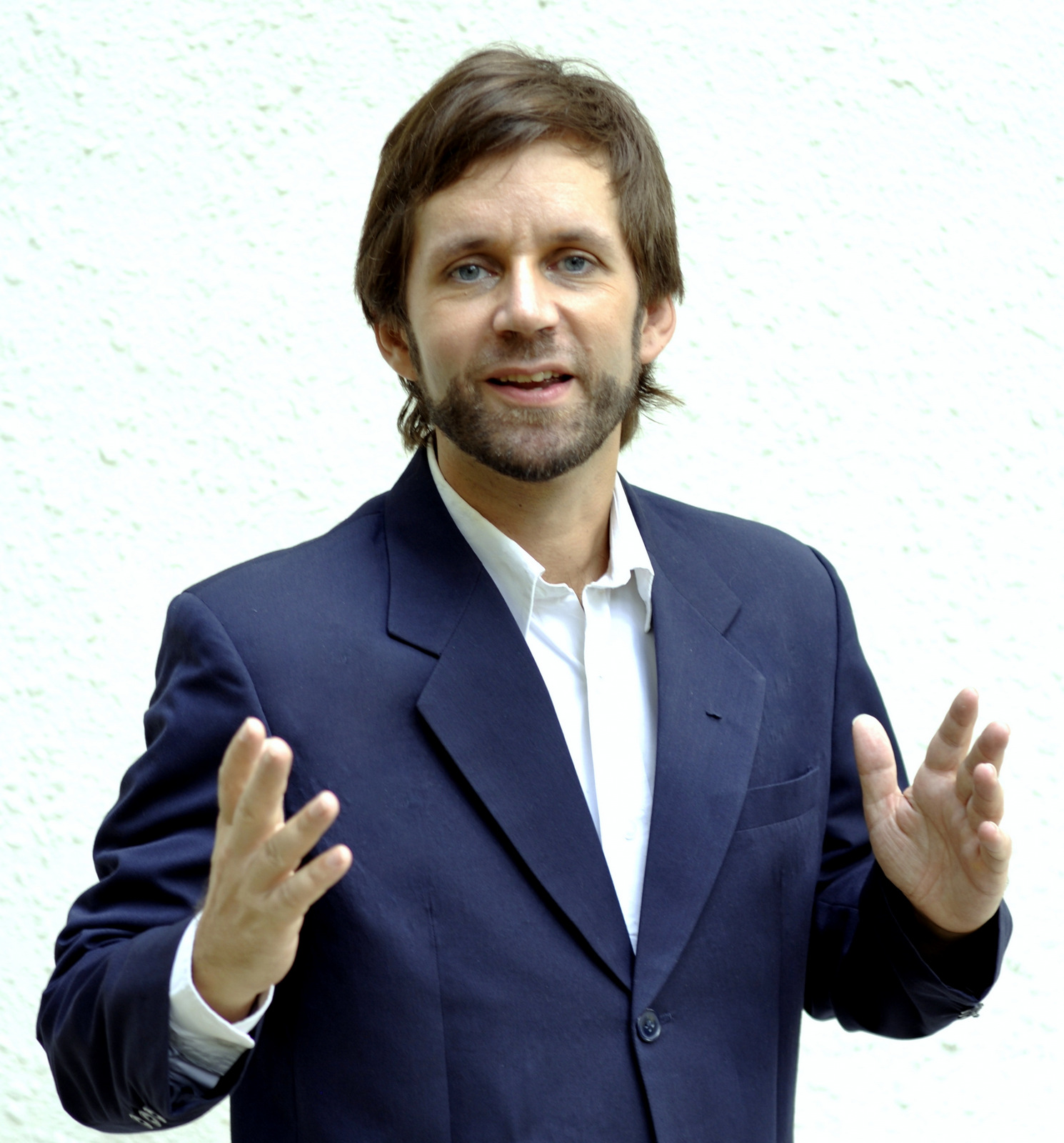 LUDOVIC ODIER (MR)
Founder and CEO of OIA, Ludovic Odier has been running over 200 learning & development,
retreats and teambuilding programms since 2001.(click here to learn more)  He is a subject matter expert in :

✓ Experiential Learning to transform organisations
✓ Organisational development
✓ Retreats and Business Destination/Travel Management,
✓ Buildiing Alignment & Shared Vision in Organisations
✓ Client relations and Communication
✓ Developing Organisational leadership to effect change
✓ Developing a consultancy based approach to client management
✓ Developing competency framework for operational excellence
✓ Managing change & diversity across cultures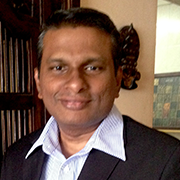 SUDHIR NAIR (MR)
Currently, Director of Leadership learning and Development with CLIA - OIA Pte. Ltd, Sudhir Nair is a Corporate facilitator , coach and consultant; He helps Managers and Executives to activate behavior change at the office and in their personal lives through learning and development and coaching. (click here to learn more) He is a subject matter expert in :
✓ Personal effectiveness
✓ Sales and Account Management
✓ Relationship building for effective Client Interaction
✓ Developing skills for effective communication
✓ Presentation Skills development
✓ Developing supervisory skills to effect change
✓ Managing difficult customer interactions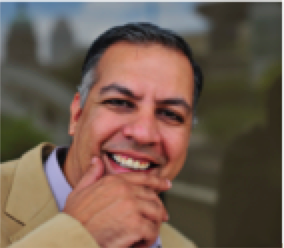 MAHESH L (MR)
Currently, the General Manager and Director of Events with OIA, he has over 18 years of corporate facilitation experience for leadeing organizations and at least 15 years experience in planning, managing and executing teambuilding, corporate retreats, conferences and school leadership programs, both locally and overseas. He is a subject matter expert in:
✓ Team Building, Creative Thinking and Innovation
✓ Adventure Based Learning
✓ Leadership Skills
✓ Communications Skills
✓ Visual Communication and Presentation Skills
✓ School Camps Management
✓ Event Direction 
E N  G A G E M E N T 
E N G A G E M E N T 
When & Where

CLIA Learning Lounge
62 Koon Seng Rd
Singapore, 426997
Singapore

Monday, 19 December 2016 from 09:00 to 17:00 (Singapore Standard Time Singapore Time)
Add to my calendar
Organiser

CLIA is a Learning & Development training and consultancy business using primarily Serious Play, Arts and Drama within innovative, action-learning methodologies.
 CLIA Purpose: 
"We bring about Serious Play & Joyful Learning into adult training and organisation Learning & Developmen".
CLIA mission: 
"CLIA's mission is to Activate Behaviour Change Through Creative Engagement and Human Integration"
 CLIA vision:
In CLIA vision, we focus on 3 playing fields:
Youth:

Discovering your inner career compass for satisfying life and work 

Enterprise

: Values based leadership to improve employee engagement, innovation and strengths-based diversity 

The larger community

: Improving relationships in life, business and the community to achieve longer-lasting prosperity
CLIA BUSINESS BUILDERS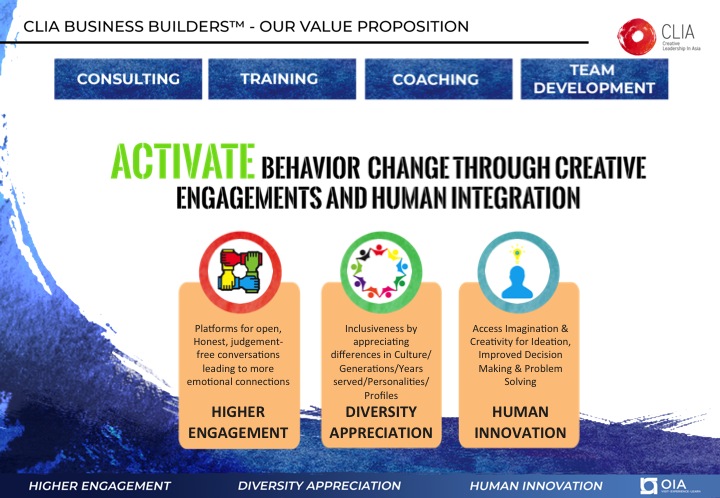 CLIA METHODOLOGIES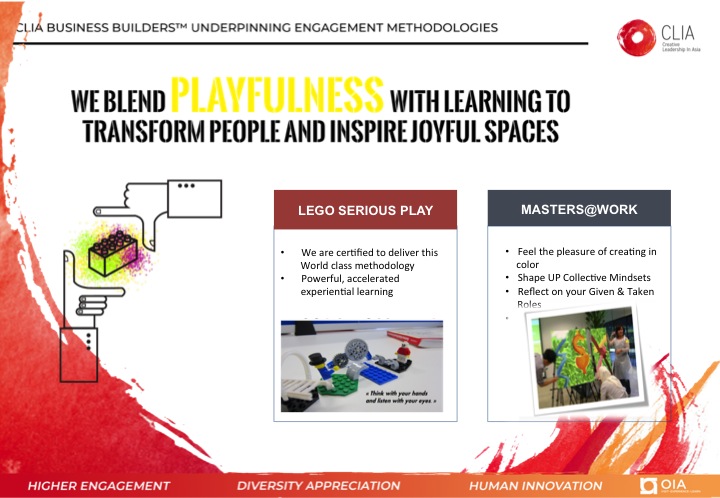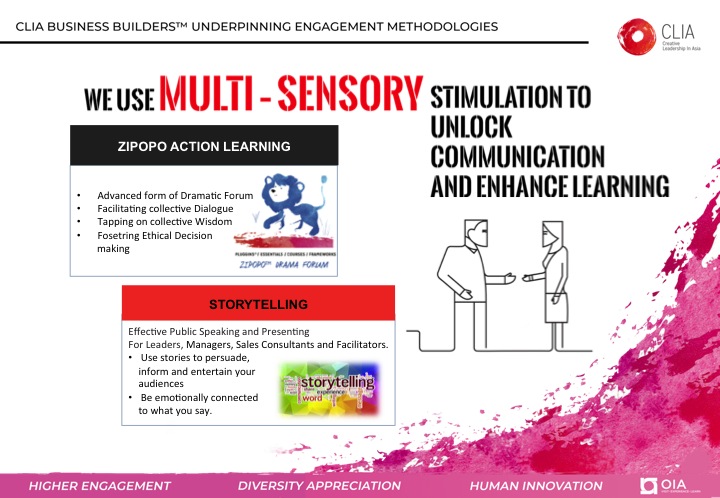 CLIA TRAINING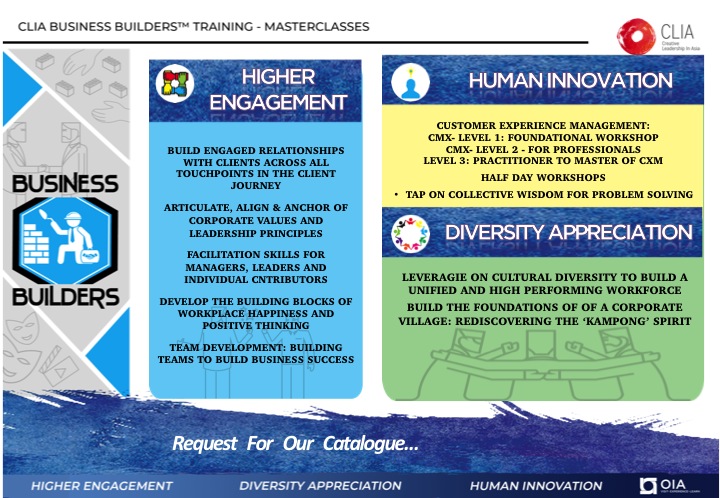 Websites
http://www.creativeleadershipinasia.com
http://www.outdoorinasia.com