| | |
| --- | --- |
| CLIA ESSENTIALS™ - MASTERCLASSES - "CHANGE THE WAY WE SEE AND WORK" | |
Event Details
Purpose:
Why is the gap so great between our hopes, our intentions, even our decisions-and what we are actually able to bring about? Even when we are able to make important changes-in our own lives or the groups we lead at work-why are the changes are so frequently short-lived and we are soon back to business as usual? What can we do to transform this troubling reality?
1- be more aware of critical beliefs that r driving your actions
2-shifts your beliefs instantly and those of others in order to be more productive and creative
3-uncover value systems so they understand why they do what they do
5-identify the misalignment of value systems as the cause of many internal and external conflicts 
6- align value systems so as to eliminate internal as well as external conflicts
PROCESS
Mindfulness techniques to deal with our perception of reality

Identify the Values and Culture of the group- Personal Values, Values present in the current culture and the Desired Culture Values (Sample Report attached) 

These values are plotted on 7 levels of Consciousness 

The report reveals both the healthy values and the potentially limiting values which create an entropy/ misalignment in the system. 

The shift from belief-centered decision making to values-centered decision making. 

We work at 4 levels of Mind, Heart, Body and Essence to bring about the required shifts
Delivery methodologies:
Interactive instruction, with "hands on" trainer led approach

ZiPoPo™ methodology "Beyong Conflict", with customised scripts relevant to the organisation and actor-led dramatization

Facilitated group discussions.
PAYOFF: LEARNING & BUSINESS IMPACT OUTCOMES:
In this highly interactive (experiential and discussion based) and contextualized masterclass, participants will develop competencies to :
Understanding some radical changes taking place in our societies and working environment
Elimination of conflict is a result of effective dialogue which includes deep listening, authentic speaking, inquiry from wonder and spacious silence.
The ability to influence and coach are also an important aspect of the endeavour.
Key shifts in Responsibility, Commitment, Acceptance, Respect and healthy relationships is experienced.
Any business leaders, manager, staff who is eager to learn about the fondamental shifts taking place in our societies and markets. How to turn crisis into opportunities and build personal or organisational success with a renewed vision and understanding of their world.
Core Focus: contact us to discover our focus for each the 4 modules for this MASTERCLASS.
Deliverers: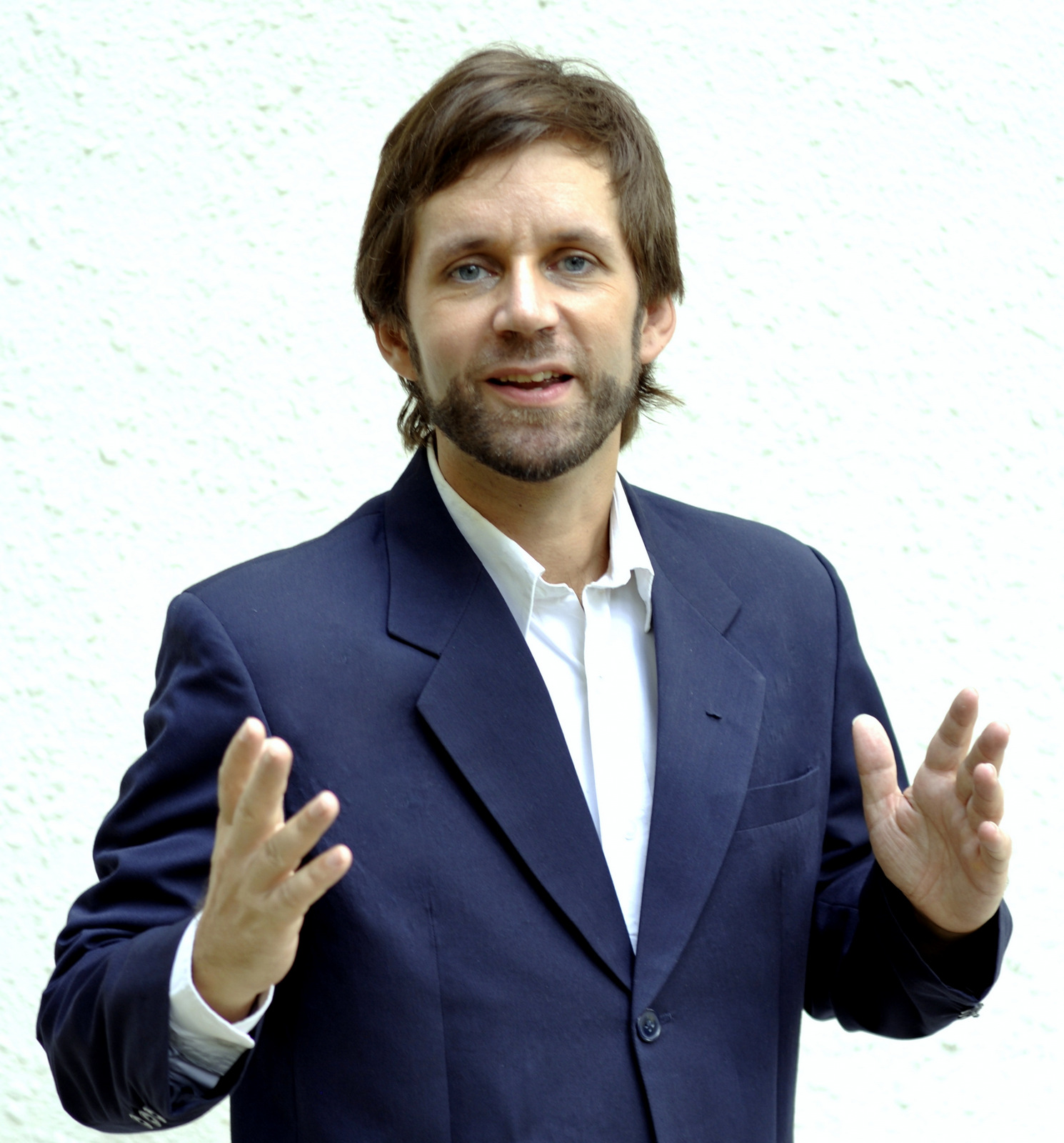 LUDOVIC ODIER (MR)
Founder and CEO of OIA, Ludovic Odier has been running over 200 training and teambuilding programms. Ludovic  was awarded with the title Best French Entrepreneur of the year in Singapore in 2004.
His passion is personal development, through discovery and education. He graduated from ESSEC Business school of management with an MBA in France and from Nanterres University with a Master in Philosophy. 
Engaging and dynamic, he is a creative facilitator with years of experience developing and executing fun, creative learning programs. Ludovic excels at running OIA 'organic' training and teambuilding where both interaction with and understanding the clients needs are essential in bringing each participant to new heights. 
E N  G A G E M E N T 
E N G A G E M E N T 
When & Where

CLIA Learning Lounge
62 Koon Seng Rd
Singapore, 426997
Singapore

Organiser

CLIA is a Learning & Development training and consultancy business using primarily Serious Play, Arts and Drama within innovative, action-learning methodologies.
 CLIA Purpose: 
"We bring about Serious Play & Joyful Learning into adult training and organisation Learning & Developmen".
CLIA mission: 
"CLIA's mission is to Activate Behaviour Change Through Creative Engagement and Human Integration"
 CLIA vision:
In CLIA vision, we focus on 3 playing fields:
Youth:

Discovering your inner career compass for satisfying life and work 

Enterprise

: Values based leadership to improve employee engagement, innovation and strengths-based diversity 

The larger community

: Improving relationships in life, business and the community to achieve longer-lasting prosperity
CLIA BUSINESS BUILDERS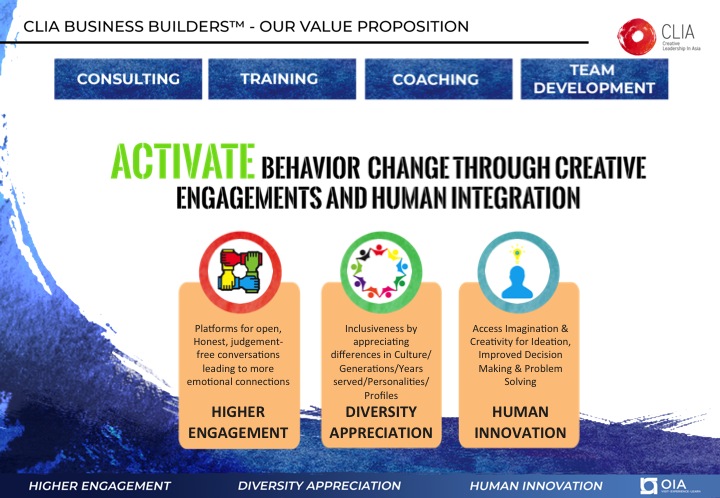 CLIA METHODOLOGIES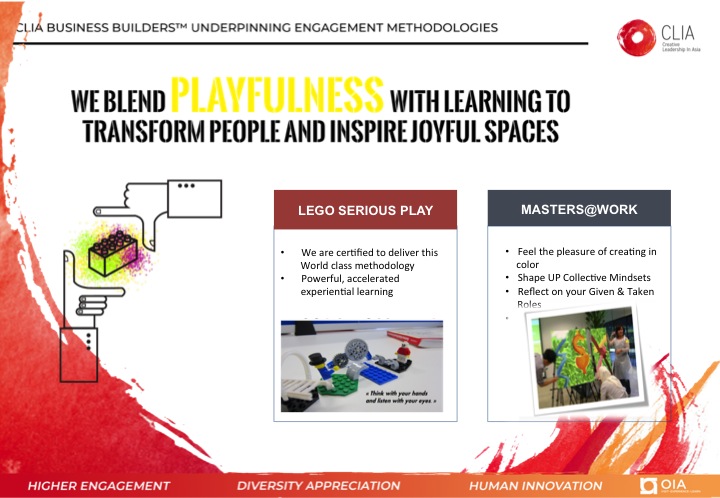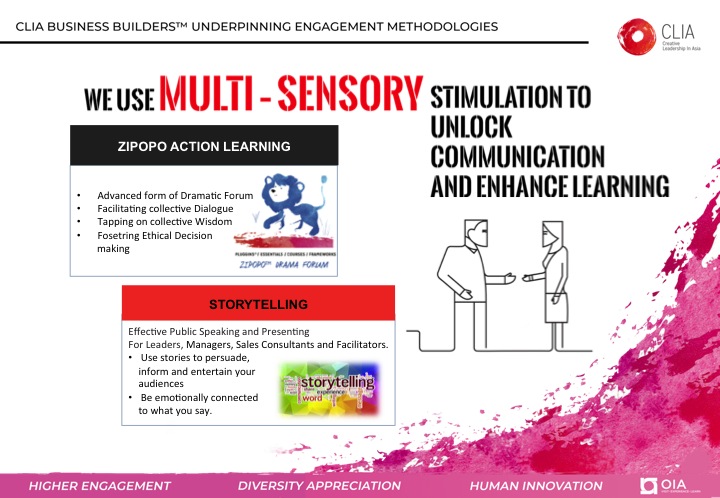 CLIA TRAINING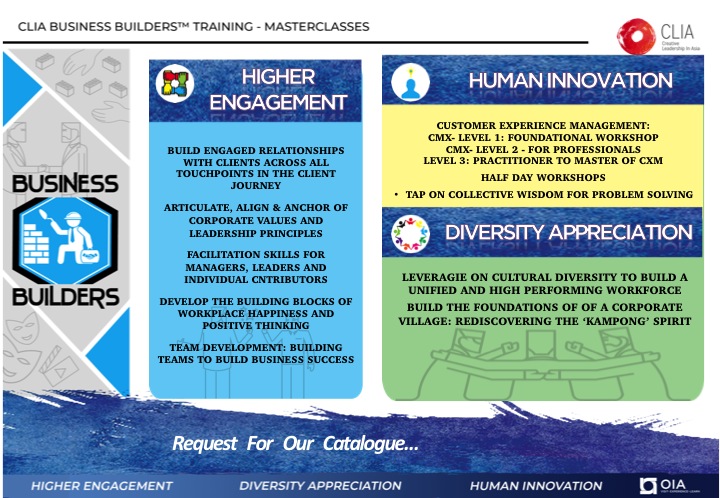 Websites
http://www.creativeleadershipinasia.com
http://www.outdoorinasia.com