CLIA WORKSHOP: MINDFUL SELF-LEADERSHIP with TOBY OUVRY

Saturday, June 7, 2014 from 2:30 PM to 5:30 PM (Singapore Standard Time Singapore Time)
Event Details
"Mindful Self-Leadership"
Take Control of  Your Life Direction and Wellbeing Through Awareness, Curiosity, Courage and Care 
In a sentence: Learn how you can develop deep confidence in yourself, take benevolent control of your life, overcome inner inhibitions such as fear and invite fulfilment and wellbeing into your life through the practice of mindful self leadership.
Overview: The best place to learn how lead is within yourself. Do you agree?
Developing your Mindful Self-leadership is about how you can:
Feel increasing levels of comfort and confidence in your relationship to yourself, your life and in your ability to take your life in the direction that you truly want it to go

 Develop your self-knowledge and self-understanding so as to find out what will really make you most happy

Find ways of being making use of the challenges that you face, by taking responsibility for them and leading yourself to the best solutions to those challenges

Learn to communicate with yourself and others in a way that encourages you to express your deeper values in the way you think feel and act

Develop a capacity for self-leadership that will be an inspiration to others and encourage them to develop their own self-leadership skills

Do all of the above using a set of mindfulness practices that enables you to drop into states of mind that are relaxing, peaceful and regenerative, and that will help you dramatically reduce the amount of negative stress and anxiety in your life. 

 

 
If you have been answering 'yes' to the above points then the course in mindful self leadership is for you!
This course is suitable for:
Those who may be new to mindfulness and who want to learn it in a way that cultivates the self-leadership skills outlined above.

People who are already familiar with mindfulness and meditation practice and wish to learn how to use it in a leadership context.
Full Details of the 3-hrs Workshop:
This 3hrs workshop introduces four fundamental mindfulness practices that you can take into your daily life in order to develop your capacity for confident self-leadership. These four practices are as follows:
Encountering - Developing your foundation for mindful self–leadership by increasing your capacity to encounter ALL of your reality without being intimidated by it
Accepting - Mindfully accepting all of whom you are in order to lead yourself beyond who you are
Envisioning - Connecting to the values of your personal self-leadership style
Empowering - Taking responsibility for respecting who you are and expressing it appropriately in your life

 

                                                                                                                                                     

Each of these practices invites the ongoing development of your own personal self-leadership style and understanding of how it can be integrated into your daily life.
As well as guiding these exercises Toby will be giving talks on each of them, and there will be time for exploration of the practices through Q&A.
AGENDA
2.15 – 2.30 pm

Welcome & Greetings

2.30 – 4.00 pm

Introductory Talk and Mindfulness Exercises on first 2 stages of Mindful Self-Leadership:

1- On Regenerative Simplicity

2-On Self Awareness and Self Acceptance through Curiosity, Courage and Care

4.00 – 4.15 pm

Tea Break

4.30 – 5.30 pm


Talk and Mindfulness Exercise on 3rd Stage of Mindful Self-Leadership

3– Self Responsibility and Self Assertiveness. 




Exercise on the Complete Mindful Self Leadership set of practices. 




Q&A




Close.
 ABOUT TOBY OUVRY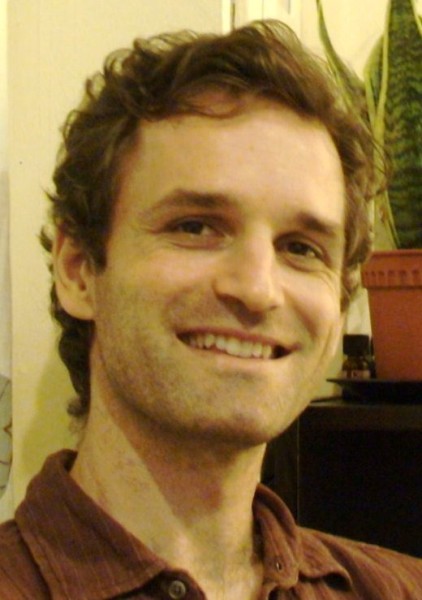 Toby Ouvry is a British meditation and mindfulness teacher currently resident in Singapore and the founder of Integral Meditation Asia, an organization dedicated to offering training to both individuals and groups in the arena of mindfulness, awareness and integrated consciousness development. He has over 18 years of practical study, practice and teaching in the arena of consciousness development, including five years as a Buddhist Monk within the Tibetan Tradition.
He also has 14 years of experience of working with building small for profit and not-for-profit organizations in the UK (4 years) and Asia (10years) from scratch with small teams, often in difficult circumstances that required high levels of mindfulness and creative awareness.
The mindfulness And meditation courses he offers are based upon  his own personal experience with regard to what really works when trying to create a robust, healthy and integrated experience of awareness when responding to the pressures of contemporary life and work.
His courses are also strongly informed and influenced the inspiring work on integral theory and practice currently being undertaken by integral consciousness luminaries and philosophers such as Ken Wilber.

When & Where

CLIA Heritage Lounge
62 Koon Seng Road
Singapore, Singapore 426997
Singapore

Saturday, June 7, 2014 from 2:30 PM to 5:30 PM (Singapore Standard Time Singapore Time)
Add to my calendar
Organizer

CLIA is a Learning & Development training and consultancy business using primarily Serious Play, Arts and Drama within innovative, action-learning methodologies.
 CLIA Purpose: 
"We bring about Serious Play & Joyful Learning into adult training and organisation Learning & Developmen".
CLIA mission: 
"CLIA's mission is to Activate Behaviour Change Through Creative Engagement and Human Integration"
 CLIA vision:
In CLIA vision, we focus on 3 playing fields:
Youth:

Discovering your inner career compass for satisfying life and work 

Enterprise

: Values based leadership to improve employee engagement, innovation and strengths-based diversity 

The larger community

: Improving relationships in life, business and the community to achieve longer-lasting prosperity
CLIA BUSINESS BUILDERS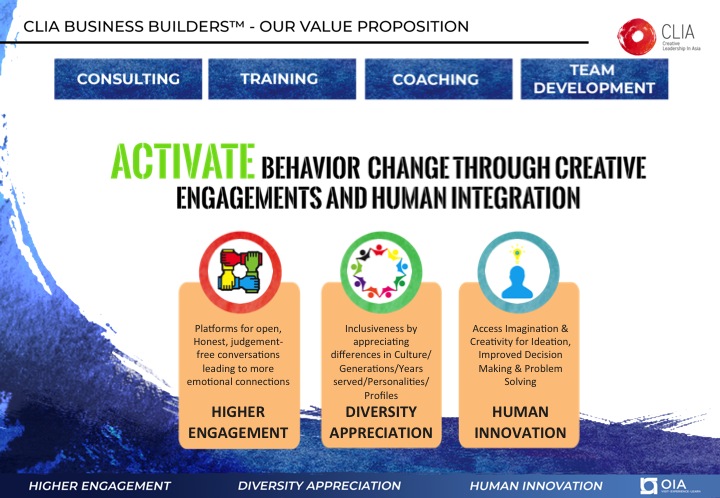 CLIA METHODOLOGIES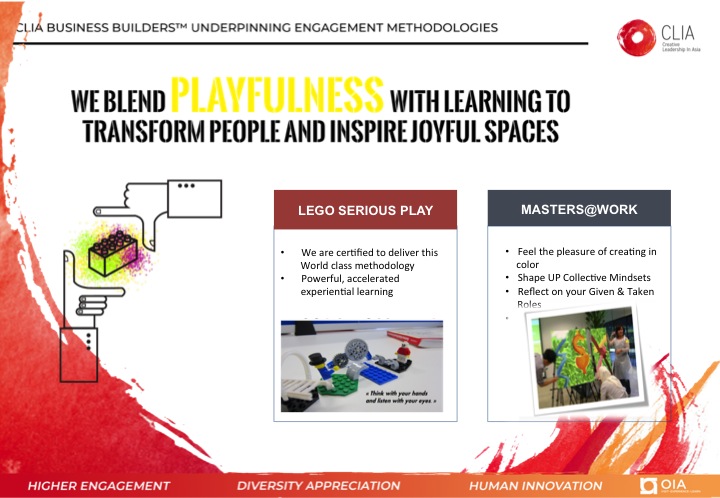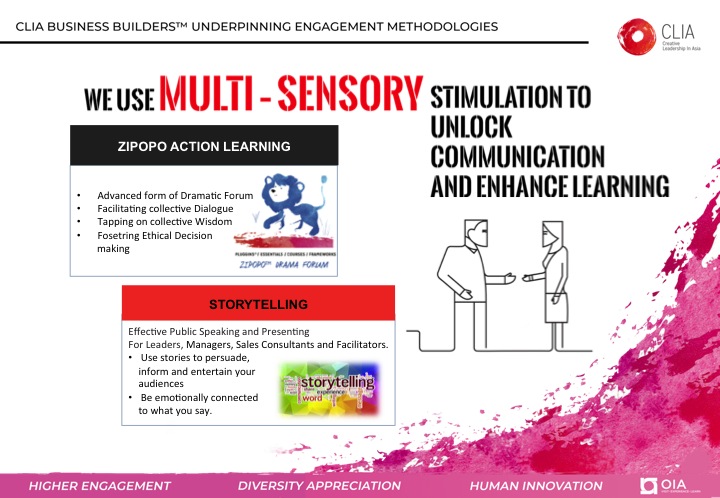 CLIA TRAINING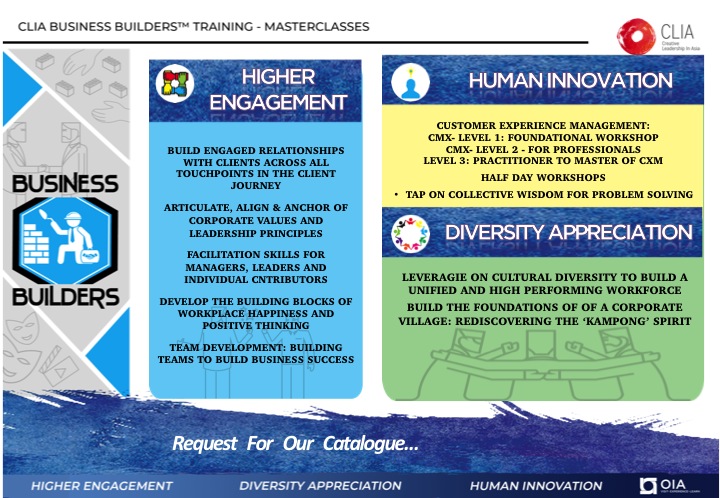 Websites
http://www.creativeleadershipinasia.com
http://www.outdoorinasia.com