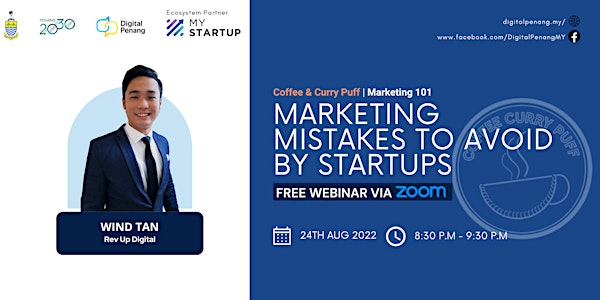 Coffee & Curry Puff | Marketing Mistakes To Avoid by Startups
Time to learn from the mistakes made by others and improve your marketing strategy.
About this event
About this event
Starting a company is, of course, a very frightening, exciting, rewarding, sleep-depriving endeavor. However, if you have "made a move" yet lack the marketing money, it would be wise to run screaming away from these mistakes many in your position make daily.
Come and join us to learn more about startups' main mistakes on their journey to becoming successful. It's better to learn from the mistakes of others rather than experience them on your own.
About Speaker:
Wind Tan, from Rev Up Digital. He has over six (6) years of experience in sales and digital marketing for helping SMEs to breakthrough and grow their business. He is an entrepreneur who is dedicated to the better the future of digital advancement in the society. Driven by that goal, he has transformed businesses and trained business owners from various industries to grow their business by unlocking their digital skills, tools and knowledge.
Wind Tan is also passionate about coaching and inspiring youths to adapt to the latest technology and digital skills, fast-tracking digital advancement and digital economy. Wind Tan acquired Digital Marketing professional certifications from renowned companies like Meta, Google, and Digital Marketer. He was elected by Chartered Institute of Marketing, UK as an Associate Member. He aims to level up the practice of digital marketing strategies locally and internationally by providing global standard coaching and services.
To find out more about Digital Penang or the latest happenings, follow us:
Facebook - https://m.facebook.com/DigitalPenangMY
Instagram - https://www.instagram.com/DigitalPenangMY/
Twitter - https://twitter.com/DigitalPenangMY