Coming Home to Yourself Love Wisdom Greece Retreat with Alison Levesley
Description
*Deposit EUR500 by 25 JULY 2018 to secure early bird price!

*This retreat is non-religious and all are welcome to attend :)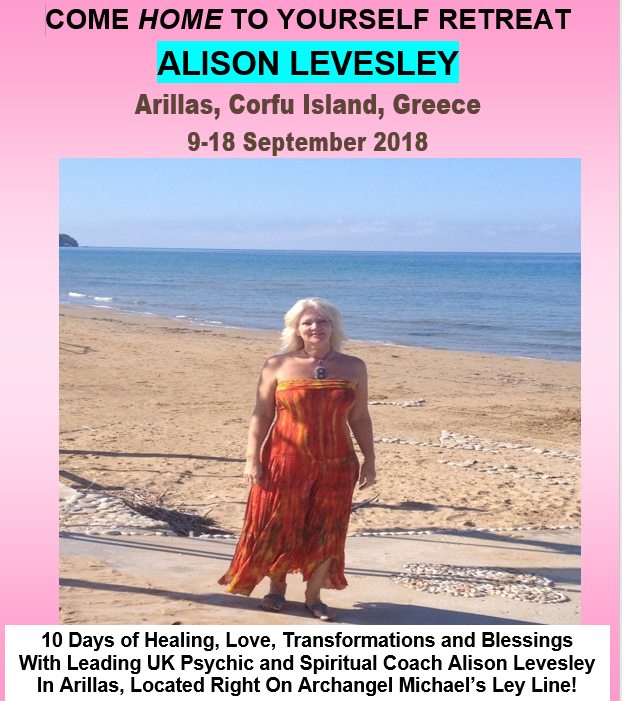 Dates
9 - 18 September 2018
Registration
Please visit http://lighthousemakers.com/index.php/events?task=view_event&event_id=62
Venue
Arillas, Corfu Island, Greece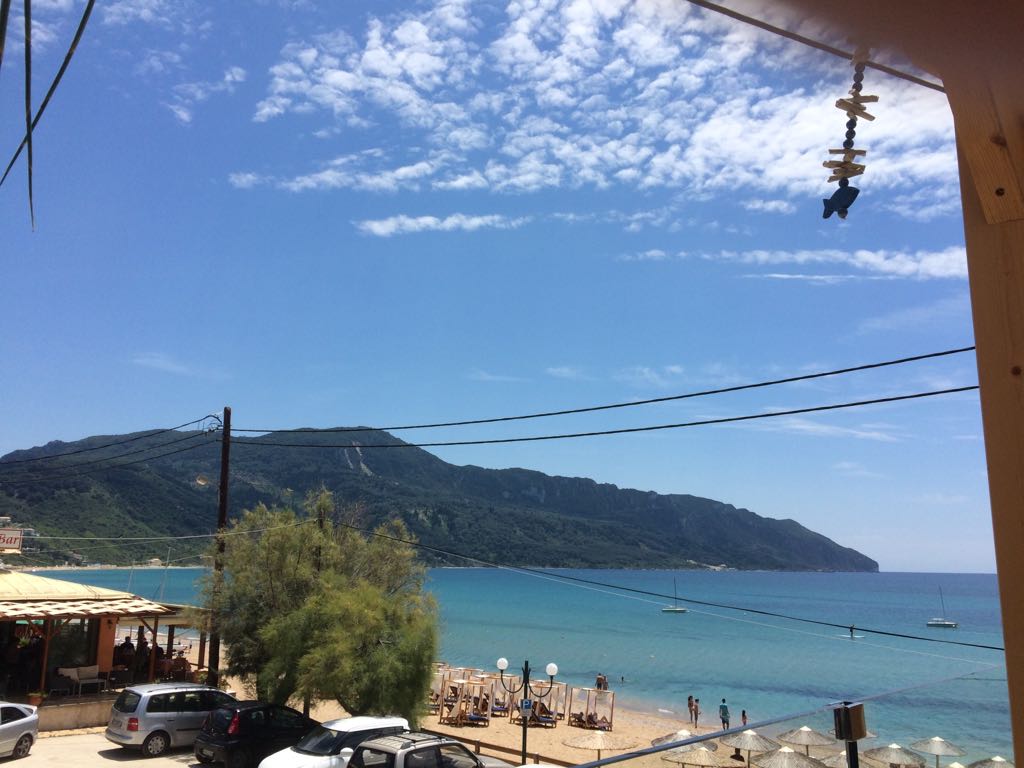 Arillas, is situated at the North-Western part of Corfu island. It also has a wonderful spiritual community with many world leaders coming to the spirit and music festivals. Deva Premal and Miten play yearly at the Gayatri Mandir where Alison will hold the Love Wisdom workshop.
A Quiet and safe resort for all types of tourists, its ideal for families, as children can play with the golden sand or swim in its crystal shallow waters, for couples and people who are looking forward to escaping from anxiety and noise of the big city, and also to enjoy discovering the Corfiot nature walking through paths leading to the small villages around.
The area of Arillas without being commercialised keeps its genuine character still, with a variety of small local family-run tavernas and shops. 
 Arillas beach being in between to St George and St. Stefanos bays, has an advantageous position as its visitors can easily get access to those other sandy beaches as well.
The friendly atmosphere, the beautiful well-known sunsets, the magnificent scenery, and the Corfiot colours which can be everywhere, leave to the visitors unforgettable "pictures" and the wish to come back.
What would you be doing?
❖Come and be nourished through love and peace.
❖Channelled meditations to assist you to release your limitations, old ideas and pre-conceived ideas of the past.
❖Remember through silence the calling of your soul.
❖Acknowledge and embody the true power of your Love Wisdom.
❖Darshan personal blessings of the Divine Mother with Alison in a small private chapel.
❖Deepen your heart mind connection.
❖Learn how to align with the Now and be present to manifest with ease.
❖Experience the power of your voice as Alison clears away the old stuckness of your throat chakra.
❖Ceremonial blessings filled with gifts from your guides.
❖Ceremony – as we share together in blessing Alison's new home.
Accommodation
Accommodation is on twin-sharing basis per room. We pair participants and participants intuitively. If you will like to share the room with someone you know, please indicate in the comment when you register.
Single Occupancy is only available during the Early Bird period. It is available for an additional charge of EUR300. If you prefer a single occupancy room, please indicate in the comment when you register.
Fee
Early Bird Fee by 25 July 2018 : EUR1,750 (twin-sharing) / EUR2,050 (single occupancy)
Fee from 26 July 2018 onwards : EUR2,050 (twin-sharing)
Fee includes :
✓ Accommodation double/twin sharing with garden or sea views – kitchen/bathroom
✓ Attendance to Workshop with Alison Monday to Saturday
✓ Transport to and from the airport of Corfu
✓ Transport within Corfu on designated trips
✓ Breakfast daily
✓ Welcome evening meal
✓ Lunch 6 days (where no evening meal)
✓ Evening BBQ with Drumming and Dance in the hillside
✓ Pool access next door
✓ Air Con if needed
✓ Bottled/filtered Water during workshop and in room
✓ Snacks
✓ Satsang/soup and salad at Buddha Hall
✓ Tour of old town Corfu, explore the temple of Artemis, Achielleion Palace and much more
Fee does not include :
• Flights to Corfu
• Evening meals except specified nights
• Travel insurance
• Bank transfers and fees
• Tips and gratuities
Mode of Payment
1) Deposit of EUR500 required by 25 JULY 2018 to secure early bird price
Payment Options :
- Paypal by registering online
2) Remainder of retreat fee
- To be advised through email
Retreat Terms and Conditions :
The Lighthouse Productions is not responsible for any of your items which are either lost, stolen or damaged during the Retreat.

You will be held liable for any loss or damage caused by You to the accommodation and contents during the Retreat. In such an event, The Lighthouse Productions reserves the right to charge You an additional fee.

To the extent permitted by the law, You agree to release, indemnify and hold harmless, The Lighthouse Productions, its Personnel and Alison Levesley against, from and in respect of all expenses, costs, liabilities, claims, actions, proceedings, damages, judgments and losses of any kind whatsoever (including but not limited to consequential and economic losses, property loss/damage and damages for injury, including personal injury and death) arising out of, caused by, attributable to or resulting from:
i) your booking or your stay at the Retreat; or
ii) your participation in the Retreat
Cancellation Policies
If You cancel your Retreat booking, the following charges will apply in relation to each booking:
i) If You cancel more than 60 days before your Retreat check-in date, 100% of your payment excluding deposit and bank charges will be refunded.
ii) If You cancel 31 – 59 days before your Retreat check-in date, 50% of your payment excluding deposit and bank charges will be refunded.
iii) If You cancel 30 days or less before your Retreat check-in date, you will forfeit the full amount including the deposit.
The Lighthouse Productions may, at its absolute discretion, cancel any booking. You will be offered either a booking credit or full refund of all monies excluding bank charges which You have already paid.

If You are issued with a booking credit to be applied to another Retreat, such credit will be valid for twelve months from the day the booking is cancelled.

If You arrive late or do not show up for your Retreat or terminate your booking early after You have checked in. You will not be entitled to any refunds or booking credits.
About Alison Levesley
Alison Levesley Alison is a teacher, healer, presenter and inspirational speaker from England, bringing forth not only ancient wisdom but the energy and messages for today's ascension.It has been recognised that immense healing is delivered through Alison's voice and energy. Alison's work is transformational, quick and powerful. She has a natural gift to see beyond the veil and viewing the changes needed within the world. Her mission is not only to help individuals connect with the Divine but also to help the humanity find the Divinity within themselves. Through her very successful workshops and private reading sessions, Alison has touched the lives of thousands around the world including North and South America, Australia, Europe, China and Indonesia. Alison Levesley works on all four continents of the world bringing healing, transformation and blessings to all those she meets. Her Divine gift has been with her since she was very small, naturally bringing truth, clarity and wisdom for people personally and in business. Her ability to see beyond and go deeply into your soul, creates immense healing and long-term change. Her Divine Mother presence weaves through groups as though you are the only person present.
Client Testimonials
"I have heard of Alison's reputation three years ago but haven't been able to attend her workshop until now. Also this time the theme of the workshop really suits me, Relationship. I have experienced a huge challenge in my relationship and could really use some growth here. Alison created a light-hearted, loving and containing atmosphere so that we could do all sorts of healing work. She did a lot to support in healing. She asked us to use the form of rap to express our inner feelings. I really, really like this exercise. Because in the past years of my life I have suppressed a huge amount of negative feeling so I always felt I had this dark side inside me, like a destructive force. I honestly don't know how to deal with this force and I had lots of fear about it, but in the rap exercise I realised that I can actually release this darkness in a very interesting, playful, and even light way. I am grateful to myself that I made the decision to come here to experience Alison's extraordinary healing power. I sincerely wish that everyone could have the opportunity."
- Qiujia, Teacher, China
"I had a private session with Alison. I truly experienced that she was working on the energetic level, offering me lots of higher insights, doing lots of cleansing and healing. I had a few other types of private healing sessions before and I think hers brought me actual changes. I felt very relaxed and cheerful afterwards and I also started to have real selfawareness and practical behavioural shifts. These all happened from my inside, instead of being told what I should do. They were all generated after my inside has been transformed."
- Ruby, Beijing
"When Teacher put her hand is on my head, my mind is blank but my head felt heavy. When her hand left, a lots of stuff seems to have been taken away with it. Felt very thirsty after that."
- 11 year old boy Malaysia sharing from a 11 year old attending Darshan Malaysia
"I felt nourish and felt good. Can you feedback to Teacher that her kindness and the warm of her Love is constantly coming into my mind. It's really amazing."
- Zhang Pei Ling, Teacher, Malayisa