Commercial - Contract Law (For Non-Legal Professionals)
Description
**Click on "GET TICKETS" or call us at +65 9105 9521 for more information!

Commercial - Contract Law (For Non-Legal Professionals) - Skillsfuture Credit Claimable
[SkillsFuture & Non-WSQ Course] (Course Code: CRS-N-0043178)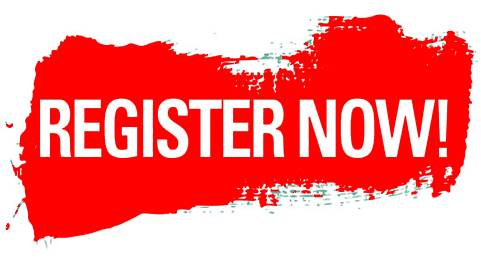 Click here to watch our video testimonial from our clients!
The business environment is full of agreements between businesses and individuals. While oral agreements can be used, most businesses use formal written contracts when engaging in operations. Written contracts provide individuals and businesses with a legal document stating the expectations of both parties and how negative situations will be resolved. Contracts also are legally enforceable in a court of law. Contracts often represent a tool that companies use to safeguard your resources!

Course Objective(s):
-The objective(s) of this course is to provide clear understanding on commercial contract law, the application and the aspects of the Singapore contract law for non- Legal professionals.

Course Content:
- Understanding the concept of 'offer' and 'acceptance'.
- Understanding the concept of 'objective ascertained intention to be bound'.
- How offer may be terminated by various ways of withdrawal prior to acceptance.
- Understanding the concept of 'acceptance',
- Acceptance communication to offeror and certainty.
- Completeness of an enforceable contract.
- General understanding of the Electronic Transaction Act ('ETA') and its application.
- Understanding the concept of 'consideration'.
- When does the promissory estoppel applies.
- The necessity and the intention of creating legal relationship and what is the presumption of intention to be legally bound in a commercial arrangement.
- Terms of the contract.
- Distinction between term or representation.
- Implied terms, classification of terms and exception clauses.
- Unfair contract terms and the unfair contract terms act.
- Contract with minors, minors' contract act.
- The third party enforcement of contract rights and its application.

Training Duration: 2 days (10a.m – 5p.m)
- Fee: $428.00 nett (You Pay S$0 upon utilizing your Skillsfuture Credit)
- Eligible for CSP & WTS scheme
- Supporting Public Agency: Skillsfuture Singapore
- Suitable Job Level: Managerial, Supervisory, Operational, PMETs & Entrepreneurs.
- Course Materials + 2 Lunch provided.
- Schemes & Fundings Available: SkillsFuture Credit, Non-WSQ Funding and Career Support Programme (CSP) scheme.

Meet the Facilitator:

Roy Goh (Mr.)
LL.B (Hons.), PGDBA, FCMI, MSID, MSHRI, ASIArb
FICM-MCN Accredited Mediator, Negotiator & Neutral Representative) (Jurisdiction: Singapore)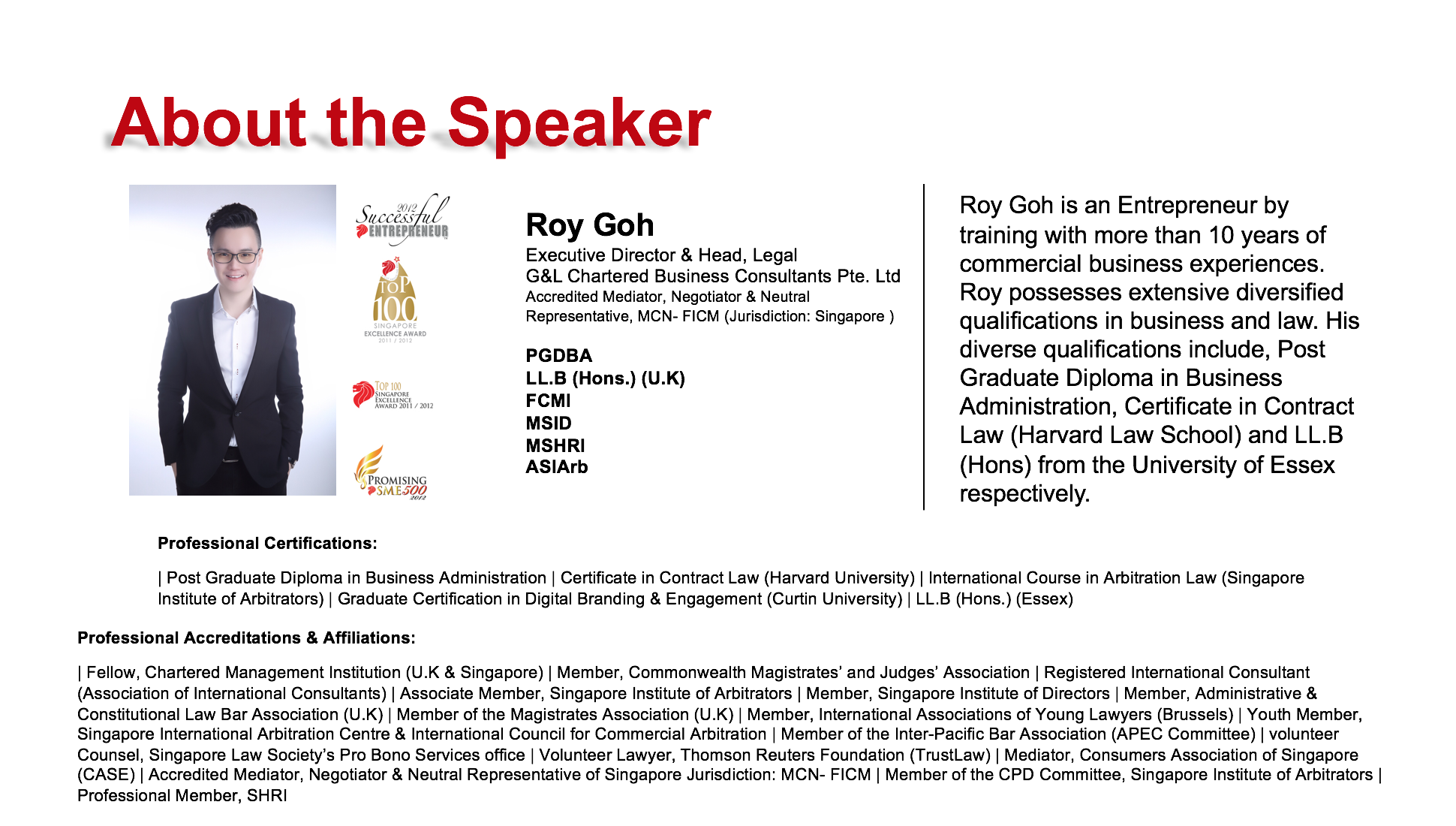 Note: In the course of the event, photographs of participants/videos or interviews of the participants could be conducted by the company, or its appointed vendors, for the purpose of post event publicity of the respective event, either in the Company's official publications/website or any third party's publication/website approved by the Company.

Terms and Conditions:
1) Allocation of seats is on a first-come-first serve basis and limited seats for each event.
2) The registration fee is due and payable upon registration and must be received prior to the event.
3) Payment must be made 07 working days prior to the event date.
4) Registration will only be confirmed upon receipt of full payment.
5) G&L Chartered Business Consultants Pte Ltd ("The Company") reserves the right to refuse to register or admit any participant, and to cancel or postpone the course or seminar if it deems fit.
7) Please kindly contact us at +65 9105 9521 after your booking or call us for more information.

Cancellation and Refund of Fees:
1) Registration will be deemed closed 01 week prior to the event date or when seats are filled. (i.e. If the event is dated 5 June 2017, the closing date shall be 29 May 2017).
2) Participants who cancels their registration before the commencement date shall be liable to pay the percentage of the event set out as follow;

(i) 20 days before commencement date: 25% of event fee.
(ii) 19 to 08 days before commencement date: 50% of event fee.
(iii) 07 days or less before commencement date: 100% of event fee.
Participant who is unable to attend the event due to medical exigencies will be subjected to a cancellation fee of 50% of event fee.