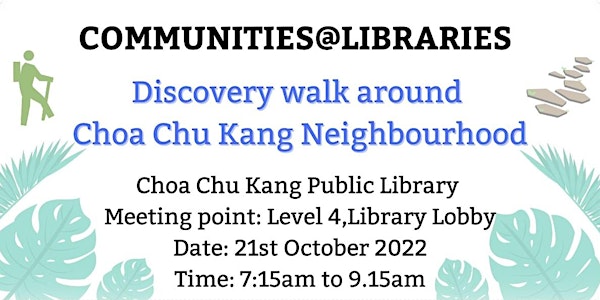 COMMUNITIES@LIBRARIES | Discovery Walk around Choa Chu Kang Neighbourhood
This community-led trail is co-planned with two volunteers to kickstart a neighbourhood walk with adults/seniors.
When and where
Location
Choa Chu Kang Public Library – Programme Room 1 & 2 (Level 4) 21 Choa Chu Kang Avenue 4 Lot One Shoppers' Mall, #04-01/02 and #05-06 Singapore, 689812 Singapore
About this event
Join us for a leisure walk around the neighbourhood of Choa Chua Kang, led by our local residents!
This community-led trail is co-planned with two volunteers, who are experienced and passionate to kickstart a neighbourhood walk with adults/seniors. We hope to spread the love for walks through participants' sharing and discoveries of interesting highlights, beautiful nature and delicious food as we aim to comb through different routes and corners of Choa Chu Kang.
This time we will explore the new and old Keat Hong and end at an eating place. You may choose to leave from this last stop, if you do not wish to walk back to the library.
Along the way, we will record our journey with photos and these will be contributed to our Community Wall in the library.
Please note the following:
The meeting point is at the library's lobby on level 4 and the end point is at Keat Hong.
You are strongly encouraged to have a light meal before the meeting time.
Wear comfortable attire and covered-toe shoes. We apologise that participants who turn up without proper attire (e.g. wearing sandals or slippers) will not be able to join the walk.
Bring along a cap/umbrella and a bottle of water.
In the event that this programme is cancelled due to unforeseen circumstances, the information will be shared through communications (e.g., posters and announcements) at the Choa Chu Kang Public Library. We apologise for the inconvenience.
By attending the event, you consent to the use of your photograph, voice, likeness and image in any broadcasts of this event and in subsequent productions drawn from audio or visual recordings of this event. The photographs and recordings may be published or broadcasted in publicity materials across all media, including, but not limited to, NLB's social media platforms.