Community Technology Update 2014

Saturday, 15 November 2014 from 08:30 to 17:30 (Singapore Standard Time Singapore Time)
Event Details
IMPORTANT: THIS EVENT IS OVERSUBSCRIBED AND WE UNFORTUNATELY CANNOT ACCEPT WALK INS. If you are on the wait list please monitor your email to see if we can accept you in. Please do not come to the venue without confirmation that you have a ticket. Please join the wait list to get a place if one becomes available. We apologise for any inconvenience.
This event is run by the following Singapore User Groups: Singapore Windows User Group, Singapore DotNet User Group, Singapore PowerShell User Group ...
The User Groups of Singapore are coming together once again to put up a full day technical event for the community. This is our 11th CTU designed to keep you updated with the latest technology.
At this CTU we focus on 'The Cloud Era'. Our Technical Speakers will present on topics related to Hybrid and Public Cloud such as Azure, Software Defined Networking, Hybrid Lync deployments, BI in Office 365, Windows App Development, SharePoint App development and more!
IT is moving much faster and adoption of Cloud technologies is ramping up aggressively, Cloud adoption is seen as both an opportunity and in some cases a threat. At CTU this year we aim to put this into perspective. Our keynote speakers address the topic of Cloud and the opportunities it brings to the IT Department. In addition to our Technical Content, we will have a lunch time session to talk about IT Careers in the Cloud Era, where we will hear from Microsoft, a Microsoft Partner, a Recruiter and MVP's on what skills will be relevant, how IT careers will change and how recruiters will respond to this changing world. Microsoft Learning representatives will also be sharing what resources are available to you to help you move with these trends.
The day concludes with an evening Networking event with drinks and light snacks at a local venue where you will have the opportunity to connect with the community, presenters, MVP's and peers.
Also, you could walk away with a Surface Pro 3! Kindly sponsored by Robert Walters, attendees will have a chance to win a laptop replacement in a lucky draw! There will be other prizes including Bluetooth devices, Office 365 subscriptions, Xbox Live subscriptions and more!

We have a great day planned and sincerely hope you can attend, it's you, the folks in the community that make these events what they are.
To find out why we charge a registration fee and the answers to other common questions, please find the FAQ for this event at the end of the page.
SCHEDULE - Click Here for a pop-out Agenda!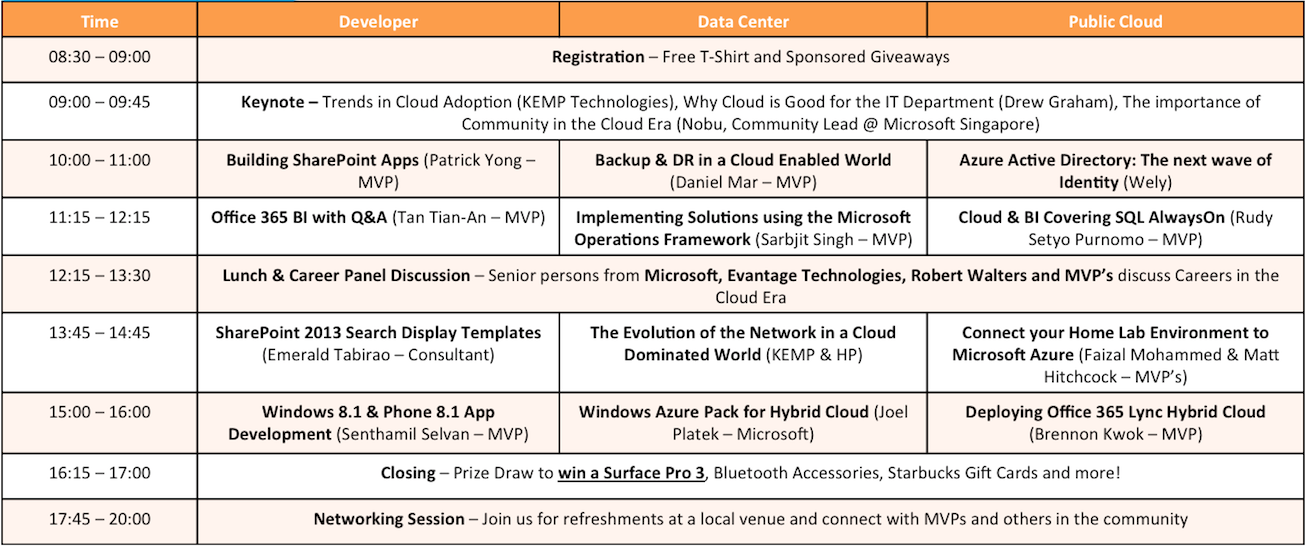 Session abstracts are found further down the page
08:30 - 09:00 : Registration Opens
09:00 - 09:45 : Keynote
09:45 - 10:00 : Break (refreshements provided)
10:00 - 11:00 : Technical Session 1
11:15 - 12:15 : Technical Session 2
12:15 - 13:30 : Lunch (catered) and Career Panel Discussion
13:45 - 14:45 : Technical Session 3
15:00 - 16:00 : Technical Session 4
16:15 - 17:00 : Closing Session with Prize Draw
17:45 - 20:00 : Networking Session
SPONSORED BY:
SESSION ABSTRACTS
KEYNOTE
Host: Sarbjit Singh (MVP)
uest Speakers: Benjamin Hodge (KEMP Technologies), Drew Graham (Asia Cloud Computing Association), Nobu (Microsoft)
Synopsis: The keynote examines the cloud adoption trends over the last 12-18 months from a Partner perspective, we look at why the cloud is good for the IT department and not something that should be feared and finish by talking about the importance of Technical Communities in the Cloud Era.
TECHNICAL SESSION 1
DEVELOPER: SharePoint Apps with Patrick Yong (SharePoint MVP)
Synopsis: Coming soon
About Patrick Yong - Coming Soon! 
PUBLIC CLOUD: Azure Active Directory: The next wave cloud identity and access management with Wely
Synopsis: Azure Active Directory is an enterprise-level identity and access management cloud solution. Azure Active Directory Premium, built on top of the core offering of Azure AD, provides a robust set of capabilities to empower enterprises with more demanding needs on identity and access management. In this session we present all of the new features of this premium offering: Single Sign-on to hundreds of popular SaaS application, Group-based access management, Self-Service Password reset, Security reporting, Multi-factor authentication, and more.
Wely is developer, architect, trainer, consultant, technical writer, and technology lover. He's currently working as Azure Technology Specialist for Asia Pacific. Driving Azure emerging workloads consumption and supporting technical sales are his main missions is his current role. Prior joining Microsoft, he used to be 5 times Microsoft MVPs. Passionate of running community, leading the user group, participating online forum especially Azure made him to be awarded the first Azure MVP in Southeast Asia in 2011.
DATACENTRE: Cloud, Backup and DR in a Cloud-Enabled World - a deep drive look at StorSimple, Azure Site Recovery and InMage with Daniel Mar (System Center MVP)
Synopsis: So you have deployed physical server infrastructure, virtualized infrastructure, servers in the private or public cloud.  In this session you will learn how to effectively store and backup these server workloads to Microsoft Azure.  This session looks at StorSimple, a cloud integrated storage solution that allows organizations to seamlessly tier data to the Azure Storage and enable it for backup/recovery as well as disaster recovery. In the second part of this session we look at Azure Site Recovery, which is a service that enables and orchestrates Primary site to DR site failure and now from Primary site to Azure as the DR site.  Finally we cover the new acquisition by Microsoft of InMage – allowing organizations to migrate any workload be it physical, Hyper-V or VMware VM to the cloud for migration and also disaster recovery purposes.
Daniel is a Principal Consultant with Infront Consulting Group in Singapore, an experienced consultant with over 15 years the IT industry.  He has been specializing in virtualization for the past 10 years and has worked on Microsoft server virtualization technologies since their inception. Daniel helps organizations deploy private, public and hybrid cloud solutions to meet their current and growing requirements for IT infrastructure and virtualisation.  He is Singapore's first Microsoft Most Valuable Professional for Cloud and Datacenter Management as well as also being a Citrix Desktop MVP. 
TECHNICAL SESSION 2
DEVELOPER: Office 365 BI for the Ultimate Consumption and Discovery and Q&A with Tan Tian-An (Office 365 MVP)
Synopsis: Microsoft BI has made big strides in the past year and we will take a look at what's availble, what's sexy and what's really easy to get started with in your own organisational context. Get excited with Power BI tools for Excel 2013, including Power Query, Power View, Power Map as well as the awe-inspiring Q&A for your data.
Tan Tian-An is an IT Trainer and Manager at Avantus Training Pte Ltd and has been an Office System MVP for the past 9 years. Simply an enthusiast of technology and it's various forms at heart. He speaks at various Microsoft sessions advocating various tools, many free as well as across the Microsoft Platform including those that are Cloud Available to enable organisations to transform the productivity within their teams.
PUBLIC CLOUD: Cloud & BI Covering SQL Server AlwaysOn Cross Region Between On-Premise and Azure for BI & Reporting with Rudy Setyo Purnomo (Azure MVP)
Synopsis: Decision making is critical. Company C level top executive need a quick and accurate data to take an action on what, when and how the company's reaction to the market or situation. Having cross region and need to provide this critical data to any particular executive in each region require solid data platform and infrastructure. SQL Server AlwaysOn Availability Group running on Azure and connected cross Azure region using VNet to VNet connectivity will help to cater this kind of solution
Rudy Setyo Purnomo is a Cloud Architect of PT. Erudeye Indonesia and the first Microsoft Azure MVP in Indonesia. He helps a lot of enterprises to utilize Azure in innovative and constructive way to business value
DATACENTRE: Implementing Microsoft Technologies Using Microsoft Operations Framework with Sarbjit Singh (Lync MVP)
Synopsis: Coming soon
Sarbjit is currently the Microsoft Regional Solution Architect at Orange Business Services based in Singapore, the founder of Singapore Lync User Group and an MVP with 23 years of experience spanning consulting, architecting and training for Microsoft technologies. His expertise include Lync, Exchange, SharePoint, SQL Server, Windows Server and Active Directory, Management and Monitoring. Since 2005 he's been a Microsoft Most Valuable Professional with Technical Expertise in Lync, Microsoft System Center and SharePoint. He participated as a speaker in numerous conferences and forum discussions and co-authored a book on MS Exchange Monitoring using SCOM. Sarbjit is experienced in carrying out a Microsoft IO (Infrastructure Optimization) and implementation of MS MOF (Microsoft Operations Framework), he is very passionate about processes and making MS technologies work fully optimized.

CAREER DISCUSSION
Host: Sarbjit Singh (Lync MVP)
Panel Guests: Wei Wah (Microsoft), Drew Graham (eVantage Technologies, MS Partner), Jay Paloma (MVP), Kate Williams (Robert Walters Recruitement)
Topic: This is an optional session conducted during lunch for us to explore how IT careers will look in the Cloud Era. In this panel discussion we will get a balanced view of the future from different perspectives and discuss how IT folks stay relevant and ask how are recruiters responding to the faster moving world of Technology.
TECHNICAL SESSION 3
DEVELOPER: SharePoint 2013 Search Display Templates with Emerald Tabirao (SharePoint Consultant)
Synopsis: Leverage the full power of SharePoint Search to surface contents in a controlled display by just using HTML and Javascript (i.e. no coding). This Sharepoint improvement is the successor of Content Query Webpart (CQWP) without the need to know XSLT
Emerald is a SharePoint Consultant at Acceltus Pte Ltd. She has worked and specialized on SharePoint projects since its 2007 version. In her current job she designs and dlivers projects on SharePoint 2013 and SharePoint Online.
PUBLIC CLOUD: Extend your Lab Environment to Azure Using VPN Solutions with Faizal Mohammed (Azure MVP) and Matthew Hitchcock (PowerShell MVP)
Synopsis: Even though the Cloud Era is here, not all IT Professionals get the luxury of working with a Hybrid or Public Cloud environment every day, some organizations are slower to extend their datacentres than others. However, this does not mean that an getting the hands on experience with Cloud Platforms is beyond your reach! If you have a lab set up that you use at home for training and personal development, we will walk you through how you can connect that seamlessly to Microsoft Azure using low-or-no-cost solutions, to make sure when your organization is ready for the cloud, so are you!
About Faizal - Coming Soon!
Matthew has been working in IT for 14 years specialising primarily in Directory and Identity solutions and is currently working at Microsoft Consulting Services in Singapore. He is Founder and Co-Lead of the Singapore PowerShell User Group, a PowerShell MVP and currently enjoys a lab environment in which the available resources are limited only by his MSDN Azure Credits! 
DATACENTRE: The Evolution of the Network in a Cloud Dominated World with Benjamin Hodge (KEMP Technologies)
Synopsis: As more Applications and Services move to a Cloud delivery model what does that mean for traditional network infrastructure teams? What does the migration to the Cloud mean for traditional technologies such as networking? Come and learn about some of the new technologies and trends in networking to understand what this means for you and your Organisation. We'll take a deep dive into Software Defined Networking, how it works and what it means for networking in general as well as highlight some possible challenges and opportunities for IT teams in the near future. 
Benjamin Hodge is the Director of Technical Services, Asia Pacific for KEMP Technologies. Over the past 5 years he's worked extensively throughout the region for Network and Internet Security vendors helping Organisations design, deploy and support their network infrastructure using the latest in security and networking technologies. He's currently working on a number of SDN adoption projects with Customer's throughout Asia Pacific.
TECHNICAL SESSION 4
DEVELOPER: Windows 8.1 & Windows Phone 8.1 App Development with Senthamil Selvan (Consumer Apps MVP)
Synopsis: You can build an app for Windows and Windows Phone at the same time, and share code, user controls, styles, strings, and other assets between the two projects in Visual Studio. This topic is about how to build a mobile device app using the Office 365 services for Windows 8.1 natively and we will also discuss how to consume the data from Office 365 SharePoint Services.
Senthamil Selvan is working as a Principal Architect at Xchanging Pte Ltd, Singapore. He is awarded as Microsoft MVP in Windows Consumer Apps. He has 10+ years of experience in Microsoft Platform including Windows Forms, SharePoint and Universal Apps development.He has published several Apps in the Store including 'SG Parking'  for Windows Phone and 'SG Things to Do' for Windows 8.
PUBLIC CLOUD: Deploying Office 365 Lync Hybrid Cloud with Brennon Kwok (Lync MVP)
Synopsis: Lync Server 2013 allows for a Office365 hybrid deployment in which some users are homed on-premises and some users are homed online while sharing the same SIP domain. This Level-300 session provides an overview of Lync Hybrid and provides a deep dive on the architecture, requirements and configuration steps for setting up the Hybrid environment along with integrating Lync Hybrid with Exchange Online.
Brennon Kwok is a senior UC Solution Architect at Polycom Asia Pacific Pte Ltd. His primary focus is in Microsoft UC technologies including Lync, Exchange and Office365. He has over 8 years' experience in Microsoft UC solutions and architecture, including integrating Polycom Video and Audio solutions in Lync environments. Brennon is a Lync MVP (Microsoft Most Valuable Professional), MCITP for Lync and MCP for Exchange.
DATACENTRE: Windows Azure Pack for Hybrid Cloud with JD Platek (Microsoft)
Synopsis: The single pane of glass utopia Portal that customer are experiencing with public cloud offers such as Microsoft Azure to manage their SaaS, PaaS, and IaaS resources, has long been sought for private cloud deployments. Trying to integrate multiple 3rd party systems from change management, workflow, automation, reporting, charge back, etc. has always been a very daunting, expensive, and heavily customized solution. The Windows Azure Pack is here to help the private cloud customers. Join me to understand how to leverage the Public Cloud technologies in a Private Cloud solution
JD Platek is a Consultant at Microsoft Singapore and a Microsoft Certified Master for Exchange and Office 365. JD has had a lot ofd exposure to System Center and Private Cloud deployment with Microsoft customers over the last 2 years. While being primarily a Messaging guy he is just 'all round awesome'.
CLOSING
Synopsis: At the end of the day we will have a closing address, sharing resources and next steps for topics covered on the day. In addition there will be a Prize Draw for those who complete their Surveys, the details of these great giveaways will be announced very soon!
NETWORKING EVENT
Venue: TBC
Synopsis: Join us for some drinks and light snacks and talk to the presenters from the day, fellow attendees, MVP's, Partners and Sponsors.
FURTHER ABSTRACTS COMING SOON

FAQ 
Why are you charging for this event?
Events like this do cost a fair amount of money to run. While we are not-for-profit, the organisations that we need to work with us to make this event happen very much are. However, the ticket proceeds only cover a fraction of the cost. Our sponsors whom we greatly appreciate help with the main expenses. Despite this being a paid event, we feel the ticket price offers great value.
What do I get for my Ticket Money?
We feel the price of admission is great value for the attendee. For your ticket you will get:
A Keynote delivered by Microsoft Staff, Partners and MVP's
Refreshments and Lunch
An attendee T-Shirt (sizes are first-come-first-served)
4 x Technical Sessions delivered by MVP's, Partners and Microsoft Staff
A chance to ask questions and hear the different perspectives at the Career Panel Discussion
Admittance to the Networking event in the evening with light snacks and drinks provided
A chance to win numerous prizes and giveaways!
What are my transport/parking options getting to the event?
Unfortunately we are unable to provide parking at the venue, there may be parking options nearby but we suggest you research before travelling.
Where can I contact the organiser with any questions?
If you have any questions at all please email matt@singaporepowershell.org.
Is my registration/ticket transferable?
Yes.
Can I update my registration information?
Yes. There are no refunds but tickets can be transferred if you cannot attend.
Do I have to bring my printed ticket to the event?
No. We do need to check you in but you can either use an electronic copy of the ticket or show some ID if you do not have the printed version.
What is the refund policy?
Unfortunately we are unable to offer refunds. By registering you are committing for the space to be filled.
The name on the registration/ticket doesn't match the attendee. Is that okay?
No. Please transfer your ticket if you are unable to attend.
What is an MVP?
An MVP is a recipient of the Most Valuable Professional award given by Microsoft. Microsoft recognises independent experts in the community who are committed to sharing knowledge and technical information with others. This event is run by those recipients of the MVP Award from both Singapore and other countries in South East Asia. You can find out more about the MVP Program here: http://mvp.microsoft.com
How do I win the Surface Pro 3?
Attendees who allow us to share their Registration Information with Sponsors in addition to completing a Survey will be eligible for the prize in the lucky draw. Please bring a device (phone/tablet/etc.) that is capable of connecting to the internet directly or through the free Microsoft WiFi network to complete the online survey. Note: We reserve the right to change the prize at any time, if this happens, registered attendees will be notified by email.
When & Where

Microsoft Operations Pte Ltd
1 Marina Blvd
#22-01
Singapore, 018989
Singapore

Saturday, 15 November 2014 from 08:30 to 17:30 (Singapore Standard Time Singapore Time)
Add to my calendar