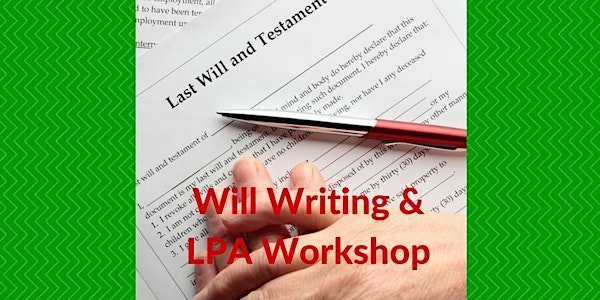 Complimentary Online Talk on "Will Writing & LPA" (English)
"Leaving a Legacy of Love" - Everything you need to know about Will Writing and Lasting Power of Attorney (LPA)!
About this event
Have you ever wondered who will receive your assets if you do not have a Will?

Do you know that there are 3 types of Singapore Assets that will be Excluded from your Will?

Who can apply to look after you if you have dementia?
If you have always been thinking of writing your Will, but
- you are wary of the prohibitive costs of engaging a lawyer
- don't trust online templates that may not be able to carry out your wishes
- need someone to give advice without costing you an arm and a leg
then you MUST sign up for this Workshop to find out more!
We are not a law firm but we work exclusively with law firms to make sure that your Will is Legal and not just some online template or written by non-legal trained "professional will-writers".
Our Will is $300+ per person and it includes
Consultation on how to CUSTOMISE your Will and make sure your wishes can be carried out (For example by giving $1 to the person that you wishes to exclude from your Will)
Up to 3 Specific Gifts clause (others entice you with $250 Will or even $150 Will but will add $50 per clause for giving specific gifts)
Up to 3 Alternate Tiers of Beneficiares (other law firms will charge extra from the 2nd alternate tier of beneficiaries onwards)
One Original + 3 Copies (one to be kept by you, one kept by the law firm, and one kept by us, The Legacy Protector Pte Ltd)
Our price is transparent and no hidden costs and there is no queston too simple to ask! We make sure you have the Peace of MInd to get a professional done legal Will that is within your budget and follows your Wishes!
If you think Dementia will only happen to those over 65, you need to think again. According to a Straits Times article published on 6 Feb 2016, there are 4 times as many younger patients last year than in 2011. Come now to this Workshop to find out how you can protect yourself in case of dementia by applying for the Lasting Power of Attorney (LPA).
HURRY! Book your seats Now!
Workshop Agenda 
The Default Will - can it serve your purpose?
Why do you need a Will?
How to make sure your Will is legal?
Can your Will be challenged?
What can you Will away?
What is a Living Will?
FAQs
Are there ID or minimum age requirements to enter the event?
The minimum age to write a Will is 21 years old.  If you are a student on assignment, perhaps you may want to attend other workshops as this is not relevant to students.
How can I contact the organiser with any questions?
You can call Mr. CK Ting at 3116-2218 during office hours.
Do I get to learn how to write my own Will?
NO. This is not a workshop for you to draft your own Will. Rather, it is to give basic information of what to look out for when drafting your own Will. We advocate engaging professionals (i.e. lawyers) to draft your Will as it is the only legal document that you can't amend when it is being invoked. :)