Complimentary Online Yoga Class
About this event
Mindful Space is blessed to have a team of teachers who work with the heart.
When they heard about the new ruling of no physical yoga classes, they volunteer to offer a series of complimentary adult yoga classes.
Tue, 10:30 - 11:30am
Conditioning & Mobility by Wennye
May 25, Jun 1, Jun 8
Wed, 12 - 1:15pm
Yin Yang Yoga by Yvonne
May 26, Jun 2, Jun 9
Fri, 8 - 9am
Hatha by Clara
May 28, Jun 4, 11
Videos are compulsory to be turned on for the teachers to engage and support you. It is important for us to create a safe space to practice, we will remove participants who do not turn on their videos.
By registering for this event, you agree to be contacted for future events.
Continue to strengthen your body, and you'll realise you have more strength to go through the challenges we face at such times.
As you stretch more, you'll notice you have more capacity to go through the ups and downs in life too!
Mindful Space
97837313
https://www.mindfulspace.com.sg/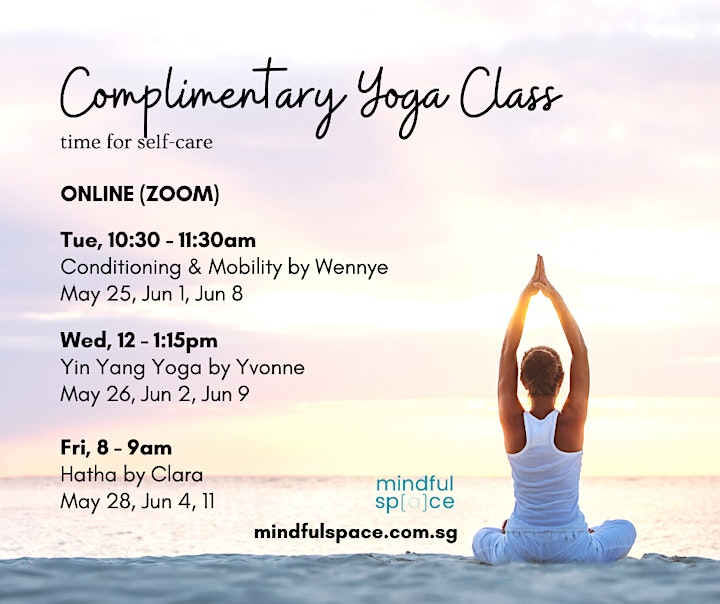 Organiser of Complimentary Online Yoga Class
Holistic and inclusive space to empower parent & child with life skills - develop & balance the mind (IQ), body (PQ), emotions and behaviour(EQ).
We believe in order to support the child, we must first support the parent.
1. Parent's Well Being
2. Parenting Knowledge & Skills
3. Parent's bonding & learning with their child
OUR SERVICES:
Parent & Child Classes
Kids Enrichment
Yoga & Fitness
Life Coach
Business Coach
Family Consultation 
Parenting Workshops 
Teacher Trainings
Corporate Events
Holiday Programmes