Join us at our meetup sessions for fun informal meetups and a chance to network with other Connected Women participants.
About this event
Hello, #ConnectedWomen of Singapore!
We are a global community for women entrepreneurs, freelancers, and professionals! Join us on 3rd November 2021, 3:00pm - 4:30pm on ZOOM for a fun informal virtual meetup and a chance to network with other Connected Women virtually.
Topic:
Connected Women Singapore Virtual Meetup via ZOOM
Sharing from our guest speaker Pauliina Salmenhaara on the topic of " Self-care as the #1 item on your to-do list"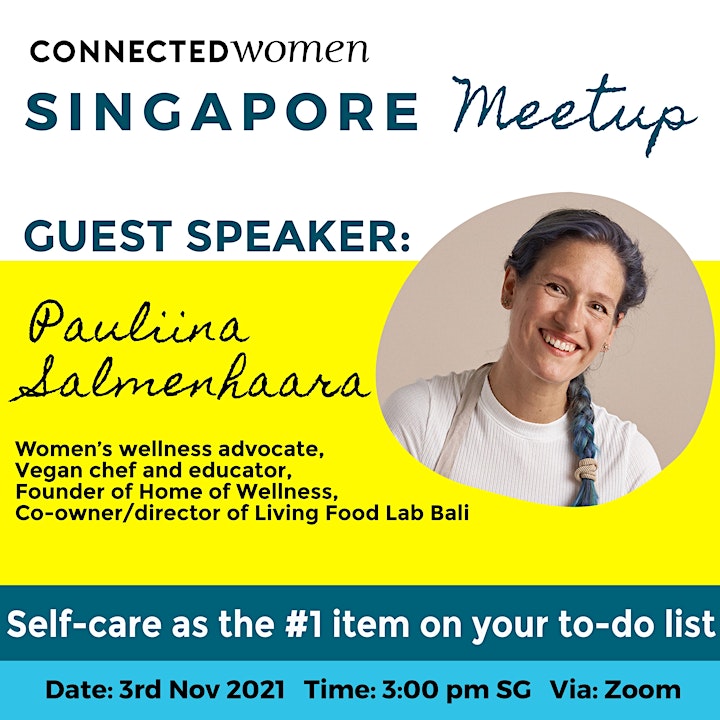 About our Guest Speaker:
Pauliina Salmenhaara
Women's wellness advocate, Vegan chef and educator, Founder of Home of Wellness, Co-owner/director of Living Food Lab Bali
Pauliina is a women's wellness advocate, vegan chef and educator, founder of Home of Wellness, and co-owner/director of Living Food Lab Bali, a vegan restaurant, education space, and event caterer in Canggu, Bali.
As mama to two young adult daughters as well as to the Living Food Lab family, Pauliina brings together almost two decades of study and practice in mindfulness, alternative therapies and vegan cuisine.
In 2021, Pauliina founded Home of Wellness, the culmination of her experiences and learnings in well-being, all coming together in an online women's wellness platform. Her mission is to spread awareness of how we can best nourish ourselves on the levels of body, mind, and spirit, and find our own path to a happier and healthier life, based on her life motto: whole over perfect.
What to expect:
Fun, informal networking
Meet like-minded women
Listen to inspiring stories
Learn the latest trends
Be part of the community
For more details, please contact: Louisa (+6596748955)
Don't forget to invite your friends. See you there! We look forward to welcoming you!
_______________________________________________________________________________________________
Please join the local group of Connected Women Singapore on Facebook: https://www.facebook.com/groups/connectedwomensingapore/
For more information about Connected Women, please contact us at team@connectedwomen.com
Organiser of Connected Women Singapore Virtual Meetup - 3rd November 2021