Connecting Nature to Creativity, Community, and Mental Health | Read! Fest
Join this discussion on the importance of nature to our well-being and creativity.
About this event
This event is fully registered. For those who are unable to attend the physical event, you can watch it online at https://www.facebook.com/readingnationsg as it will be livestreamed there. The event video will continue to be available after the event.
About the Programme/Event
Nature has long been viewed as a healing, restorative force. In this panel, we look at the vital relationship between nature and artistic creativity, the therapeutic benefits of nature to personal mental health, and what happens when communities are engaged and invested in their natural environment. Join us for a lively discussion as moderator Bridgette See speaks to Esther Vincent, Editor of Tiger Moth Review; Kua Ee Heok, Professor in Psychiatry and Neuroscience at NUS; Maxel Ng, Director of Community Horticulture at National Parks Board;  and Shawn Lum, President of Nature Society (Singapore).
About the Speakers
Esther Vincent is editor-in-chief and founder of The Tiger Moth Review, an independent eco-journal of art and literature. Her debut poetry collection, Red Earth, a finalist for the 2020 Gaudy Boy Poetry Book Prize (New York), will be published this Fall by Blue Cactus Press (Tacoma, Washington). She is currently co-editing an ecofeminist anthology of personal essays (forthcoming publication, Ethos Books).
Kua Ee Heok is the Tan Geok Yin Professor in Psychiatry and Neuroscience at the National University of Singapore and Consultant Psychiatrist at Mind Care Clinic, Farrer Park Medical Centre. A member of the WHO team for the Global Study of Dementia, he has been invited by the United Nations in New York to speak in a world forum on 'Depression – the Hidden Illness'.
Maxel Ng oversees the development of therapeutic horticulture at the National Parks Board. Trained as a horticulturist from the University of Queensland and certified in therapeutic horticulture, his passion for the healing effects of nature has led him to develop a therapeutic horticulture programme for seniors. He co-authored Singapore's first medical study on the effects of horticultural therapy on seniors, and speaks on the topic locally and abroad. 
Shawn Lum is a Senior Lecturer in ecology at the Asian School of the Environment, Nanyang Technological University. A student of botany and plant ecology, Shawn looks at changes in tropical forest diversity and structure over time. He is also an active volunteer in the Nature Society (Singapore), which he currently serves as president.  
Bridgette See is a freelance writer, editor, producer and researcher. A former broadcast journalist and magazine editor, she enjoys asking the right questions to discover untold stories. She is always hungry for good reads and loves the great outdoors.  
Title Tie-up
This programme is inspired by The Way Through the Woods: Of Mushrooms and Mourning, a featured title of Read! Fest 2021. Borrow the title here
For other programmes related to this title, visit go.gov.sg/mushroom
For the full listing of Read! Fest programmes, visit go.gov.sg/readfest21
About Read! Fest 2021
Read! Fest 2021 invites you on a forward-looking journey of self-discovery. With the theme of Reboot, take a moment to re-examine and refresh your lenses on day-to-day aspects that shape our lives.
Anchored by 12 key books and topics, Read! Fest will host over 60 programmes – from talks by world-renowned authors to workshops and experiences – each curated to immerse you in a world of thoughtful ideas for our time.
From myths and minimalism to work and womanhood, stretch out to explore new worlds and perspectives. Where will you find yourself?
For more info, visit go.gov.sg/nrm-readfest21.
Onsite Programme/Event Administrative Information
This programme is conducted onsite.
Please ensure that you provide a valid email so that we can contact you in case of any changes to this event.
Limited seats are allocated, and Safety Management Measures rules are to be observed.
Participants must arrive 5 minutes before the session commences. Seats of late attendees will be given to others.
The National Library Board, Singapore (NLB) reserves the right to deny entry to participants who do not abide by the Safety Management Measures rules.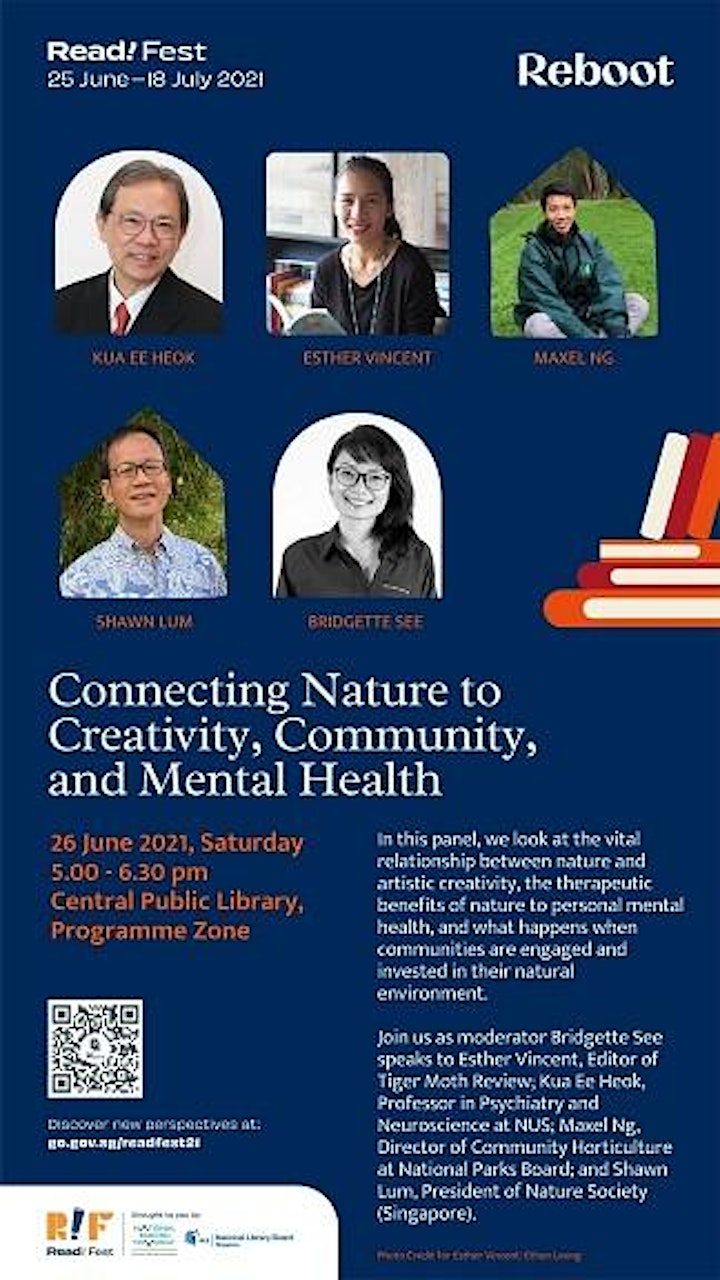 Organiser of Connecting Nature to Creativity, Community, and Mental Health | Read! Fest
The National Library Board (NLB) manages a network of 27 public libraries, the National Library and the National Archives of Singapore. NLB promotes reading, learning and information literacy by providing a trusted, accessible and globally-connected library and information service through the National Library and a comprehensive network of Public Libraries.