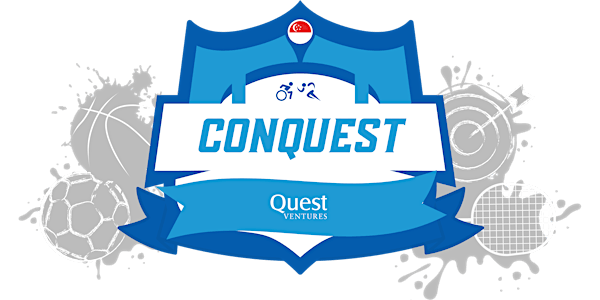 Conquest
Join Conquest and celebrate Singapore's 56th National Day!
About this event
Spend some quality time with your friends, family and colleagues by getting active together!
Spirit of Community
Conquest fosters strong bonds in the startup and innovation ecosystem. It is also organised with support from Sport Singapore – a statutory board of the Ministry of Culture, Community and Youth whose core purpose is to inspire the Singapore spirit and transform Singapore through sport.

Startup Spirit
Research has shown that participation in sports is closely linked to health, well-being and the development of life skills such as problem-solving, communication, decision-making, leadership, perseverance and time-management.
For startups, inculcating values and principles through sports is critical in laying the foundation for the future of entrepreneurship.

Inclusive
Held in conjunction with SportSG, Conquest welcomes participants from all walks of life. All games are accessible to persons with disabilities and no less challenging no matter their ability.
Kickoff your healthy lifestyle with us today!

Impactful Cause
Conquest donates proceeds to the Social Impact Catalyst, Singapore's first youth-centric organisation focused on social entrepreneurship and innovation.
It champions social impact initiatives within ASEAN; catalyses socially-driven projects and businesses; and grows a pipeline of young leaders committed to creating social impact.
Your workout goes to a good cause!

Sign up now!
Stand a chance to get a totally awesome goodie bag worth more than S$50 when you have "conquered" the challenge!
For more information, check out https://www.quest.ventures/conquest or email conquest@questventures.com.
By participating in Conquest, participants agree to be bound by these Terms and Conditions, which will prevail in the event of any dispute.
TERMS AND CONDITIONS
1. Participants will only be eligible for goodie bags if they have successfully registered for Conquest via Eventbrite AND are within the first 250 participants to complete all the steps in the gameplay sheet, after 12.01AM on 4 August 2021 (Wed).
2. Participants are required to upload their Eventbrite ticket(s) and individual/group picture for verification via the link provided in the gameplay sheet. The organiser reserves the right to reject, at their discretion, participants that have not completed all the steps above and/or provided necessary proof.
3. Participants who are eligible for the goodie bag will be notified via email within 5 calendar days after the event. Each eligible participant is entitled to only one goodie bag. The goodie bag will be delivered to the participant's mailing address, indicated by him/herself in the Eventbrite registration form, within 2 weeks after the event.
4. For eligible participants receiving the goodie bag, please note that the Conquest T-Shirts will be allocated based on the size you indicate in the Eventbrite registration form as far as possible. We seek your kind understanding that in the unforeseen circumstance where there is a shortage of that size, we will deliver to you a shirt with the next closest size.
5. Participants agree that their submitted pictures may be used for publicity purposes as the organiser sees fit.
6. COVID-19 ADVISORY. Participants undertake to adhere to the current safe distancing measures (maximum 2 pax for in-person gatherings) when participating in Conquest, and note that Quest Ventures and/or its affiliates will not be held liable for any breaches of government guidelines as a result of personal negligence.
7. DISCLAIMER. Participation may involve a certain amount of risks (including but not limited to sustaining personal injuries and/or loss of life in the event of serious accidents). Participants are to comply with all safety measures and instructions given by the Conquest Organising Team. Participants should carry out the activities in accordance with their personal ability. Quest Ventures and/or its affiliates will not be liable for any damage to or loss of any personal property and/or personal injury or death that may arise.