About this Event
FIRST TIME LIVE IN SINGAPORE
Who Should Attend: C-suite Leaders, entrepreneurs, startup founders and team, managers and executives who wish to hone their leadership skills and maximise wellbeing in a fast paced society like Singapore.
Conscious Leadership Workshop (Day 1)
Overview: The Conscious Leadership Workshop draws on the conscious leadership insights of author, physician, and global thought leader Deepak Chopra, MD — which has been taught at the Kellogg School of Management, Columbia University, as well as to hundreds of leaders worldwide. The workshop has been designed to unlock the Conscious Leadership potential in individuals, teams, and organizations; and to connect each leader to the Greatness Potential, personal Leadership Talents, and the capacity to expand happiness, meaning and greatness in their teams.
Poonacha Machaiah is Advisor and Chief Strategy officer to Chopra Center for Wellbeing and has co-founded the Conscious Leadership Global initiative. He will be leading the participants in an intensive yet immersive workshop where the participants will be able to get a glimpse into how to effectively lead their organizations and teams as conscious leaders.
Program participants will be provided with a complimentary access to the online course https://www.udemy.com/the-soul-of-leadership-with-deepak-chopra/ (Usual Price: $200)
Living in Flow
Overview: "Living in flow" is a wellbeing program that has been developed by Poonacha Machaiah. This program provides a framework for everyone to maximize their wellbeing and achieve flow i.e. Living Without Resistance & Maximizing Potential. The program will introduce participants to the Awareness, Reinvent and Train (ART) framework and the 10 steps for living in flow and maximizing human potential. Participants will be guided through an interactive and immersive experience such as guided meditation, breath work and techniques to create lasting wellbeing habits.
Poonacha will also share insights on how participants can leverage the latest research/technologies from genomics, digital health and lifestyle analytics to maximize their wellbeing.
Date: Saturday March 9th, 2019
Time: 10AM - 4PM
Location: The Meeting Point, JTC Launchpad@one-north
Tea & Coffee will be served
_________________________________________
Trust: The New Currency of Leadership (Day 2)
Overview: The world has never been more connected, and the speed with which companies face new challenges increases at a seemingly unstoppable pace. For leaders, the new demand is to make more, faster, with less. The sole focus on efficiency in a management style is not enough anymore. Today a new augmented form of leadership is needed, one that emphasizes TRUST as the crucial leadership strength. Learn the precise formula with 5 key levers that immediately begins to earn and building trust in leaders, teams and organizations. This formula was developed at MIT Sloan School of Management has been taught to thousands of Fortune 100 leaders and managers.
Meditation, Consultation and Review
Overview: The second day program will end with a meditation session lead by Poonacha, where participants put what they have learned into action. Through this experience, the empowering and enabling effects of such a practice will be fully realised. Poonacha will then address any queries from the participants regarding leadership, wellbeing and any other fields of interest in an open question and answer session.
Intended Learning Outcome:
Discover the Qualities Every Great Leader Possesses
Uncover Why Managing Doesn't Work, But Empowering Does
Become a Better Leader Through Your Own Profile
Master the Techniques that Set Great Leaders Apart
Create Synchronicity in Your Everyday Life
Usher in Calm with Easy-to-Follow Meditations & Breathing Exercises
Why is TRUST the new global business currency, and why is it the most important leadership skill for 21st century leaders
How are so many CEOs, leaders, managers unintentionally generating mistrust
What are the top 5 drivers that makes leaders highly trustworthy
How can TRUST be implemented to create breakthrough performance in teams and organization
Date: Sunday, March 10th, 2019
Time: 10AM - 1PM
Location:
Innovation House Singapore
Blk 71 Ayer Rajah Crescent, #03-04/05 Singapore 139951
JTC Launchpad@one-north
Tea & Coffee will be served
Limited seats available, please register NOW!!
(15% of the proceeds of this event will be donated to Club Rainbow Singapore, an organisation that supports and empowers children with chronic illnesses and their families.)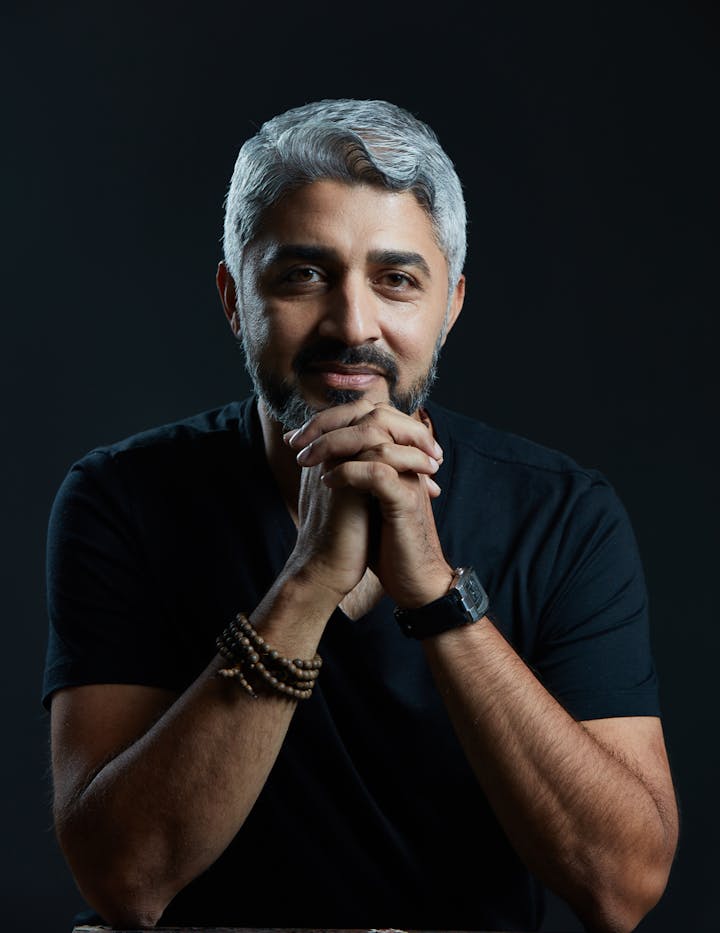 About the Speaker
POONACHA MACHAIAH
Poonacha Machaiah is the Chief Strategy Officer of Chopra Center for Wellbeing and co-founder of the Conscious Leadership Global Initiative.
Poonacha has over 20 years of global experience as a successful entrepreneur and business leader in Fortune 100 companies. Poonacha is the co-founder of "Jiyo," a wellbeing platform that he created alongside internationally renowned physician and author Deepak Chopra M.D. He has co-founded 'Beyond Performance Sports', along with a team of global industry leaders who are continually exploring the boundaries of what is possible in sports performance. 'Deepak Chopra Innerspace', is a revolutionary new technology startup that he has co-founded that leverages "grounding" to reducing inflammation in both body and mind to restore whole health and wellbeing.
He has founded several initiatives such as 'ABOVE – A Bunch of Versatile Entrepreneurs', 'WeightLess Project', an international movement to address the lifestyle and nutrition-based challenges that plague our global communities. Poonacha was instrumental in the founding of India's leading digital media startup 'Qyuki', along with internationally acclaimed film director Shekhar Kapur and Oscar award winning music composer AR Rahman.
He has held senior leadership positions in Global Sales & Business Development with leading MNCs, including Sasken, Motorola, Visionael, Iridium, and Dimension Enterprises. Poonacha holds an MBA from the College of William and Mary and a Bachelor of Science in Computer Science and Engineering from the B.M.S. College of Engineering in Bangalore, India.