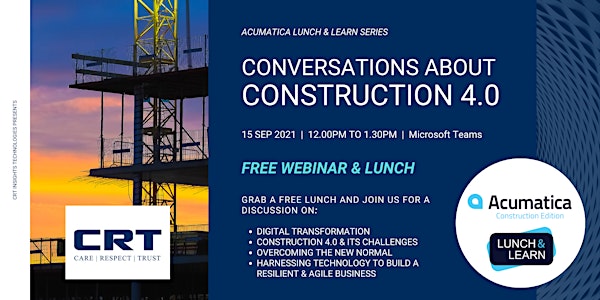 Conversations About Construction 4.0
WE'RE BUYING YOU LUNCH! Join us as we explore Construction 4.0, its challenges, and how to overcome them.
About this event
We are at the cusp of change.
Business leaders can no longer deny that the world has shifted once again, and for good. In order to survive, businesses need to change and evolve too.
The challenges that come with Industry 4.0 for most businesses can be overwhelming. But add on the complexities of the Construction sector, things get a little bit more tricky. So what should businesses do to overcome Construction 4.0?
In this Acumatica Lunch & Learn event, we deep dive into the heart of Construction 4.0.
Topics:
Digital transformation
Construction 4.0 and its challenges
Overcoming the new normal
Harnessing technology to build a resilient & agile business
Plus! Catch a live demo of the Acumatica Construction Edition (ACE) and find out why it should be your new Construction Cloud ERP.
Who Should Attend:
Construction Business Leaders
Architecture & Development Business Leaders
Built Environment Business Leaders
Civil Engineering Business Leaders
General Contracting Business Leaders
Real Estate Development Business Leaders
YES, LUNCH IS ON US
What's a Lunch & Learn without lunch? Eligible participants will receive Grabfood/Foodpanda vouchers while stocks last. So don't wait and register now!