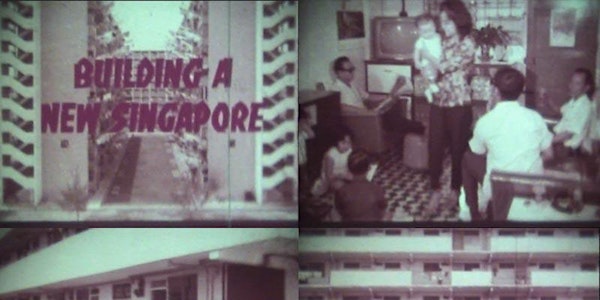 [CONVERSATIONS] Building Agency on Screen 6 Oct
When and where
Location
The Projector Singapore, 199589 Singapore
Description
Chair: Thong Kay Wee (Asian Film Archive)
Filmmaking is akin to architecture when a cinematic space is designed and built from imagination. With construction tools like a video camera, filmmakers can present different perceptions to our lived world and alter its established compositions. Through increasingly democratic forms of filmmaking, cinema can offer an avenue to facilitate public participation in the re-making of our set environment.
As a response to the festival's theme of Building Agency, the Asian Film Archive (AFA) will be presenting a series of short films from Singapore and the feature film Meishi Street (2006) from China as examples of such cinematic interventions. From solid 3D structures to fluid 3D illusions, the film programme will seek to flatten the hierarchical impressions of our built structures and propose an expansion of possibilities.
Friday 6 Oct, 8:30pm
Blue Room, The Projector
Building Agency on Screen: Singapore Shorts
Total Duration: 87 mins
(Programme in sequence)
1. Building A New Singapore (1960s)
Commissioned by the Housing and Development Board (HDB) in the 1960s, the state documentary was an endorsement of the populace's resettlement from low-lying kampongs to high-rise state-built housing during the early years of Singapore's nation-building. The film captures this critical state of social environmental transition and projects a future for a fledging Singapore.
Video courtesy of the Housing & Development Board (HDB).
Director: Toh Weng Kai
Producer: Tom Hodge
Production Company: Cathay Film Services Ltd
Duration: 17 mins
Rating: TBA
2. Blueprints for Volition City (2006)
A visceral assault of distorted guitars, juxtaposed with blistering found footages of Singapore's urbanity, this piece was created entirely via stop-motion with hand-manipulated digital photographic prints. Featuring sounds by Toh Hun Ping, as well as guitar works from Kelvin Tan of The Oddfellows.
Director: Toh Hun Ping
Duration: 7 mins
Rating: PG
3. Come Out and Play at 8Q! (2009)
Ringmaster makes her own toys with wrappers from chocolates. A couple of chocolate-monsters start having a tussle with her.
The stop-motion animation is created from drawings around the Singapore Art Museum 8Q building and unique silkscreen prints on water.
Director: Joo Choon Lin
Duration: 6 mins
Rating: TBA
4. Yangtze Scribbler (2012)
Debbie Ding has been documenting survey markings and graffiti in Singapore. One particular set of graffiti catches her attention. Found in the back stairwell in Pearl Centre, Chinatown, the anonymous drawer roughly sketches a man and a woman beside a series of three numbers. Several of these same scribbles are found in different parts of the stairwell.
What does it mean? What is the writer trying to communicate? Debbie, like a detective tries to decipher the meaning of these scribbles and she talks also of graffiti in general. Are these acts of vandals or are they notes from people seeking to communicate with others? Or are they acts of memorialisation by the writers themselves? Perhaps it is all three. Recently, Debbie excitedly reports, in the Bugis area near the National Library Building, the same scribble. Has the Yangtze Scribbler moved?
This video is commissioned by the Singapore Memory Project 2012.
Director: Tan Pin Pin
Narrator: Debbie Ding
Duration: 6 mins
Rating: PG
5. Nobody's Home (2010)
"You will need two pennies instead of one, to pay the ferryman."
After receiving a bunch of money from his agent, a man decides to visit the people close to him...
Director: Nelson Yeo
Duration: 21 mins
Rating: PG
6. Flat Dreams (2007)
Comprising 3 little shorts spanning 3 generations (Flat, Neighbourhood Watch, Void Deck), FLAT DREAMS is about public housing dwellers dreaming themselves out of their mundane existence.
Director: Eva Tang
Duration: 15 mins
Rating: PG
7. Void Decked (2010)
A Void Deck is typically found under apartment blocks in Singapore. With a constant flow of human traffic, the Void Deck is almost never a Void.
Director/Cinematographer: Azhar Shukor
Choreographer: Elysa Wendi
Main Dancer: Roslina Yusof
Duration: 4 mins
Rating: G
8. Waiting for the Elevator (2014)
The term "void deck" is a uniquely Singaporean one, referring to the ground floor of HDB blocks that has been left open as sheltered space. The void spaces occupy the ground level, while apartments are usually on the second floor onwards. Regulated by the government in Singapore, these public housing comprises of a fixed set of ratios of various ethnic groups within the country; with the void decks functioning as a space for community mingling and social integration. Drawing on normally unnoticed, trivial and repetitive actions, the artist reflects upon the social purposes of these sheltered environments. The composited panorama ultimately exists as a non-space; an accumulation of fragments over time.
Director: Sarah Choo
Duration: 5 mins
Rating: TBA
9. Solitary Moon (2010)
SOLITARY MOON is at once a study of the windows of skyscrapers at night, a contemplation of urban isolation, and a perfectly matched series of compositionally haunting images.
Director: Eva Tang
Duration: 2 mins
Rating: G
10. The Lights Went Out (2017)
Pulsating in the stillness of the night, the flickering lights add a new sight to the nightscape in Singapore. When a light source malfunctions, the light is fixed the following night. The lights in the city never go out- it is always functioning as it should be.
Director: Adar Ng
Duration: 4 mins
Rating: G
Visit www.archifest.sg for more information.