Conversations That Matter is a monthly virtual event organized by Coaching Changes Lives
About this event
12 May 2021, 8:30PM - 10PM (GMT +8)
Entering Part of Your World through Coaching Under One Space
[We Welcome Students from Coaching Changes Lives and Other School of Thoughts]
Come join coaches from Coaching Changes Lives to share, inquire, and explore "Cognitive Functions - First Principles of Personality" with Justin Khoo, the CEO and Founder of 3Elements Leadership.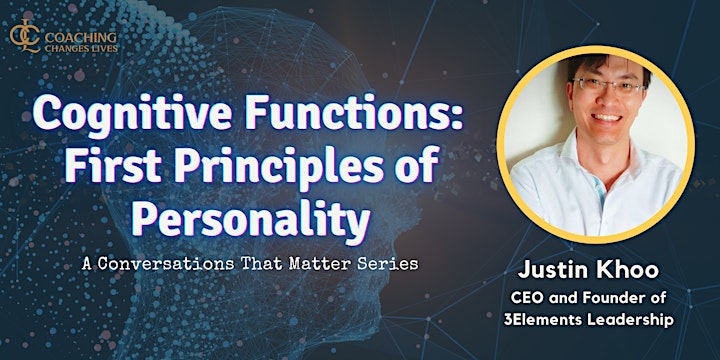 Cognitive Functions: First Principles of Personality
Leaders are not born. Leaders are made.
Join us in understanding the power of first principles of personality, where leadership is achievable in any role or context. What are first principles, and why are they important to us? How can we apply these learnings to coaching, leadership, and people effectiveness?
Join us on 12th May 2021, 8:30PM - 10PM (GMT +8), as we come together to share our thoughts, perspectives, and views on this. Have your mobile devices and laptop ready, and be prepared to discuss and learn with one another!
About The Speaker
Justin is the CEO and Founder of 3Elements Leadership.
He spent 12 years in corporate and decided that he wanted to do something else with his life. Armed with a passion for developing people and understanding how things work, he founded 3Elements Leadership in 2018 – with the aim of sharing the simple principles behind complex leadership situations.
His approach to leadership – and to most of life – is to focus on the underlying reasons why things are the way they are. The result is an efficient and scalable approach to solving problems and achieving goals.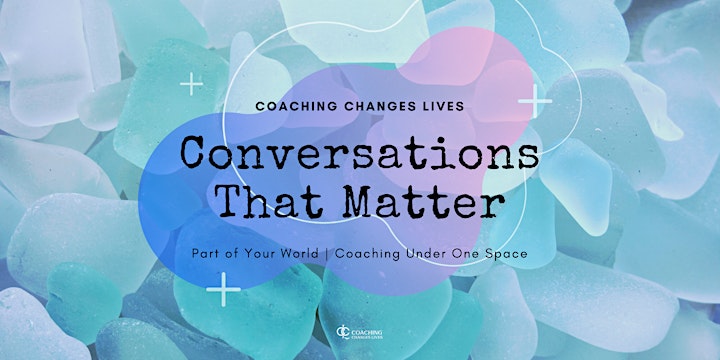 Conversations That Matter is a monthly virtual event by Coaching Changes Lives where we curate a safe space together for our coaches to connect, create, and engage in meaningful conversations that matter to us and support us.
Our Vision:
To nurture a safe and inclusive community whereby versatile coaches and lifelong learners develop an agile and reflective mindset of growth and self-discovery.
Join us at our next event.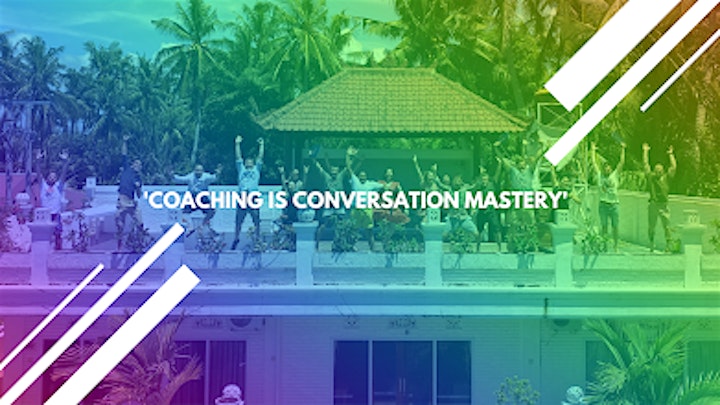 Our Coach Programs (ACSTH/ACTP/CCE for your ICF Credentialing) 
1) Coaching Intelligence Mastery Certification (150 Hr ACTP) PCC -> MCC Program
2) ICF Mastery In Coaching Certification (70 Hr ACSTH)
3) Transformative Neuro-Linguistics Programming Coaching Certification (100 Hr ACSTH)
4) Team Leadership Coaching Certification (70 Hr ACSTH) 
5) Leadership Executive Coaching (24 Hr CCE)
6) Exponential Career Coaching (24 Hr CCE)
7) Public Speaking Success Coaching (20 Hr CCE)8) Coaching to Transform Lives (10 Hr CCE)
Enquiries
For Enquiries, contact the following channels,
Email: coach@coachingchangeslives.com
WhatsApp: +65 87923402
For Trainings in other Cities and for more information & Registrations visit:
Or email us at coach@coachingchangeslives.com
Subscribe to our Youtube Channel: youtube.com/c/CoachingChangesLives 
Follow us on our Instagram: instagram.com/coachingchangeslives
We look forward to serving you. #CoachingChangesLives