Conversations That Matter is a monthly virtual event organized by Coaching Changes Lives
About this event
29 June 2021, 8PM - 9PM (GMT +8)
Entering Part of Your World through Coaching Under One Space
[We Welcome Students from Coaching Changes Lives and Other School of Thoughts]
Come join coaches from Coaching Changes Lives to share, inquire, and explore "Life-Relationships" with Gopalan P. Nair, Life-Relationship Coach, ACC ICF.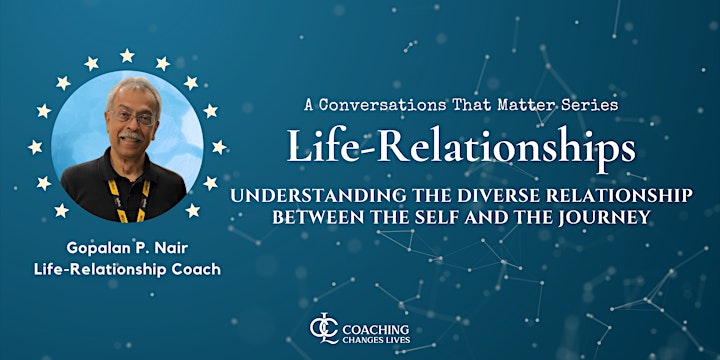 Life-Relationships: Understanding the Diverse relationship between the Self and the Journey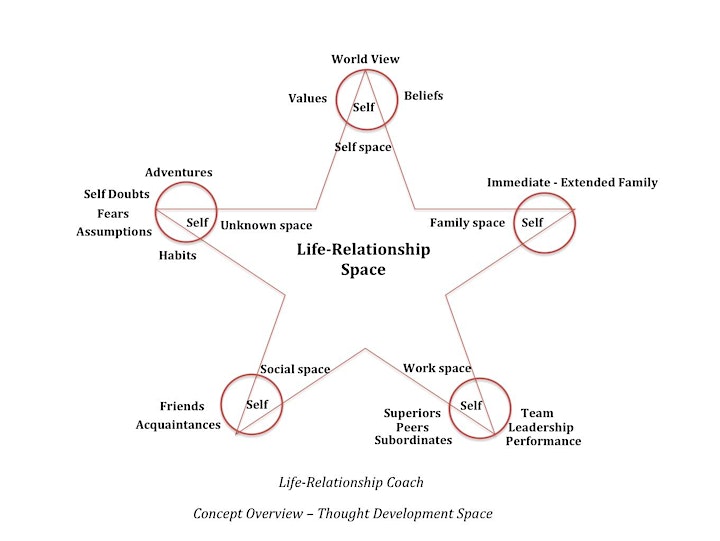 Life is a relationship we have with every aspect of our lives.
Join us on 29th June 2021, 8PM - 9PM (GMT +8), as we explore more on the Life-Relationship Space. Uncover different thoughts, perspectives, and views on this. Have your mobile devices and laptop ready, and be prepared to discuss and learn with one another!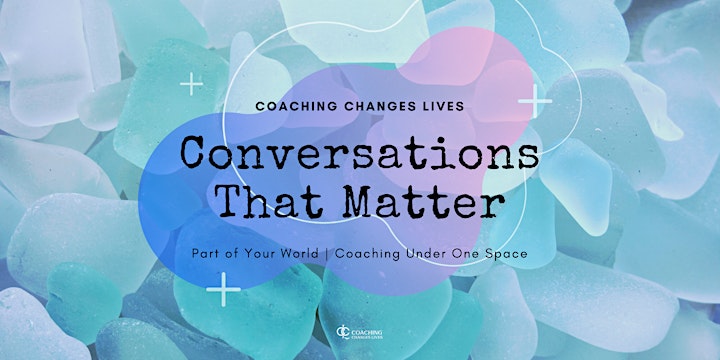 Conversations That Matter is a monthly virtual event by Coaching Changes Lives where we curate a safe space together for our coaches to connect, create, and engage in meaningful conversations that matter to us and support us.
Our Vision:
To nurture a safe and inclusive community whereby versatile coaches and lifelong learners develop an agile and reflective mindset of growth and self-discovery.
Join us at our next event.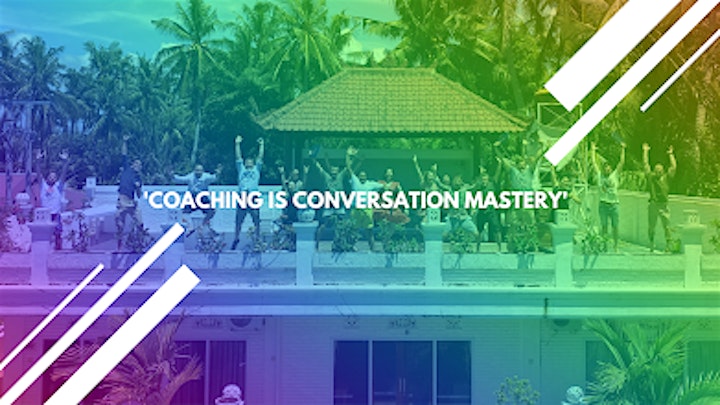 Our Coach Programs (ACSTH/ACTP/CCE for your ICF Credentialing) 
1) Coaching Intelligence Mastery Certification (150 Hr ACTP) PCC -> MCC Program
2) ICF Mastery In Coaching Certification (70 Hr ACSTH)
3) Transformative Neuro-Linguistics Programming Coaching Certification (100 Hr ACSTH)
4) Team Leadership Coaching Certification (70 Hr ACSTH) 
5) Leadership Executive Coaching (24 Hr CCE)
6) Exponential Career Coaching (24 Hr CCE)
7) Public Speaking Success Coaching (20 Hr CCE)8) Coaching to Transform Lives (10 Hr CCE)
Enquiries
For Enquiries, contact the following channels,
Email: coach@coachingchangeslives.com
WhatsApp: +65 87923402
For Trainings in other Cities and for more information & Registrations visit:
Or email us at coach@coachingchangeslives.com
Subscribe to our Youtube Channel: youtube.com/c/CoachingChangesLives 
Follow us on our Instagram: instagram.com/coachingchangeslives
We look forward to serving you. #CoachingChangesLives
Organiser of Conversations That Matter: Life-Relationships
COACHING CHANGES LIVES is a visionary company in the domain of coaching. We believe that Coaching has the power to change lives, improve organisations and bring about societal wellbeing. Our Mission is to empower and equip One Million coaches from around the world with coaching competencies and tools that will make a difference.