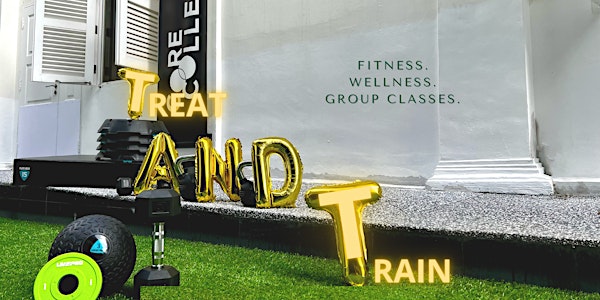 Core Collective Sentosa Treat & Train Launch Event
Core Collective will be celebrating the official launch of our new outlet at Sentosa with Treat & Train and giving back to the community!
When and where
Location
Core Collective Sentosa Sentosa Island, 1 Larkhill Rd Amara Sanctuary Resort Singapore, 099394 Singapore
About this event
All proceeds from this event go to charity!
Enjoy the best of fitness & wellness at Core Collective while giving back to the community!
Experience 30 to 60 minute taster sessions by our top fitness and wellness professionals. Whether you're looking to try out a fitness class with one of our personal trainers, a quick detox in our infrared sauna, or even a massage at our spa, Treat & Train has something for everyone!
For those wishing to bring your kids, there will be a small kids play area setup with balloon sculptor and face painting!
Treat & Train is done in partnership with =DREAMs, which is a residential model that provides after-school academic and holistic support so that each child can focus on reaching their potential for tertiary education.
All proceeds collected during this event will be donated to our charity partner, =DREAMS.
Invited media may enter their promo codes under the field at the top of the ticketing window.
You may choose your slot based on the available timings upon selection of the ticket.
You may register for up to a maximum of 3 sessions. Please take note to avoid double-booking sessions at the same time.
Please feel free to donate even if you do not wish to attend any of the sessions. Your kindness is greatly appreciated.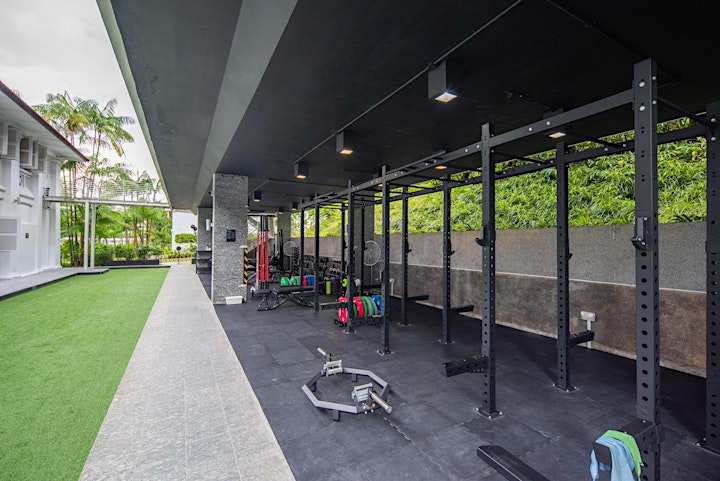 Taster Sessions Available between 9.00am - 1.00pm:
Fitness Consultation
Strength and Mobility Assessment with Chua Jing Zhi from ALLSET (Duration: 30 minutes
Outdoor Fitness Class
[Outdoor Fitness Class] Tabata Thirty Ten with Andrew Koh (Duration: 30 minutes)
Movement Hunt with Ahmad Khairil (Duration: 60 minutes)
Fitness Class
Prenatal Workout with Joanne Boulat and Fay Hokulani from Performance Training (Duration: 30 minutes)
HIIT Workout with Joanne Boulat and Fay Hokulani from Performance Training (Duration: 30 minutes)
Post-natal Workout with Joanne Boulat and Fay Hokulani from Performance Training (Duration: 30 minutes)
Pre/Postnatal training with Dani from ActiveWomen (Duration: 30 minutes)
Private Pilates with Jamie Foo and Johanna Maharani from Fitfoo (Duration: 30 minutes)
Golf Fitness with Robbie MacGregor from The Athletic Collective (Duration: 30 minutes)
Pre/Post Natal Training with Tymosiewicz Victoria Rebeca from The Athletic Collective (Duration: 30 minutes)
Strength & Conditioning with Jonathan Chua from The Athletic Collective (Duration: 30 minutes)
Tennis Fitness with Aaron Tregaskes from The Athletic Collective (Duration: 30 minutes)
ContempFIT dance with Aiden Tan from SPACECUBOID (Duration: 30 minutes)
Wellness Treatment
RehabFx or Clinical Orthopaedic Soft Tissue manual therapy (COMT) / Kinetic Link Training with Mattew Chan (Duration: 60 minutes)
Osteopathy Treatment with Dr Shruti Seth from Osteopathy Health Care (Duration: 30 minutes)
Infrared Sauna Therapy with Core Collective Sentosa (Duration: 60 minutes)
State of Reiki with Stephanie Schueller (Duration: 30 minutes)
Wim Hof Method introduction workshop with Chun Yih (Duration: 90 minutes)
Express Vegan Manicure / Pedicure (Duration: 30 minutes)
Wellness Consultation
Psychology Consultation with Shrimathi Swaminathan from Pysnaptica (Duration: 30 minutes)
Rapid Transformational Therapy / Hypnotherapy with Ping Ong-Coates (Duration: 60 minutes)
Stress Profile Assessment with Dr Jyothi Kosaraju Bose (Duration: 30 minutes)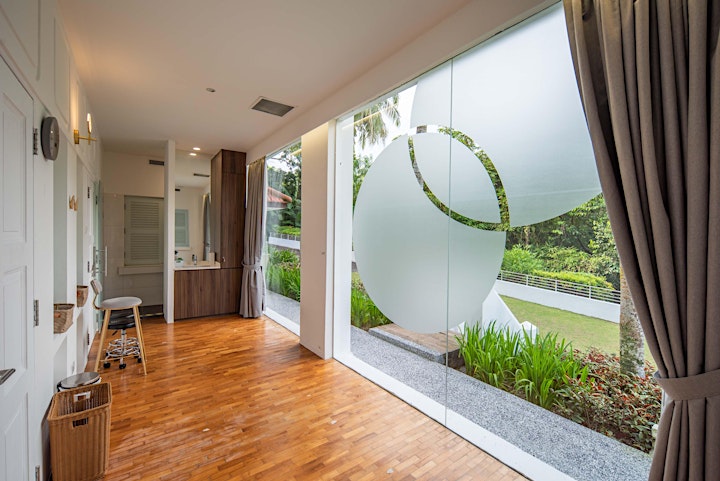 Taster Sessions Available between 2.00pm - 6.00pm:
Fitness Consultation:
Group Strength and Mobility Assessment with Chua Jing Zhi from ALLSET (Duration: 30 minutes)
Treadmill VO2 with Andrew Koh (Duration: 30 minutes)
Fitness Class:
Yoga for Posture with Munira Muhris from HelpHer Do Better (Duration: 30 minutes)
Private Pilates with Jamie Foo and Johanna Maharani from Fitfoo (Duration: 30 minutes)
Buddy Fitness Challenge with Raf Biazon from Fit Pound (Duration: 30 minutes)
Body Sculpt with Ahilya Kaul (Duration: 30 minutes)
Personal Training and Movement Pattern Analysis with Azeemeh Taqi (Duration: 30 minutes)
Rehab with Jas from ActiveWomen (Duration: 30 minutes)
Wellness Treatment
Physiotherapy Assessment with Goh Chun Kiat from Milestone Physiotherapy (Duration: 45 minutes)
Pulsed Electromagnetic Field Therapy with Joseph Ong from Hope Naturals (Duration: 30 minutes)
Infrared Sauna Therapy with Core Collective Sentosa (Duration: 60 minutes)
Head & Shoulder Massage with Chinois Spa (Duration: 30 minutes)
Reiki Session with Mariangel Gonzalez (Duration: 30 minutes)
Express Vegan Manicure / Pedicure (Duration: 30 minutes)
Corrective Exercise with ChristoJen (Duration: 60 minutes)
Wellness Consultation
TCM Consultation for Pre and Postnatal Care with Chen Ying Chu from Lushn Health Chinese TCM (Duration: 30 minutes)
Learn How to Quit Smoking Easily with Eddy Pun (Duration: 60 minutes)
Counselling Taster Session with Alice de Ungria (Duration: 30 minutes)
Touch for Health Kinesiology with Cynthia Teo (Duration: 60 minutes)
Terms & Conditions
All participants have to be vaccinated.
All participants are required to declare any relevant medical conditions and sign an indemnity form prior to their sessions.
All participants are to abide by ongoing safe management measures.
A maximum of three sessions are allowed per booking. Core Collective reserves the right to cancel sessions that are made in excess of this.
Cancellations should be made at least three days prior to the event, by Wednesday, 10 Aug 2022