Sales Have Ended
Registrations are closed
All available tickets are booked. you may wish to join the Anniversary Celebrations virtually. Check the COSBT Whatsapp for more info. 所有可用的门票都已预订。您也可能参加虚拟周年庆典聚会。查看 COSBT Whatsapp 了解更多信息。
Sales Have Ended
Registrations are closed
All available tickets are booked. you may wish to join the Anniversary Celebrations virtually. Check the COSBT Whatsapp for more info. 所有可用的门票都已预订。您也可能参加虚拟周年庆典聚会。查看 COSBT Whatsapp 了解更多信息。
Come join us as we celebrate and welcome 2022! 加入我们迎接2022
About this event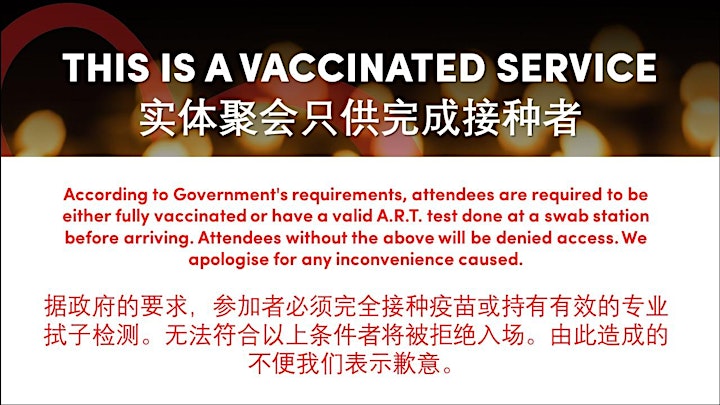 Ticketing
Please register each attendee's name. Each ticket only admits ONE and is not transferable.
In line with government guidelines, we will only accept registrations up to 286 persons.
Once the quota of tickets has been fully taken up, registration will be closed. Strictly no walk-ins allowed.
Please release your tickets by cancelling them at least 3 days before the event if you are unable to attend.
On the day of service
We advise attendees to arrive 15mins earlier for TraceTogether registration.
No parking is allowed on the church premises.
The service will be in both English and Mandarin.
Kindly wear your mask at all times when you are within the church premises.
In addition to spaced seating, attendees are reminded to observe the 1m safe-distancing guideline at all times.
For any queries, please feel free to reach us via our official Whatsapp at 93711896.
票证
请以参与者的名义注册。此票不可转让。(1人= 1张票)
按照政府的规定,由于参加人数仅限286个名额,参加聚会必须严格按照票证进行 一旦入场券满额,我们将关闭注册。
入场券必须在聚会三天前取消。
现场
聚会 请提前15分钟抵达教堂,进行"合力追踪"注册。
教堂内禁止停车。
聚会将以英语和中文进行。
请随时随地戴上口罩。
除了间隔座位外,我们也提醒会友们,请遵守1米的安全距离原则。
若有任何疑问,请透过教会的 WhatsApp (93711896) 与我们联系。