About this Event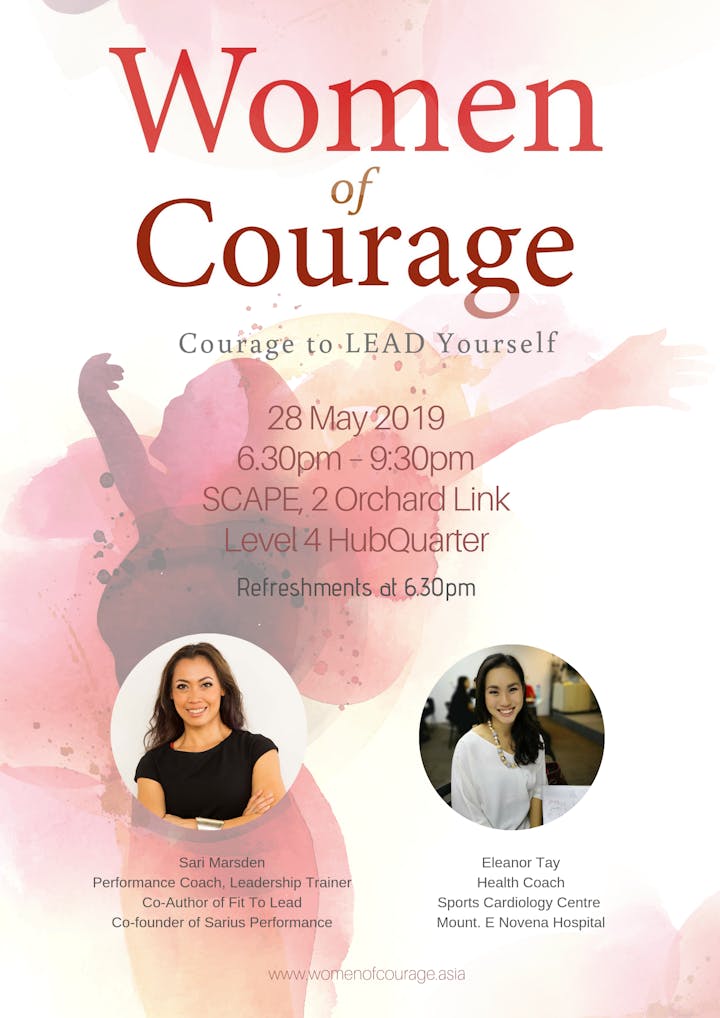 JOIN US FOR AN EVENING OF EMPOWERMENT on 28 May 2019 (Tuesday)
THEME: "COURAGE TO LEAD YOURSELF!"
Session 1 Title: Becoming FIT TO LEAD
"For anybody to speak with conviction and to be heard, their "essence narrative" must resonate with them emotionally and live in their body."
A 45-minute of FIT TO LEAD session that integrates physical movement and an interactive coaching conversation, in order to support the creation of a powerful leadership presence for participants. The invitation is to look at your physical body as a place to create who you want to be now and in the future, rather than as a place to reflect who you have been in the past. Join Sari Marsden — author, professional leadership coach and elite trainer for Nike Training Club SEA — to learn how to build courage and how to embody your purpose through purposeful movement.
*This masterclass is based on FIT TO LEAD, a book that offers a dynamic new vision of leadership development; one that places the role of your physical body firmly alongside that of your thoughts and emotions. Written by husband-and-wife team Marcus and Sari Marsden, the book combines the principles of executive coaching, movement, fitness training and nutrition to provide you with a holistic system that can transform your leadership and produce breakthrough results for yourself and the people you lead.
Session 2 Title: How Healthy Am I? Lifestyle Check
Speaker: Eleanor Tay, Registered Nurse & Certified Personal Trainer
Learning Objectives:
1. You will gain an understanding of your present overall health and wellbeing.
2. You will appreciate how stress and lifestyle habits profoundly affect your own health.
Learning Outcomes
1. You will be able to assess your present lifestyle habits and identify gaps that contribute to unsatisfactory overall health.
2. You will be able to discuss how stress and lifestyle habits directly and indirectly affect your health.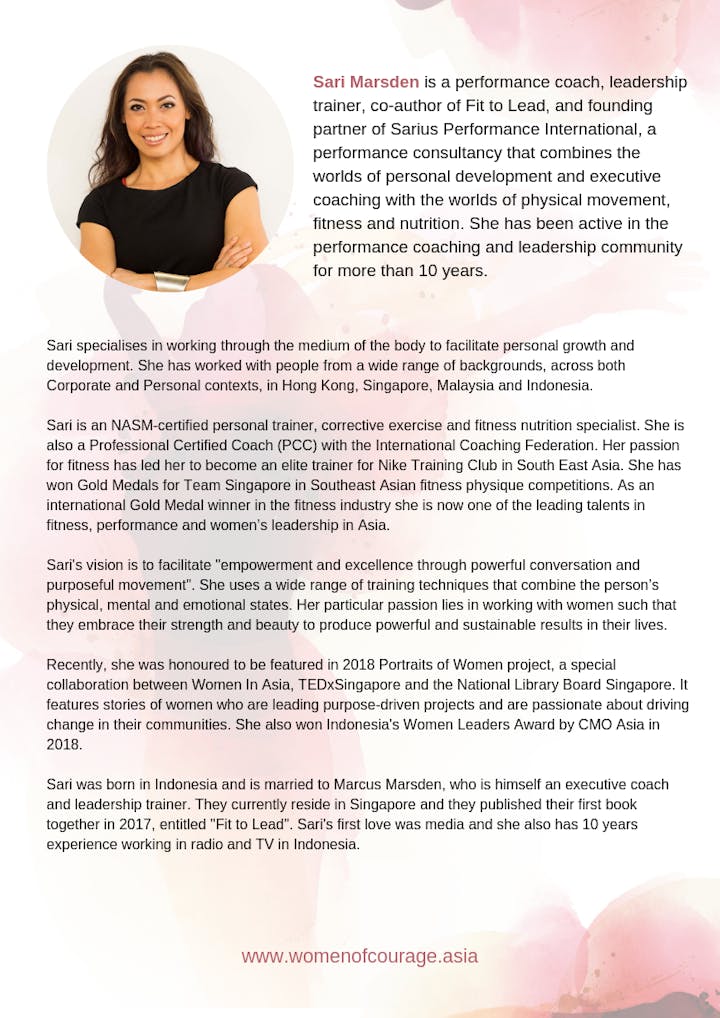 Women of Courage Asia
is an archetype of a women's community to fill the gap of the lack of community resources and support of women role models for the younger women (age 15-35) with adverse past experiences, from less privileged backgrounds and are facing social inequality.
It is a women's community with a structured monthly meeting and projects empowering younger women with practical strategies, engaging experiential lessons and skillsets from our panel of mentors who are carefully chosen from various industries.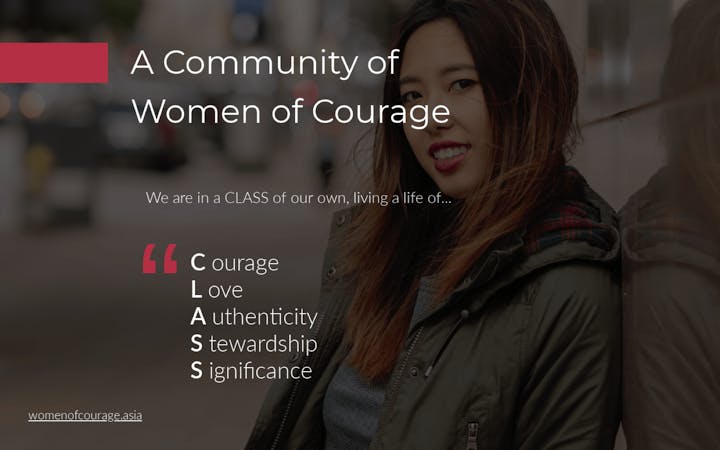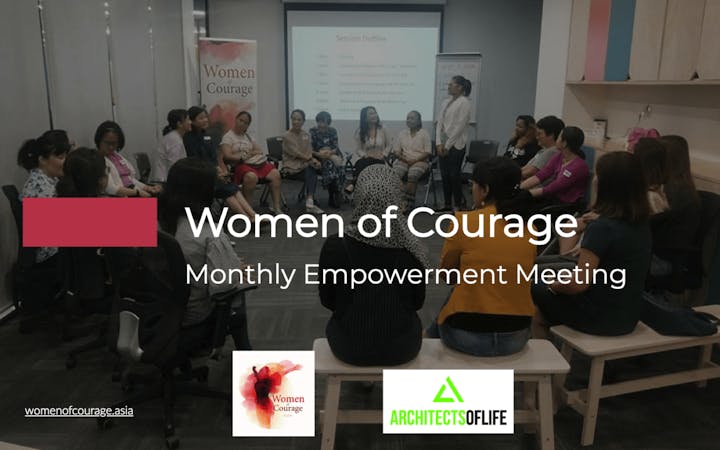 WHY THE NEED FOR A SUPPORTIVE COMMUNITY OF 'COURAGEOUS WOMEN'?
Do these thoughts or questions pre-occupy your mind?
"I am not good enough", "I'm such a failure..."
"No one understands", "I'm alone in this...", "Nobody wants or love me..."
"I feel stuck, lost, overwhelmed, exhausted, burnout..."
"I doubt my abilities, skills etc..."
"Why can't I just get along with others?..."
"I don't even know who I am, who I've become..."
"Why can't I achieve my goals, my dreams?..."
"What will happen to my future? my family?..."
'WOMEN OF COURAGE' MEETINGS ARE FOR YOU IF...
* You want to live a life of CLASS: Courage, Love, Authenticity, Stewardship and Significance
* You want to live with Confidence, Purpose, Freedom and Happiness that shows in all aspects of your life. i.e. relationship, health, study & business.
* You want to be a good steward of your Time and Resources.
* You want to see your goals & dreams becoming a reality!
* You want to tap into your inner strength and be the best version of yourself !
* You want to make a difference in this world!