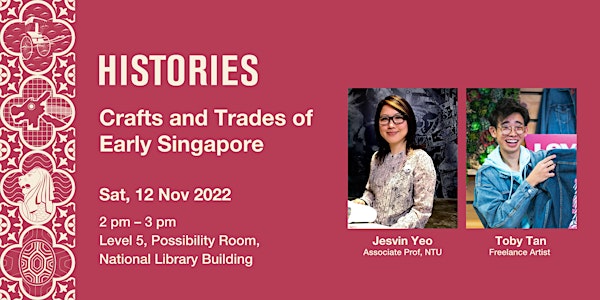 Crafts and Trades of Early Singapore | Histories
Learn about Singapore craftsmen and their contributions to our rich cultural heritage and design exploration and more.
When and where
Location
National Library 100 Victoria Street Singapore, 188064 Singapore
About this event
In the face of low-cost mass production, there has been far less reliance on our traditional trades which are now on the verge of disappearing. Learn about Singapore craftsmen and their contributions to our rich cultural heritage and design exploration, and how one young artist is incorporating these traditional elements in his modern works.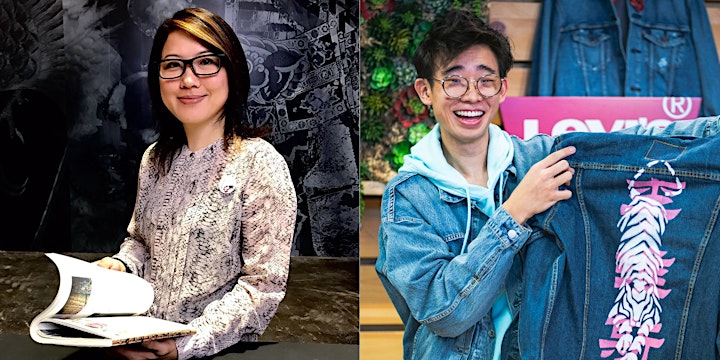 About the Speakers
Dr Jesvin Yeo is a design researcher and educator whose research interests lie in cultural values, human experience and behaviour and their application to well-being, cultural heritage and education. In her consideration of cultural heritage, Jesvin interacts with traditional artisans and local communities, studies centuries-old buildings, and explores design innovations. She is the author of seven cultural heritage books, the most recent being "Forgotten Heritage: Uncovering Singapore's Traditional Chinese Puppets", and "A Collection of Singapore's Fading Traditional Crafts and Trades". Her creative work has received more than 70 international design awards, including the Red Dot Award and AIGA Award. 
Toby Tan, better known as tobyato, is an illustrator and visual artist of many mediums. From sprawling murals to digital graphics and brand collaborations, his artworks often depict bold renderings of traditional Chinese motifs which reflect his personality and roots. A lover of street culture, his portfolio includes works commissioned by G-SHOCK, Shake Shack, Levi's and Asics.
About Histories
This series highlights research on historical and related matters in Singapore and the region, creating an appreciation of the role of humanities and social science research in contemporary society. 
Love Our Libraries & Archives invites you to (RE)CONNECT with the libraries and archives through a month-long suite of programmes and activities. Explore our spaces, be a part of our Celebrations and continue your reading journey with the Big Book Giveaway. Finally, immerse yourself in stories told by experts and everyday heroes, as they share personal narratives and experiences at Share Fest.
Let's meet, connect and be inspired this November! Sign up at https://go.gov.sg/lola22-collection