NO MORE BORING ONLINE lessons or "Death by powerpoint" Sales Presentation!
About this event
If you are an educator, trainer, sales professional or a leader who wants to create fun, engaging virtual presentations that captures the attention of others, you need to join us in this online Masterclass!
Many people are grappling with how to engage their online audience effectively.
Most people make the mistake of presenting online, the same way as they would present offline.They don't realise that the online world requires different engagement strategies and multi-platforms to make it interesting.
How do you create high quality virtual presentations that will create leave your audience impressed and engaged?
How do you ensure that your presentation stands out and creates a call to action?
Kenneth Kwan will share with you:
- ADVANCED ZOOM FUNCTIONS that improves the user experience and how to create impressive presentation formats.
- How to incorporate formative assessments in your session.
- How to get people to connect with you quickly.
- How to use online and offline techniques to create fun and engagement
- How to look impressive on-screen.
- How to select lighting and audio equipment to create impressive images and sound.
- Why and when to use green screens and virtual background.
- How to move away from "talking head" presentations and get people to turn on their videos.
- How to condition others to respond to any question you ask.
- How to mitigate technical problems during high stakes presentation.
Over 4,363 people have attended this online program and benefited from it.
IMPORTANT NOTES:
1) This is a ONE SESSION event.
Please sign up for 1 session only, as the other date is a repeat session.
2) ACTUAL TIMINGS in these Time Zones:
2nd and 4th JUNE Session
9AM Denmark, Egypt, Germany and South Africa Time
11AM Dubai Time
3PM Hong Kong and Singapore Time
5PM Sydney, Australia Time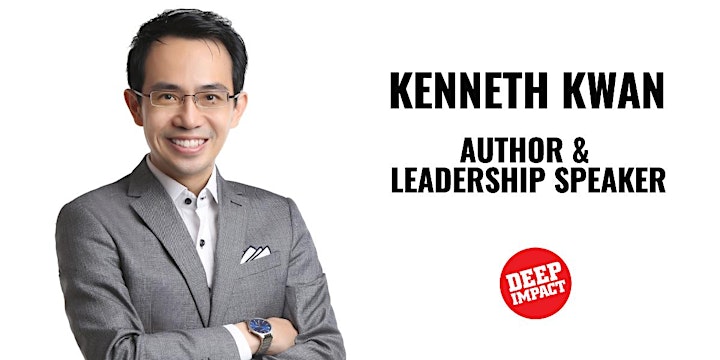 About the Trainer:
Kenneth Kwan is an author, global leadership speaker who has spoken to over tens of thousands of professionals in 18 countries. He has also been engaged to speak in many virtual business conferences and trainings. He is also a published author and his book "Small steps to big changes" is a result of more than a decade of work with clients.
More importantly, he knows how to turn your presentations and meetings into a fun, engaging and memorable session.
For more information on Kenneth, please click here .