About this Event
I'm just so excited about this new course. I think it's a really awesome course not only because it is Malaysia's First & Only Creative Digital Marketing Course (also known as, "Full-Stack" Digital Marketing Course), this new course is also fully packed with useful lessons and techniques on what every marketing manager or company needs to know to carry out their digital marketing initiatives effectively by themselves, and not rely on external digital marketing agencies. This also helps save you tons of ringgit on agency fees, and you might just do the job better yourself. The lessons taught in this course can be immediately applied to your business.
This Creative Digital Marketing Course, exclusively created by The School Of Digital Advertising, has everything companies and businesses need for successful digital marketing in Malaysia. This course can be learned and understood by anyone who is earnest in learning these great digital marketing skills and secrets. Yes, there are lots of secrets in Digital Marketing that shall be revealed to you.
What's The Difference?
The comparison below shows the difference between a Digital Marketing Course vs a Creative Digital Marketing Course and what a marketer shall be able to do. Depicted in green lines in the illustration below, a Creative or Full-Stack Digital Marketer is able to carry out the work of developing organic content that an ordinary Digital Marketer is unable to do and so will need to appoint someone else to do it, and spend money. A Full-Stack Digital Marketer can carry on doing things where an ordinary Digital Marketer stops.
This course is "Full-Stack" because it teaches you not only digital marketing strategies and platforms, but also the most important part of marketing – how to write and design marketing content by yourself. This is the "FULL-STACK DIGITAL MARKETER" – he or she can do the A to Z of Marketing – Be one yourself, and be always in demand (because this set of skills is hard to find in most humans), – or send some of your staff to this special training today. You shall gain, a lot.
– Joy Nandy (Founder/Trainer/Course Developer)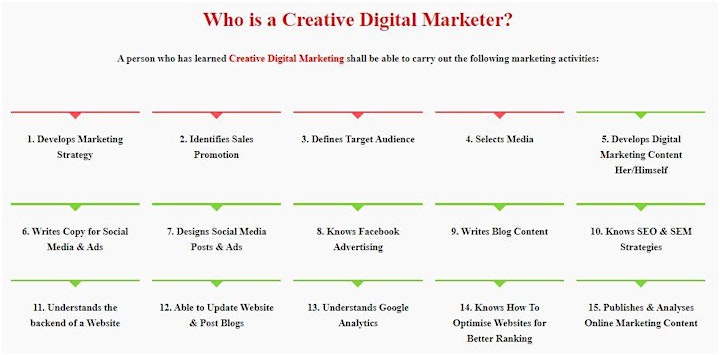 WHAT WILL YOU LEARN
3 CLUSTERS OF STUDY TO LEARN THE A TO Z OF DIGITAL MARKETING
This special Creative Digital Marketing Course has been specially designed for anyone who is marketing products or services in Malaysia. These are based on feedback from our past participants' marketing requirements and experience working at advertising agencies and corporate companies.
"The goal of Digital Marketing is only one – to drive traffic to our websites. "
The subjects covered in this course are everything anyone needs to run successful Digital Marketing campaigns with emphasis on creating and writing original content that Google loves, by themselves. These are the skills set companies expect Marketing Managers to have in the digital age.
We have structured the course in 3 clusters of study covered over 3 days as shown below: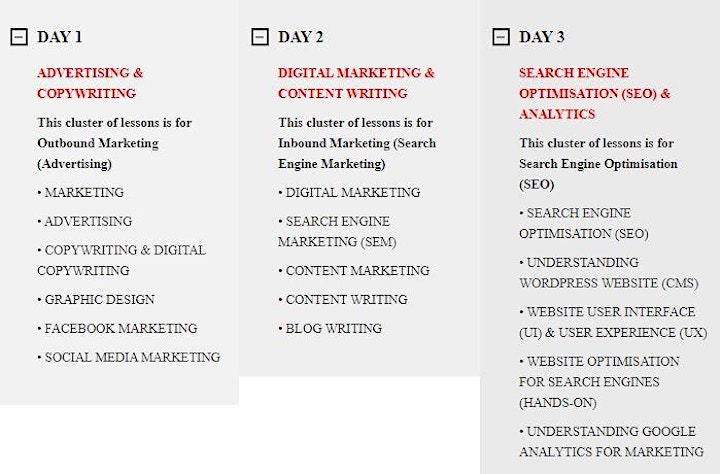 Who is this course for
This course is ideal for beginners to Digital Marketing, and those who have already taken a Digital Marketing course but wish to learn how to develop content by themselves. It is also for anyone who would like to pursue a career in this area. The course is suitable for beginners.
This course is perfect for:
• Business Owners • E-Commerce Sellers • Entrepreneurs • Marketing Managers • Marcomm Managers • Corporate Communication Managers • Copywriters • Writers • Job-Seekers • School Leavers • Analog Ad Agencies
TRAINING DETAILS:
Course: 3-Day Creative Digital Marketing Course for Beginners
Training Dates:
Day 1: Monday - 21st September 2020
Day 2: Tuesday - 22nd September 2020
Day 3: Thursday - 24th September 2020
Time: 10am - 6pm (8 hours per day)
Location: Kuala Lumpur
Size of Group: Maximum 12 Participants Only
Certification: Certificate Awarded
Fee: Usual 6,899 | Early Bird 3,799 ONLY | HRDF Claim up to 5,000
REGISTER NOW! Don't wait. Spaces are limited.
It will be the best thing you did all year.