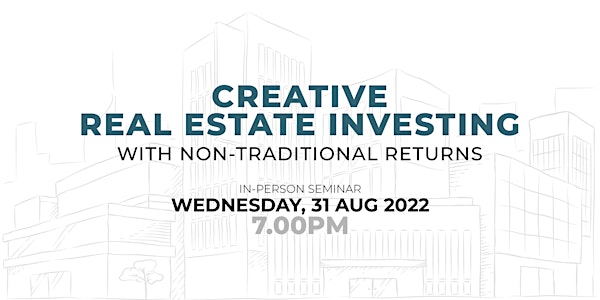 Creative Real Estate Investing with Non-Traditional Returns
Join us in a 2-hour session to explore - Current real estate market movement, unique investment opportunities & how to plan for best ROI!
When and where
Location
Lifelong Learning Institute 11 Eunos Road 8 Singapore, 408601 Singapore
About this event
Speaker
Maureen Li, CEO of ABIEL Asset Management
Asset Management | Real Estate Developer | Property Management | Alternative Investments
20 years of experience in Property Development, Investment & Business start-up across different continents including Australia and Singapore
Fast 100 companies in Australia
Top 5 most promising female entrepreneur
Experience span from student accommodations, residential redevelopment, regional shopping mall, multi-family living, aged care, services apartment and corporate housing
S$25/pax (Refreshments provided from 6.15pm).
Guests to arrive early to have food & drinks before event starts sharply at 7pm.
Contact us at +65 9366 6703 or enquiries@beforeandafter.com.sg
_________________________________________________
One of the topics that we will be covering is how to stage your property for success!
Many times you will see properties that can be snapped up quickly in a very competitive environment and properties setting record high prices. Or you might see property agents closing record high prices. These are the glamourous side that we see but the work behind is something that is not told.
Yes granted that property is about location, location and location. However you need to realize that the buyer is only but human whom has senses that can be influenced during the buying process.
Remember, if you own a property and that you treat the selling of your property as though you are a business owner selling your product, which right now your property is the 1 product to sell. How will you do it differently? Leave your property in its as is condition or to dress it up nicely?
In this session we will reveal the secrets and dissect the essence of property makeover.
Now to avoid doubt, we are not dealing this in the eyes of renovation contractor, or rather, from the lens of an investor and how to fetch higher prices and selling at a faster pace so that we can move on to the next opportunity. IF you are stuck with a property that you cannot seem to sell well, or that the rental rate is not as expected, this seminar is for you!
Learn how we value add to properties that were considered by many as just another rock, until we polished it into a gem.
ps: We are actively looking for owners of dilapidated shophouses, old landed homes or even large apartments in Singapore. Let us show you how we can value add to your space.
Hope to see you at the event!