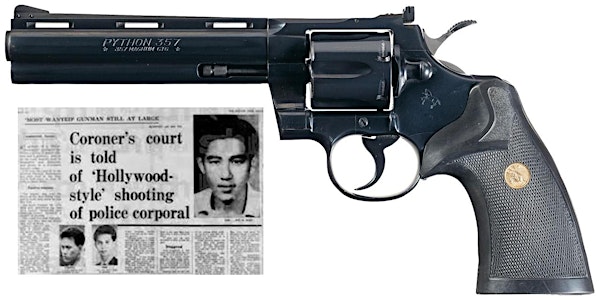 Crime, Vice & Murder Walking Trail
The era between the 1950s to the mid-1970s was a turbulent time. Crime, Vice and Murder were big then. Revisit some of these cases with us!
When and where
Location
Queenstown MRT Station (EW19) 301 Commonwealth Avenue Singapore, 149729 Singapore
About this event
Squeaky clean Singapore is one of the safest countries in the world. But it wasn't like this not too long ago. This tour will take us to the site of one of the most famous gun-fight between the police and one of the most famous big-time gangsters from yesteryears. It all happened right in the heart of Queenstown.
Queenstown then was an "up and coming" new town. The era between the 1950s to the mid-1970s was a turbulent time. Crime, Vice and Murder were big then. The gun was a powerful tool – for the good, and also for the bad. Kidnapping and day light robbery was almost a career for some. Lim Ban Lim understood this very well.
The belligerent police had a hard time. But they didn't do too badly. Some cases were solved on the spot (usually through a shoot-out – for example, the high-profile case of the elusive Oh Kim Kee). Oh Kim Kee was a highly respected "Robin Hood" in the Underworld. His several escapades from the police reads like a movie straight out of Hollywood. This case was eventually solved through a dramatic gun-fight at Sims Avenue. Several brothels "closed" as a mark of respect to mourn the unofficial "Robin Hood". Oh Kim Kee was known to be a generous man (to those close to him).
Despite much success, some cases have been laid open for years, without an end in sight. On this morning tour, we'll take a look at some of the cases that were solved (usually with high drama), and also some that had gone into History quietly, and unsolved. Maybe we can help the police re-open some cases.
We meet at Queenstown MRT station, 9am. This is a fairly long walking tour, ending at about 1pm at 65, Smith Street (Chinatown) – where we'll relive the killing of Madam Loh Lai Soh when a customer failed to pay up after "services" were rendered.
Note:
We do the world wide practice of tipping at the end of the tour.
We also reserve the right to accept or reject habitual No Shows.